HYDERABAD
Hyderabad is known as the city of love. It was for the love of Bhagmathi that the fifth king of Golkonda Mohd. Quli Qutub Shah founded the city of Bhagyanagar in 1589. When the lady joined the Royal house she got the title "Hyder Mahal", then he renamed the city as Hyderabad.
Hyderabad city, the capital of Andhra Pradesh, is a city of oriental glory, reminiscent of the great days of the Indo-Muslim culture. The beautiful city is situated 536 meters above the sea level on the Southern bank of the river Musi. It is well known for its hospitality and a visitor to the city finds a pleasant welcome.
Golconda Fort
The name, GOLCONDA FORT, originates from the telugu word "Golla Konda" "Shephard's Hill", Earlier it was a mud fort and existing structure was expanded by Qutub Shai kings into a massive fort of granite with walls having eight gates and 87 bastions extending upto 7 kms, in circumference over a span of 62 years.
The fort which passed to Bahami dynasty and later to Qutub Shahi who held it from 1518 A.D. and finally fell to Aurangzeb in 1687. It is famous for its acoustic system, palaces and ingenious water supply system.
It was once famous for Diamond market. The world famous diamond "kohinoor" is said to have come from here
Qutub Shahi Tombs
Just half a km. away from Golconda Fort lie the Royal Tombs of Qutub Shahi Kings where seven of the sultans lie buried in the midst of the Ibrahim Bagh.
Charminar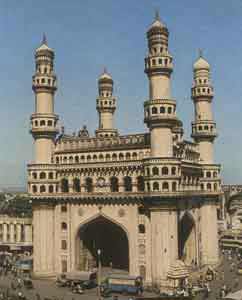 This is a symbolic monument with its four imposing minarets each 54 meters high, well decorated with lotus buds and petals. It also houses a mosque.
It was built by Mohd. Quli Qutub Shah in 1591 to commemorate the cessation of plague in the city.
Hyderabad is also known as "City of Pearls". Also famous for stone studded colored bangles and other bridal finery is the Lad Bazar which provides a feast for the eyes.
Salarjung Museum
The Salarjung Museum houses one of the biggest one man collection of priceless antiques in the world, displayed in 35 rooms. Among them Jade room contains priceless objects belonged to former Indian rulers like Aurangzeb, Tipu Sultan, Shahjahan and the Asaf Jahis of Hyderabad.
Hussain Sagar
Hussain Sagar Lake which links twin cities of Hyderabad and Secunderabad was constructed during the reign of Ibrahim Qutub Shah, by Hussainshah Wali, in 1562. There are 33 statues of historical personage of Andhra Desha placed along the bund of the lake. Another major attraction of Hussain Sagar Lake is the installation of an 18 meter high 350 ton monolithic statue of Lord Buddha on the rock of Gibraltor in the middle of the Lake. Boat rides and musical fountain in the Lumbini Park located in Buddha Purnima are popular attractions.
Where to Stay in Hyderabad!!
Amrutha Castle
Capturing the romance of the beautifully crafted fairy tales, Amrutha Castle is a majestic edifice set amid the city of Hyderabad. It is Country Club (India) Ltd.'s tribute to the cherished tales which have enthralled generations with their timeless charm.( Click the Image )
City Helpline
Railways
Airlines
Hospitals

General Enquiry Tel-131
Reservation Enquiry Tel- 135



Indian Airlines
Booking Tel-141
Flight Information
Tel- 140
Recorded Flight Information
Tel- 142
Airport Tel- 656029
Air India
Reservation Tel- 3211804
Jet Airways
Tel-7842054
Appolo Hospital
Tel- 248888,3607777
CDR Hospital
Tel- 596100
Nature Care Hospital
Tel- 291786