Dances
As the home of rich folk tradition, Andhra Pradesh offers a variety of performing arts unique to its culture. Kuchipudi, the famous classical dance takes its name from a village 60 kilometers away from Vijayawada just above the delta region of the river Krishna. It was Siddhendra Yogi who developed this form incorporating a repertoire of religious themes. This dance-drama enactment throbs with Telugu lyrics, Sanskrit verses and is distinguished from other dance forms which are interspersed by narratives making it popular and expressive.
Mathuri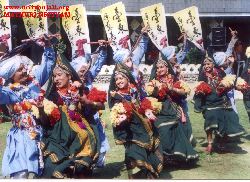 This folk dance is generally performed by the backward classes of the UMJI and INDRAVELI forest areas of UTNOOR TALUK of ADILABAD DISTRICT of ANDRHA PRADESH. They dance for hours together on the occasion of Krishna Astami in Sravana Maasam. This dance is performed by women and men separately and together. There are many occasions wherein men and women dance together. Because of their unique hair style they are also called KOPPU LAMBADI. Women dance is very slow in tempo whereas male dance is fast and very vigorous. Male artists hold a handkerchief and a stick in their hands. The instruments which are used in this dance are called as Sutta, Tasha or Nagara, Dappu etc.

Koyadance
The Koya tribes of Andra Pradesh's forests have strong affinity with Marias, tribes wearing bison-horn head dress in Bastar, of Orissa state. Their dances have the same forest tribal rites, ritual, magical significance and an identical energy. The Koyas live in remote forest hill-tops in Visakapatnam District.
Their dances include Mayura Nat (Peacock dance) exclusively performed by men, Harvesting Festival dances performed in the month of April every year.
The dance is done in small steps, forming complex patterns on intricate rhythmical phrases of half-beats and quarter beats. The musical and rhythmic accompaniments mainly consist of the Pioodi and Mayunga. Pioodi is a flute of three feet bamboo stick with five holes on the end.
Kuchipudi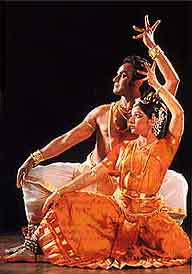 "Classical Dance "Kuchipudi" from Andhra Pradesh" Kuchipudi a dance form given to the Indian dance platform by a small village in the Andhra Pradesh. Kuchipudi is not mere a dance form but is combination of dance, gestures, speech and song. A Kuchipudi dancer has to to be well versed in dancing, acting, music, various languages and texts. Kuchipudi was born in a small village of Andhra Pradesh. There it developed as a tradition by the same name where it was born. Kuchipudi although now recognized as an independent dance form is related to Bharat Natyam. It was in the 17th century during the bhakti movement in the South India that Siddendra Yogi the formulator of the dance form selected some boys from the village to perform dance drama. Thus came the Kuchipudi in this world. In those days Kuchipudi was performed once in a year and the dance form was cautiously kept out of the reach of Devadasis. From the fist performers the technique and skills of this form got handed over the generations to acquire the present form. Some of the legendary performers and gurus were Kuchipudi Brahmins like Lakshmi Narayan Shastri and Chinta Krishna Murti who excelled in roles like Satyabhama in Bhamakalapam; later gurus include Vedantam Chinna Satyam. Today both group performances and solo performances are popular but experimentation are always being done with the choreography. Kuchipudi is a dance a combination of movements of the whole body.

Lambadi
Associated with daily tasks like harvesting, planting, sowing, etc., the Lambadi is performed by the Banjaras, a semi-nomadic tribe seen all over Andhra Pradesh. Costumes embroidered with glass beads and mirrors, ornate jewellery, ivory bangles, brass anklets and a natural rhythm makes this dance a colourful exposition of joy which is the highlight of many an occasion.
Bonalu
The folk festival of Bonalu in the Telangana region brings with it a celebration of colourfully dressed female dancers balancing pots (Bonalu), stepping to the rhythmic beats and tunes in praise of the village deity Mahankali. Male dancers called Potharajus follow the female dancers to the temple lashing whips and emerald margosa leaves tied around their waists adding colour to the roaring trumpets and pulsating percussion.
Dhimsa
Generally performed in the local fairs and festivals in Visakhapatnam district, this tribal dance form sees 15-20 women forming a chain and dancing in praise of the local deity. Women attired in typical tribal dresses and ornaments dance to the beats. Instruments like Mori, Thuduma and Dappu are played by the members.
Veeranatyam
Sati Devi, Shiva's first wife was outraged and humiliated and Lord Shiva was angered at this. The dance that he performed at this outrage is called Veeranatyam. He picked a lock out of his Jata-Jhuta (hair) and created Veerabadhra. The Veeramusti community who claim to be the descendants of Veerabadhra, perform this vigorous dance with instruments like Thambura, Soolam, Dolu, Thasha and Veernam usually at Draksharamam in East Godavari district of Andhra Pradesh. This place is believed to be the birth place of Veerabhadra, known as Dakshawatika.
Butta Bommalu
Also known as the dance of masks is a typical folk dance form, popular in Tanuku of West Godavari district of Andhra Pradesh. Butta Bommalu which literally means basket toys,are made of wood husk, dry grass and cow dung. Each dancer wears a different mask over the head and shoulders enlarging the scope of the performer and dances to a nonverbal rhythm which adds colour to the movements.
Dappu
The Dappu, a percussion instrument made of goat skin and wood, is a tambourine-like drum which when played with sticks creates a rhythm that's softened only by the sound of ankle bells that the 16-20 dancers wear. Part of a Telangana custom which sees the Dappu dancers at the front of any procession, whether it be for Jataras, festivals or marriages, this is truly a celebration of dance in all its vibrancy.
Chindu Bhagawatham
This lively art form hails from Nizamabad district. The performers in colourful make up and costumes dance to the musical patterns set by cymbals, tabla and harmonium. Mythological themes are usually enacted and the audience is mostly rural. The applause and appreciation is however universal.
Tappeta Gullu
Popular in Srikakulam and Vijayanagaram districts, this is a devotional dance which invokes the Rain God with its vigour, rhythm and tempo. Also performed during festivals, the dance sees 15 – 20 artists with drums slung around their necks creating a mesmerising beat and performing heart stopping acrobatics.