Barapani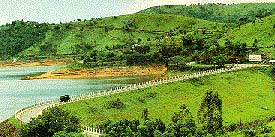 BARAPANI ( UMIAM LAKE )
Do you know what Barapani stands for? Like most everything in India, the naming of the place too has its legends.The story goes that two sisters from the Heavens made their way to Meghalaya, however, only one of the sisters reached their destination. The other sister, due to whatever reason could not make it. So the sister who reached her destination cried her heart out and a lake was formed with her tears, which today is known as Barapani. Its literal translation is (Vast Water) and in fact is also known as Umiam Lake.
It forms the perfect painting for a cheerless room, what with the entire mountainous and ethereal landscape reflected in the shining waters of the lake, the effect is magical. But Umiam or Barapani is not just achingly beautiful, but is also an angler's paradise since its waters are swimming literally with a wide variety of fish. One could also indulge in water sports such as boating, as they have a number of motorboats, sailboats and water scooters. And kids could amuse themselves with a tree-house and play "pretend" by being Tarzan.
The North Eastern climate is very conducive for growing exotic flowers such as orchids and the Lum Nehru Park is equipped with an aviary, an orchidarium and superbly maintained lawns.
An ideal getaway from Shillong, even the journey itself is perhaps a delightful part of the travel. Rolling hills, fluffy clouds, shimmering lake, winding roads, breathtaking countryside - yes, Barapani can evoke tears at its sheer beauty.