Lucknow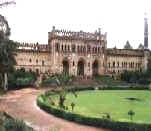 Lucknow,city, northern capital of Uttar Pradesh State. Local industries include the manufacture of gold and silver brocade, muslins and other light fabrics, glass, shawls, and jewelry. Chemicals, cigarettes, and cotton cloth are also manufactured. The chief architectural features are the fort and a mausoleum. Many handsome mosques, including the Pearl Mosque and the Great Mosque, are in the city. An educational and cultural center, Lucknow is the seat of Lucknow University (1921). From 1775 Lucknow was the capital of the kingdom of Oudh until the annexation by the British in 1856. At Lucknow, during the Sepoy Rebellion(1857-1859), a British force was besieged for 12 weeks until reinforcements arrived. Population (1991) 1,619,115.
Deva Sharif
25 km. The tomb of Syed Haji Waris Ali Shah, known as Deva Sharif, is revered by both Hindus and Muslims. Devotees throng the shrine in October/November when the annual urs of the saint is held.
Hussainabad Imambara
Near the Rumi Darwaza, this structure houses the tombs of Muhammad Ali Shah, its builder, and of his mother. Built between 1837 and 1842, it is also called the Chhota Imambara. It is approached through a fine garden. The Imambara has a white dome and numerous turrets and minarets. The walls of the mausoleum are decorated with verses in Arabic. Chandeliers, gilded mirrors, colorful stucco, the King's throne and ornate tazia or replicas of the tombs at Karbala adorn the interior.
Shah Najaf Imambara
This white-domed structure derives its name from the town of Najaf, about 200 km south of Baghdad where the saint Hazrat Ali is buries. It is situated on the right bank of the Gomti, In this mausoleum are buried the remains of Ghazi-ud-din Haider and his wives, including Mubarak Mahal, his European wife. The entrance leads to a beautiful garden. The silver tomb of Ghazi-ud-din Haider lies in the center of the building and is flanked by the more imposing silver and gold tomb of Mubarak Mahal on one side, and another tomb on the other.
Asafi Imambara
Also known as the Bara Imambara, it was built by Nawab Asaf-ud-Daula in 1784 and is one of the architectural highlights of the era. The central hall is said to be the largest vaulted chamber in the world. Except for the galleries in the interior, there is no woodwork used in the structure. A staircase from outside leads to a series of labyrinths which visitors are advised to visit only with authorized guides. Within the compound of the Imambara is a grand Asafi mosque.
Rumi Darwaza
This colossal, ornate gateway is said to be a facsimile of one of the gates of Constantinople. It was built by Nawab Asaf-ud-Daula in 1784, to create employment during the terrible famine of 1784.