The Corporate Regency
New Delhi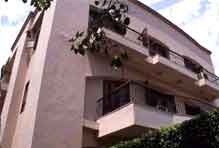 The Corporate Regency provide the perfect blend of comfort, economy and hospitality. Situated at the heart of South Delhi, on Ring Road, Lajpat Nagar, you will find extremly comfortable accommodation for both Business as well Vacational needs. At The Corporate Regency, your comfortable stay is guaranteed coupled with the excellent services provided by hotel staff. They are known for their exceptional room services among their prestigious visitors. Corporate Regency's rooms are spacious and are equipped with luxurious amenities. Corporate Regency is very close to the central business districts of Nehru Place, Bhikaji Cama Place and a short drive from Connaught Place. Be it a brief business trip or a long vacation, they ensure that every need of yours will be attended to, with courtesy and efficiency.

Accommodation

There are 21 air- conditioned and luxuriously appointed rooms, soon to be increased to 26 rooms. All rooms are fully equipped with standard facilities, coupled with services that speak of quality, comfort and convenience.

Deluxe Rooms-12 air-conditioned and luxuriously appointed deluxe rooms to make your stay cozy and comfortable. Other facilities include CTV with multi channel cable and in house movie channel. Rooms are well equipped with all modern facilities, aesthetically decorated and are well maintained.

Premium Rooms- 6 air-conditioned Premium rooms which are bigger in size and a toilet attached with the most modern fittings which shall make anyone feel relaxed while staying

Executive Rooms-3 air-conditioned and luxuriously appointed Executive rooms which gives a touch of luxury to your stay. The size of the rooms are substantially bigger with an attached toilet fitted with the most sophisticated fittings to take care of your relaxed mood
Conference

There are 2 air-conditioned Conference Rooms which can accommodate almost 60 business visitor each and are fitted with overhead projectors, CTV, VCR and VCD on demand. The Rooms have been designed to take care of the diverse requirements of conferences, business seminars, interview sessions and buffet meals etc. Due to its central locations and its close proximity to most of the business centers, the conference room facility adds a corporate touch again at very affordable rates.

Facilities
24 hours Roof top coffee shop., Executive gymnasium.,ecreation centre with pool tables etc.
Tariff

Single

Double

Delux Room

Rs.4000/-

Rs.4500/-

Premium Room

Rs.7000/-

Rs.7500/-

Executive Room

Rs.8500/-

Rs.8500/-

Conference Room

Rs.5000/-

Rs.5000/-

Super Deluxe Room

Rs.5000/-

Rs.5500/-

Luxury Tax @ 12.5%
Click here for Booking Form

Tele : +91-11-41612107, 26823836. Mobile : 9810002772, 9910002772.