Hotel Yug Villa
Karol Bagh,New Delhi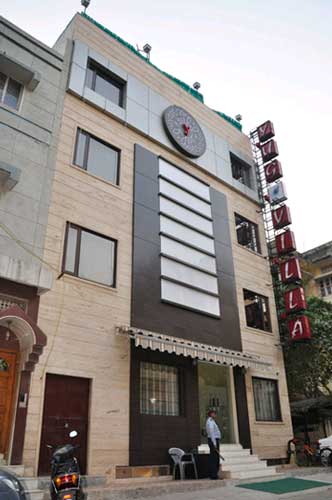 A unique world of facilities and privileges, HOTEL YUG VILLA is located in the heart of the city, at Karol Bagh, the largest shopping arcade in Asia. Sprawling across the busiest market place, the hotel is enriched by its plush ambiance.
HOTEL YUG VILLA serves as a royal locale for the business and holiday travellers. The location also makes every other corner of Delhi easily accessible. We offer 18 rooms with different layouts, for your pleasure. We make every effort to give you the solitude you desire, to preserve you the privacy you deserve, to provide not just a service, but an experience. The one place where you can ever be sure that your trip will always be a pleasure.
Location: - » Hotel is situated in one of the most Prime location of Delhi (Karol Bagh), » Very Near to Karol Bagh Metro station (5 mins walking distance), » Just 20 kms from airport (30 Mins), » Near to bus stand , and Near to New Delhi Railway Station (6 kms).
Accommodation
SUPER DELUXE ROOMS Hotel YUG VILLA is a new age hotel with modern interiors and comforts, yet following our very own indian traditional values. We offer amazing accomodation facilities to all our guests visiting the hotel. Our Super Deluxe rooms are an asset to the hotel. These rooms unviel a whole new world of luxury, comfort and style. Tastefully embelished with the sole aim of giving utmost stay pleasure to the visitants, these super rooms are spacious, comfortable and have very modern interiors.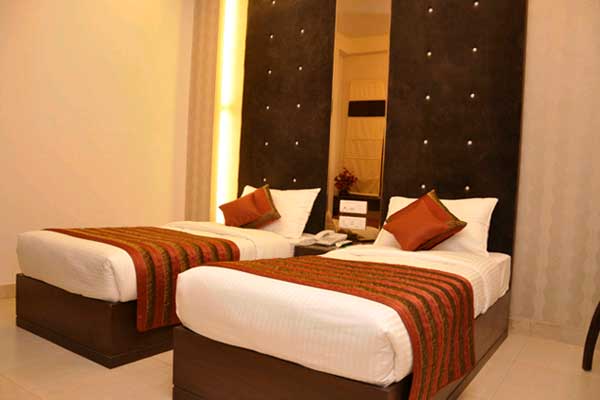 The speciality of our super rooms is that they all open up to a beautiful balcony. You can spend your mornings and evenings here sipping coffee, reading the newspaper, inhaling fresh air gazing at the sky. The super deluxe rooms provide a garden view. When you open the balcony door, your senses get treated by a beautiful garden full of greenery and tall palm trees. Believe us its a sight to watch! You can even enjoy a walk in this mesmerising garden smelling the fragrance of colourful blossoming flowers.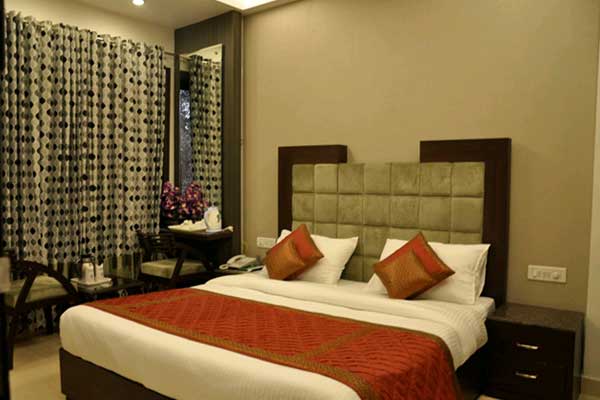 Our super rooms are also pepped with a complementary fresh fruit basket and an extra luxury topping of a loaded mini bar. These rooms have a comfortable sitting area. Also equipped with a tea coffee maker with complementary tea,coffee and creamer sachets. The beautifully designed bathrooms of the hotel provide 24hrs running hot ad cold water, hair dryer, seperate bathing cubicles, a weighing machine and bath kits for the extreme convinience of the visitants. A 32'' inches TV with all important channels, hi-speed internet access and well appointed work desk are certain in room facilities granted to the guesta. The facilities and fine services at Hotel Yug Villa guarantees to make your stay luxurious and memorable too. All those who are looking for a feel like home atmosphere, Hotel Yug Villa is the best available option. We always welcome you with our open hearts and a very positive attitude.
DELUXE ROOMS The Deluxerooms at Hotel Yug Villa are well Furnished and spacious. the interiors are modern and full of style and panache. The Deluxe rooms have been replenished with a king size double/ twin beds. These comfortable beds and cozy pillows would surely lull you to fine sleep washing awway your fatigue after a busy tiring day. The italian tiles in the rooms touches the fineness of elegance. our sparklingcrystals on the cushioned bed backs gives a starry night effect. The room has beautiful lightening effects and the soft and clean linen boosts to the interiors with a kick of perfection.
With unlimited air conditioning and temperature remote control systems you can adjust the temperature according to your needs. All the deluxe rooms are provided with seating arrangements and a work desk that can be useful for visitors in the room. The rooms are stuffed with a tea coffee maker and 2 complementary tea,coffee and creamer sachets. You can enjoy a royal bath in our spacious washrooms. A separate bathing cubical with hot and cold water running 24hrs. The bathrooms are also supplied with bath kits, hair dryer and a weighing machine. All the deluxe rooms are enriched with extra luxury toppings like wireless internet access and a refrigerator. You can get connected to the world with our 32'' inch television with all channels with just a touch of a remote. All the rooms have direct dialing telephone lines. Our hotel staff is there for your assistance round the clock even on the smallest demand that you make..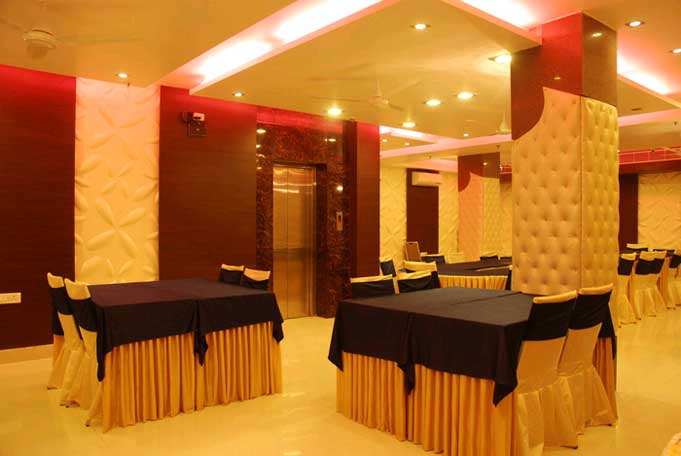 Our Facilities The exclusive rooms and suites at the HOTEL YUG VILLA are tastefully decorated and well furnished, in addition to the host of amenities that ensure blissful comfort. Each suite has a well-stocked mini bar to soothe one's senses at the end of a tiring day or simply relish the eloquence of a tropical sunset. Our 24hrs Coffee Shop is a favourite of those addicted to the invigorating whiff of coffee and those who love to stare at the city line till late into the night. The stained glass atrium paints a pretty picture, not unlike the quaint serenity of an 18th century cathedral.
We believe in providing absolute comfort and all sorts of amenities According to the needs and requirements of each and every visitors. » 18 fully air conditioned Deluxe and Super deluxe rooms » King size cozy double/twin beds with 8inch mattress » 32 inch L.C.D (TV) with multi channel facility in all rooms » Comfortable waiting Lounge » In House coffee shop/restraunt » 24 Hrs Room service with multi cousine menu » Wi. Fi. internet Connectivity across the hotel premises. » In room mini bar » 24 hrs power back up » Ample parking space » Safe deposit » Foreign exchange facility » Conference hall for more than 70 pax with modern facilities » STD ISD facility, mobile phone on request » All major credit cards accepted » Laundry service » Doctor on call » Complimentary tea,coffee sachets, mineral water and fruit basket. » Bathrooms equipped with special bath kits,hair dryers and weighing machines. » Additional facilities like- Parties organized, baby sitting facility,personal beauty parlour and barber services. TV video games for children on request
Restaurant & Banquet
HOTEL YUG VILLA has two warm, contemporary, accessible, eating places for families including children and young adults, serving the widest variety of Indian and International food, beverages and desserts, at affordable prices. Our daily buffet breakfast is served from 07:00 till 10:30 Morn which is mix of American, Continental & Indian cuisine.Our dining hall also serves quick coffee, business lunch, afternoon tea /snacks or a leisurely dinner. Warm welcome and personal attention are the high points of the restaurant/coffee shop. Therefore, you will share your moments with family or friends through unique dining experience.
Since day one, an obsession with authentic, delicious and affordable cuisine has led to unquestioned restaurant, special events and leadership in innovation and quality. Guests can choose from a variety of cuisines and ambience to enjoy an exceptional dining experience. guests can enjoy world-class cuisine without leaving the property. Fresh, local produce, natural ingredients and vivid regional cooking styles make The Yug Villa Hotel a smart choice for any of your meals. Our kitchen never closes, so you can eat on your schedule or on a whim.
Packages 2015
Valid From 01st Apr to 30th Sept, 2015.

01 Night Package

Deluxe Room: Rs.4500/- per room per night.
Super Deluxe Room: Rs.5500/- per room per night.

Extra Bed: Rs.700/- per person per night.

Includes: Accommodation, Breakfast and Taxes