Iris Park started operations in 2009 with twenty-one rooms as a bed and breakfast. In 2011, it expanded operations to becoming a fifty-seven room establishment. The hotel offers around-the-clock service in terms of Front Desk(Reception), Food and Beverages(Kitchen and Room Service) and Housekeeping Services.
Iris Park is located in Safdarjung Enclave, a central locality in South Delhi.
Terminal 1D (Domestic Services) The Hotel is located 9.6km east of the New Delhi Airport Terminal 1D. It should be a 25minute drive in normal traffic conditions and not more than 15minutes driving time, by car in the early morning or late night.
Terminal 3 ( Some Domestic Services and all International Services) The Hotel is located 15km east of this terminal. Add five minutes to the driving time for terminal 1D.
Get off the Delhi Metro's All India Institute of Medical Science Station, and take an Auto Rickshaw at 1.5km, the minimum fare of INR25 will be charged.
From Delhi Cant. Iris Park is 15kms due east, about 30minutes by car in normal traffic.
From New Delhi Station Iris Park is 12kms due south, about 25minutes by car in normal traffic.
From Hazrat Nizamuddin Railway Station. Iris Park is 15kms due west about 20mintues by car in normal traffic.
From Old Delhi Railway Station. Iris Park is 18kms due south, about 45mintues by car in normal traffic.
Accommodation
Iris Park offers fifty-seven rooms spread accross two adjacent interconnected buildings, the east wing land the west wing.
Our hotels in South Delhi have tastefully appointed rooms, easily accessible through our well-maintained elevators. All the rooms are centrally air conditioned, decked with several unique features such as: Sound proof rooms fitted with LED lights for energy and environment conservation Wi Fi in all the rooms Solar geysers for hot water and energy conservation Vaastu compliant design Electronic Surveillance in all common areas to ensure your safety World-class fittings & fixtures.
Executive Rooms
Executive Rooms are thirty-two in number, all located in the East Wing, 190-210 sqft in area.
Our executive rooms are a wonderful blend of convenience and style. They thoroughly delight the guests for their perfect amenities and desired comfort. The rooms inspire budget travelers to enjoy the stay on reasonable prices. With soft and comfortable beds and clean & presentable bedding, the rooms ensure unmatched care and comfort. A full sized mirror, elegant lamp shade and other furnishings add to the charm of staying with us.
Economy Rooms are the most compact at 160-170 sq.ft, including the bath and shower area. Ideal for single guests on a budget disciplin, we have four such rooms in the hotel, all in the east wing.
Premium Rooms are twenty-one in number, accross the three floors of the West Wing of the hotel and are between 200 and 245 sqft in area (including the bath and shower room) check-in and check-out times are noon.
We Requires complete original and current residental address as issued by the Government of India (for Indian Citizens) to enable us to check you in carrying only computerized scans is not advisable. Foreign nationals must carry a passport and valid India visa in its original form for hotel check in.
Travel Tip: Make sure that all documents pertaining to proof of identity bear current photograph with current details. The Hotels reserves the night to admission at all times.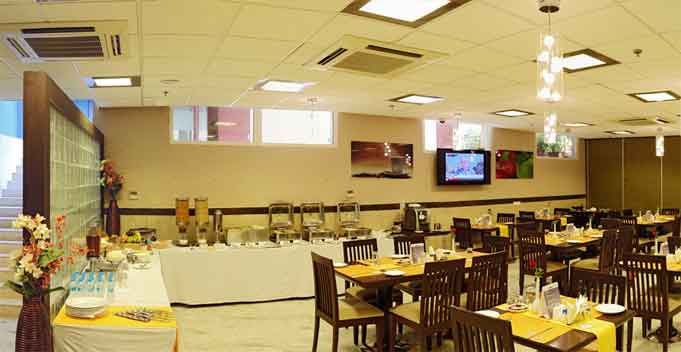 Food and Beverages
The hotel operates a kitchen on a twenty four basis, catering exclusively for its house guests. The menu generally largely focuses on Indian cuisine with a smattering of continental and chinese dishes.
We aim to serve meals and snacks made with the best possible ingredients and are happy to customize your food to a taste as close to your liking as possible. Breakfast is served at the coffee shoppe from 0100 hours to 1000 hours as a buffet spread with adequate options for Vegetarians and Non-Vegetarians alike.
Dinner is served till 11PM following which a majority of the menu and snacks are served for he remainder of the night..
Amenities
Telephone Facility in all the rooms, Central Air-Conditioning, Eco-Friendly Room Design, LED lighting for energy conservation, Noise-free power generators 24 hr, ATM Meeting/ Conference/ Banquet Facility Laundry services, Courier services, Doctor-on-demand, Wi-Fi Access in Every Room, Centralized security Electronic surveillance.
.
.