Radisson Blu Hotel
New Delhi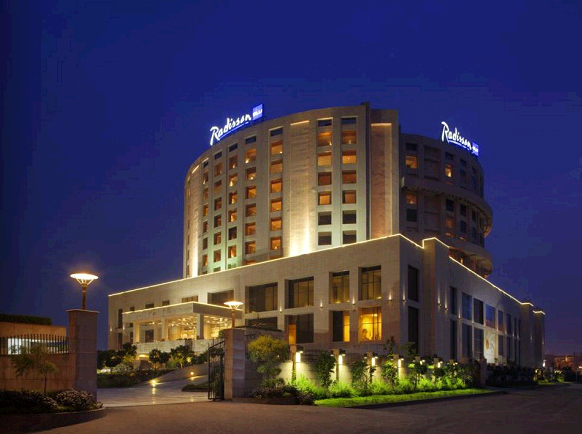 The Radisson Blu Hotel New Delhi Dwarka is ideally situated in one of Asia's largest sub-cities in the Southwest District of Delhi's NCR. Named after the legendary Dwarka Kingdom, Dwarka is located is 35 minutes from Gurgaon, one of India's major corporate hubs. The hotel is just 40 minutes from Connaught Place and 20 minutes from Indira Gandhi Airport by way of the convenient Delhi Metro Rail service. As one of the closest five-star hotels to New Delhi's Indira Gandhi International Airport, the Radisson Blu offers accommodation and amenities unmatched by other hotels in New Delhi. Guests also enjoy easy access to popular attractions including India Gate, the Lotus Temple and Qutab Minar.
Radisson Blu Hotel New Delhi Dwarka offers 209 modern guest rooms and suites with convenient amenities designed to provide you with a relaxing stay. After a long day of business meetings or exploring historical sites, you will feel right at home in the tranquil ambience of the Radisson Blu accommodation in New Delhi. LCD TVs, complimentary breakfast in the coffee shop and free high-speed, wireless Internet access are always available to make your trip as comfortable as possible. During your stay at this accommodation in New Delhi, don't forget to take advantage of the room service offered by the hotel's fine on-site restaurants.
Radisson Blu Hotel New Delhi Dwarka is near the following transportation options: Indira Gandhi International Airport (11 km) Palam Railway Station (5 km) Delhi Cantonment Railway Station (9 km) Dwarka Sector 13 Metro Station (250 m)
Accommodation
Located in the southwest New Delhi in close proximity to international and domestic airports, the Radisson Blu Hotel New Delhi Dwarka features spacious, well-appointed rooms and convenient amenities designed to provide a stress-free stay to business and leisure guests. The Radisson Blu Dwarka hotel offers a substantial array of on-site dining experiences, including Pan-Asian cuisine and traditional Indian fine dining, as well as two lounges and a chic discotheque.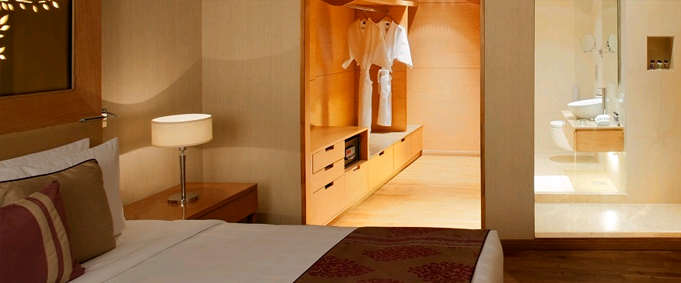 Superior Room Superior rooms are equipped with state-of-the-art amenities and sophisticated furnishings. Enjoy individual climate control, an in-room telephone, a work station, an electronic safe, an LCD TV with satellite channels and complimentary Internet.
Business Class Room Business Class Rooms at the Radisson Blu Hotel New Delhi Dwarka combine classic comfort and contemporary style, offering a restful retreat for business and leisure guests.
Executive Suite This Dwarka New Delhi hotel's exclusive suite boasts exceptional amenities and thoughtful touches not found in other accommodation in New Delhi. This spacious suite is perfect for special occasions or an indulgent extended stay.
Radisson Blu Hotel New Delhi Dwarka Dining
Dine in Top Restaurants in New Delhi Sample savoury Pan-Asian cuisine and vibrant Indian dining at the on-site restaurants at Radisson Blu New Delhi Dwarka. Rice provides entertaining interactive kitchens with talented chefs, serving a wide range of Pan-Asian delicacies, while Dvar (opening soon) boasts traditional Indian cuisine in a fine dining setting. Stop by Spring for delicious international cuisine in a relaxed restaurant atmosphere. Radisson Blu New Delhi Dwarka offers a wide array of tempting cocktails and coffees in the hotel's lounges, the lobby coffee shop and the exciting discotheque, Club Voss (opening soon).
Spring, The Coffee Shop Add some Spring to your life and enjoy a sumptuous buffet and à la carte meals with your family or friends at this all-day, multi-cuisine restaurant. Spring offers delicious international cuisine for breakfast, lunch and dinner. Its buffet meals are popular among guests and known for their variety. Enjoy a wide range of alcoholic and non-alcoholic beverages to complement your meal.
Opening Hours 06:30 - 23:30 (Daily)
Atrium, The Tea Lounge Experience classic English culture with exotic flourishes while you sip Afternoon Tea and nibble on a delicious selection of cakes, pastries and savories. Your preferred pastry shop in Dwarka, Atrium offers a unique freshness with its abundant natural light. Atrium is the perfect place to enjoy conversation with friends over an inviting snack fresh from the bakery.
Opening Hours 11:00 - 21:00 (Daily)
Rice, The Pan-Asian Restaurant Start an affair with the Orient at Rice, one of the finest Chinese restaurants in New Delhi. The highlight of Rice is its interactive kitchens, enabling guests to enjoy the experience of watching their meals being prepared according to their preferences. The restaurant's authentic Chinese ambience is created with traditional décor and soothing oriental music.
Opening Hours Lunch 12:30 - 15:00 (Wed-Mon) Dinner 19:00 - 23:30 (Wed-Mon)
Zeppelin, The Bar Entertain business colleagues or enjoy a quiet evening alone at Zeppelin, the Radisson Blu's stylish lounge. Boasting a variety of exotic cocktails, choice wines, handpicked single malts and spirits, Zeppelin emits a classic ambience and offers a World War II-themed interior, complete with airplanes and collectibles from the era. Enjoy turbulence-free dining at Zeppelin.
Zeppelin is well-known for its wide array of mouth-watering appetizers. The lounge also offers a daily happy hour between 18:00 and 20:00.
Opening Hours Noon - midnight (Daily)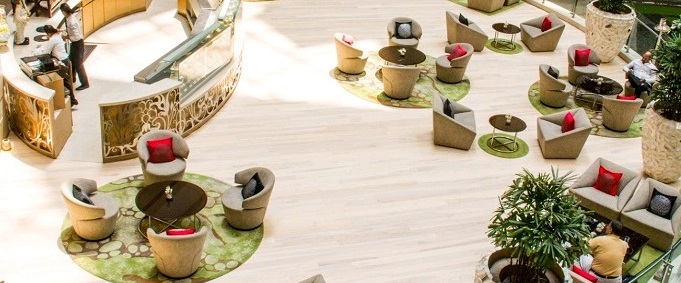 Club Voss Night Club (Opening Soon) Vibrant, young, trendy and pumping, Voss will be the only night club in Dwarka. Once open, the club will feature all genres of music, a pulsating dance floor, chic interiors and world-class DJs and artists.
Opening Hours Noon - midnight (Daily)
Dvar - Gateway to Indian Cuisine Recreating the food that India is best known for, Dvar offers grand traditional Indian recipes while exploring the new age of exotic Indian flavours from the four corners of the country. The restaurant will take you on a flavourful journey from traditional to modern day India.
Opening Hours Dinner 19:00 - 23:30 (Daily)
Spa & Salon - Anantaa: 10:00–22:00 (daily)
Wellness at Its Best Whether you are visiting us on a luxurious holiday or for hectic corporate meeting, the spa, salon and fitness centre by Anantaa at Radisson Blu New Delhi Dwarka help you focus on all three aspects of human existence: mind, body and beauty.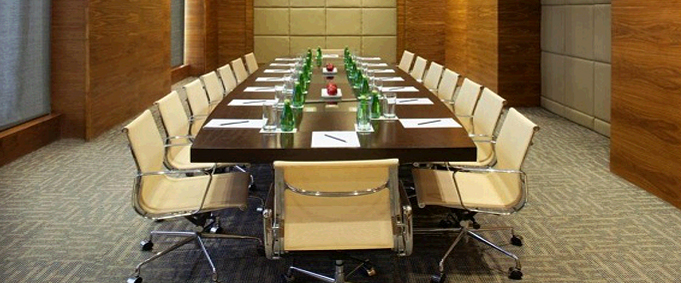 Business Centre The Radisson Blu Hotel New Delhi Dwarka provides three meeting rooms and a boardroom, with seating capacity ranging from eight to 24 people, and an elegant lobby. We offer the right mix of choices to host your power meeting and schedule high profile interviews. The meeting rooms are equipped with LCD display and come with natural light and a scenic metro view. Our dedicated guest relations executive will cater to your business needs to ensure Meeting Success, which is our brand promise.
Conference Services Radisson Blu Hotel New Delhi Dwarka knows that your meeting are extremely important, and a successful event is the pride of the hotel. With a focus on pre-empting your meeting needs, the hotel offers many services designed to assist you in planning and executing your meeting or event.

Meeting facilities at the Radisson Blu Hotel New Delhi Dwarka include: 24-hour business centre with three boardrooms, a cyber-room and full secretarial services Audio/visual facilities Dedicated event manager for each event Florists available for various set-ups Free wireless Internet access Natural light in pre-function area Tailor made menus to meet the specific needs of every meeting Valet parking (complimentary)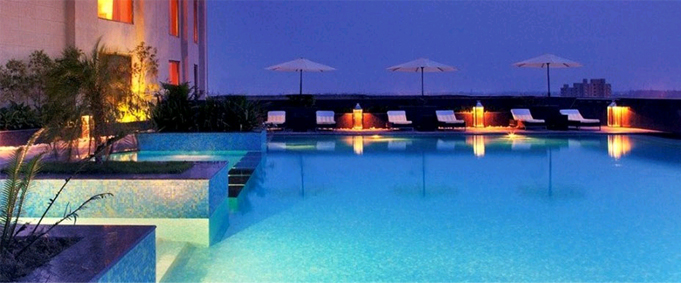 Swimming Pool & Recreation Area Revive yourself with a dip in the open-air Jacuzzi or infinity pool and sip away from your stress. All year long, patrons can take advantage of the outdoor swimming pool on the terrace, which offers a panoramic view of the city. The open-air Jacuzzi offers a rejuvenating experience, while the children's pool ensures safety for your kids. The attached recreation centre also has indoor games for some quality family-fun time; billiards, table tennis and foosball are available.
Pool: 08:00–20:00 (daily)
Accessibility Features
We understand that accessibility is important to our guests. This hotel has accessible rooms and amenities. Please contact the hotel to confirm if an accessible room will meet your needs or if you have other questions.

Amenities within accessible range to reach, Controls operable without grasping or twisting, Lever hardware, Roll-in shower, Grab bars alongside toilet, Grab bars by tub, Audio and visual emergency warning devices, Wider guest room and bathroom doorways, TDD public phone, Wheelchair accessible lobby, Wheelchair accessible public entrance, Wheelchair accessible public restrooms, Wheelchair available – (On request)