In 30 exquisite deluxe rooms and suites, Tivoli Cititel offers you more than an idyllic place to lay your head. You will fall for the soothing finesse reflected by even the tiniest of articles in the living spaces. Designed with careful consideration for the discerning guest in you, each attribute of the rooms and suites reflect the attentive care of a benevolent guest. The tranquil lights and soporific hues work towards a harmony that can play lovely melodies to your senses. And when you fall on to the bed, the softness of the beddings and duvets can easily transfer you to your dream world. You will be surprised how the furniture and amenities is so tastefully chosen to woo you the moment you walked in. With the luxury of a sitting room, kitchen and dining area, our 3 studio suites will take you back with their stunning design and décor.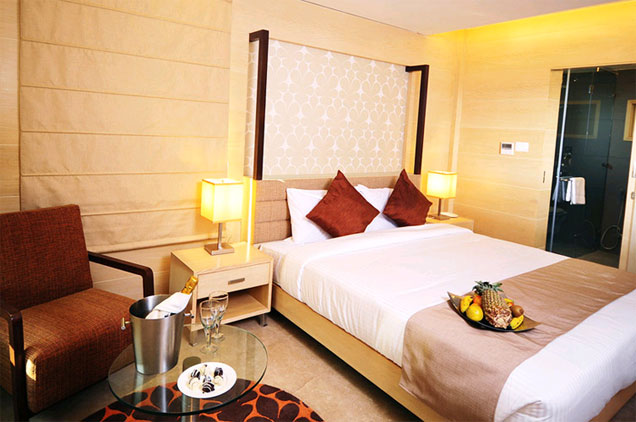 The in-room features like high-speed internet connection and other advanced communication facilities make them suitable for a lengthy family stay as well as a corporate trip that has its own demands. With 24/7 in-room services ensure by amiable and multilingual staff, staying at the Cititel becomes a home-away-from-home affair..
Amenities Air Conditioning Clock Radio w/ MP3 onnection Ergonomic Desk Chair LCD Flat Panel TV Non-Smoking Spacious Two Room Suite Coffee Make rHairdrye rHigh Speed Internet AccessIron/ Ironing Board Mini Ba rNeutrogen(R) Bath
.
Dining While travelling, the hopes for a home-away-from-home get beautifully realised when a remarkable accommodation is well complemented by sumptuous, assorted global dining. At Cititel, the cosset of guestrooms and suites is finely balanced by our Coffee Shop, an eatery that offers more than what you expect. The bistro has the skill and proficiency of culinary masters who unite the best of seasonal and regional cuisines to our tempting menus. When we say assorted, it means you can enjoy the very own flavors of the region where you hail from, rightly treating your home-sickness and at the same time explore scrumptious preparations of the East and the West. When the daintily devised ambience flatters your senses, the only-you-matter service and mouth-watering delicacies present an unforgettable indulgence. We cater to the traveller in you, effortlessly gratifying the professional as well as the leisurely you.
Meetings & Conferencing Tivoli Cititel is redefining and revolutionizing the brand of business hotels in India. With its chic and boutique charms it blends the minimalistic style and immaculate service for the business guests. Cititel also offers flawless solutions for your business meetings, conferences, training session or dealer meet.
Choose from three fully state of the art meeting rooms and complement that with a rooftop terrace space offering beautiful panoramic views of the city. With our fully appointed meeting and boardrooms and latest technologies combined with an ever ready experienced support staff on site, your corporate do is assured to be a great success and an epitome of professionalism for your clients and corporate guests. This, when supplemented with stimulated atmosphere, compatible catering service and a flawless execution ultimately will mark your event with an all round success.