York Hotel
NEW DELHI Code No- AT-ND018.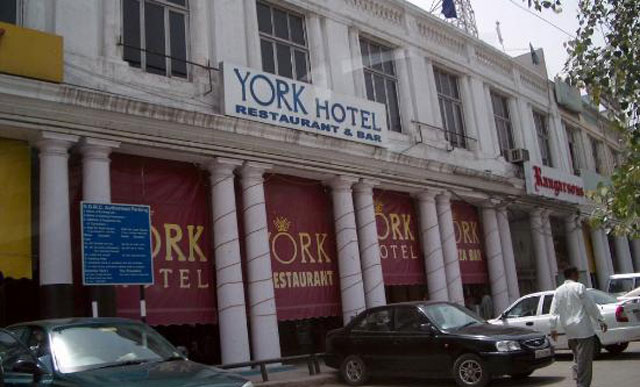 York Hotel, located in the heart of Delhi, offers a world of privacy and elegance. The hotel offers a range of class services to make your stay memorable.
Welcome to York Hotel - an experience in traditional hospitality, prompt servicing & practical furnishing brought together in a successful combination made possible with you in mind. It is a Deluxe 3 star hotel located in the heart of New Delhi. The Hotel is conveniently located in Connaught Place - the heart of New Delhi. It is just a stone throw distance from the leading commercial and tourist places in Delhi. It makes it a hit place to stay among the domestic as well as international tourists.
When you stay at York Hotel, a memorable time in tranquil ambience is assured. Our variety of accommodation is sure to cater to all your requirements

. It include All Rooms Equipped with Attached bath with hot & Cold running water, · Wall to wall carpeting, · Color TV with Remote, · Direct Dial Phones, · Two Line Phones, · E-mail & Internet connectivity, 24 hrs Room Service, Refrigerator
Gima - for exotic Chinese , Japanese and Thai delicacies, A variety of Indian, Continental and Chinese dishes, Food prepared by experienced Chefs, Hygienic food
Meh Khana Bar- meh kahna bar serve you with the drinks of your choice in elegant and congenial surroundings
Tariff 09-2010
Single

Rs.3800/- +12.5% tax

Double

Rs.4300/- +12.5% tax

Suite

Rs.8500/- +12.5% tax

Extra Bed

Rs.700/-

Single

Euro 56

Double

Euro 64

Euro 125

Extra Bed

Euro 11
Valid From October 01, 2009 Till March 31, 2010
Lunch / Dinner : ALA – CARTE BASIS.
Click Here for Booking Form

Tele : +91-11-41612107, 26823836. Mobile: 9810002772, 9910002772.

Email :- reservations@ashextourism.com