Hotels and Resorts in Goa

The Kenilworth is a five star resort situated on the beachfront in the south of Goa. The resort is on Utorda beach, which enjoys white sands with clear blue water

Located in the serene village of Candolim, Bardez, Goa, HIGHLAND BEACH RESORT is located 6 minutes away from the golden sands of Candolim beach, 11-kms. from Mapusa town, and 13-kms from the Capital city of Panjim
The site of a 16th century Portuguese fort, Fort Aguada beach resort is 45 minute drive from the airport. Offering stunning views of the Arabian sea, the ancient ramparts of the fort enclose the main wing of the hotel

Calangute is the number one beach side destination in India. When people say Goa, they invariably mean Calangute. Come over to Kamat Holiday Homes and allow the Goan winds to take care of your mind, body and soul.
Calangute Beach, commonly known as "Queen of Beaches" is 500 metres away from the Ronil Beach Resort. Ronil Beach Resort provides the following amenities that can offer you a pleasurable and an memorial stay in Goa.

The village square from Baia Do Sol and you are on the famous Baga beach of Goa, 3km of golden sands to Calangute and a further 3km to Fort Aguada,
Hotel Park PlazaFor those with discriminating tastes and an appreciation of excellence, this is the perfect haven. Hospitality and good service await you...

The Dona Sylvia Beach Resort offers you all the fun in the world and more! Enjoy yourself at the biggest swimming pool in Goa

The resort is located in South Goa, Cavelossim, it may be pertinent to add that South Goa is considered to be the pride to Goa

Built into the hillside of Arpora, ten minutes from the sea, this newly constructed, privately owned hotel, offers a quality of service including relaxation therapies, oil massages and steam baths

It is the only Boutique Hotel which is built on the lines of a natural, traditional architecture concept using exposed masonry. Eco-friendly and with the minimum use of resources,

The Leela Palace, Goa has a unique position both geographical and historical. It is located halfway down India's west coast and is enclosed by the Western Foothills and the Indian Ocean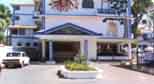 Victor Exotica Victor Exotica Beach Resort - the 'Resort of the Millennium' was launched in December 1999. It is located in the heart of the tourism belt of North Goa.

Palm View is situated a short walk away from 3 beaches Majorda Beach, Sunset Beach and Nanu Beach and it is a family-managed guesthouse set in the heart of Goa


An architecture that is contemporary, and yet reflects the recent past with its distinct character sets the Villa Sol apart from the monotony of today's constructions

Situated on its 82 miles coastline is Calangute - one of Goa's famous beaches, and situated on this beach is the enchanting Ronil Royale

Atish nestles in fairy tale surroundings haven of peace, with an ambience that is a blend of contemporary elegance and traditional Goan hospitality.

Rooms has the spectacular view of the sparkling blue waters of the Mandovi River with its surrounding lush green back drop and Panjim Church situated just behind the Hotel.
Nestling in the heart of porvorim, at alto de porvorim, angels resort comprise of 20000 square meters of land 50 beautiful villas lots of open garden spaces lawns and greenery located just 5 kms from panaji

Set on the south west coast of Goa, overlooking the Arabian sea, the hotel is situated on 56 acres of exquisitely landscaped lawns, complete with tropical plants and graceful palms