The Fort-Nalagarh
Solan Code No- AT-HP12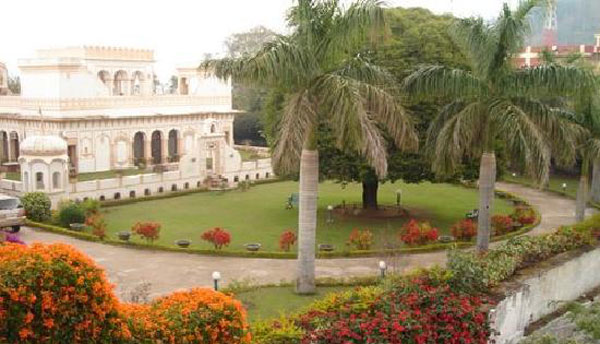 Nalagarh is the gateway to Himachal Pradesh in North India. The Fort is located on a hillock at the foothills of the mighty Himalayas affording a panoramic view of the Shivalik Hills beyond the Sirsa river. The Garh rises above a 20 acre estate of forest and orchard and is built on five levels three of which have well manicured lawns. The Fort was built during the reign of Raja Bikram Chand in 1421. The impressive Diwan-E-Khas at the Fort (now the Conference /Banquet Hall) was built by Raja Sansar Chand in 1618.
Facilities:
22 air-conditioned rooms and suites , Telephone, Television in rooms , Running hot and cold water , Continental and Indian cuisine , Health club, multi-gym and massage, acupressure

Major credit cards accepted , Conference facilities , Doctor on call , Swimming pool

Ayurvedic oil treatment centre, Transportation to and from (Chandigarh, Kalka or Ropar) available on request
Nalagarh is one of those places that soothes the eyes as much as it calms the soul. The retreat is an ideal place to unwind from the heat and dust of the overcrowded Indian cities. There is plenty to explore by way of nature walks in the lush green surroundings of Nalagarh. The famous Mughal Gardens at Pinjore are only 35 km away. In season, fishing enthusiasts can look forward to exciting times at the Gobind Sagar Lake, Gambar River (22 km) and the Sutlej Barrage (22 km). For the devout, the famous Naina Devi Temple is only 60 kilometres away.
An excellent excursion from Nalagarh is to the impressive Ramgarh Fort. Built by Raja Ram Chander in 1540, the Fort is situated at a height of 4000 feet. The Fort is located 21 km north of Nalagarh. The Fort ramparts command a breathtaking view of the plains and towns of Punjab, and the perennially snowclad peaks of the Himalayas.
Ramgarh is an important landmark of the famous Gurkha Wars of the mid nineteenth century.
valid till 31 March 2017.

Deluxe Room: Rs.4500/- per room per night + 18.70% Tax = Rs.5342/- per room per night. Suite Room: Rs.6000/- per room per night + 18.70% Tax = Rs.7122/- per room per night. Family Suite: Rs.9500/- per room per night + 18.70% Tax = Rs.11277/- per room per night.
Includes: Accommodation, Breakfast and Taxes..
Tele : +91-11-41612107, 26823836. Mobile: 9810002772.