The Cottages, Suites & Rooms: Blossoms Village Resort has 19 spacious rooms. All well-maintained rooms with modern facilities. Resort has three categories of rooms, to suit every need, including 8 Superior rooms (base category), 7 Premium (mid-budget), and 4 Cottages (exclusive hut-style rooms). With a range of tailor-made and personalized services on offer, it makes Blossoms Village Resort the top choice for tourists amongst resorts in Dharamshala.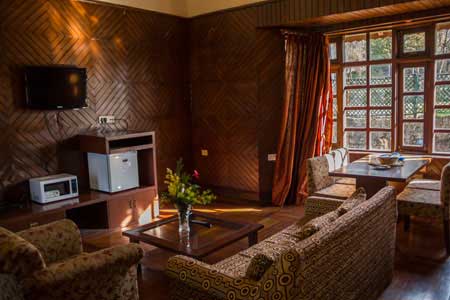 Blossoms Village Resort with all well furnished rooms has a sit-out/porch, where you can lounge with a hot cuppa, breathe in the fresh mountain air, and relax, while you look at the fine unobstructed view of beautiful & awe-inspiring snow-capped Dhauladhar mountain ranges. Generous space, and airy ambiance unravels gracious decor, coupled with superior comfort. In every room of the Resort you get a plush king-size bed that is custom-designed, so that you can just sink into your dream world, with the sound of the mountain stream flowing by slowly relaxing your senses. Interiors & furnishing is tastefully elegant, offering supreme quality and unsurpassed comfort.
Superior Rooms We have 8 Superior room in the base category, vibrant and spacious. Well appointed room with plush decor Flatscreen colour TV Tea & Coffee maker.
Premium Rooms We have 7 Premium rooms in the mid budget category, spacious and luxurious. Luxurious wooden floor Bathtub LCD TV Tea & Coffee maker.
Cottages We have 4 Cottages situated privately and with it's own lawn and green garden. Minibar , Microwave & Dining space Spacious bathroom with bathtub Wooden flooring & panelling Hot plate & other Kitchen amenities. .
Rooms & Amenities Cable Television Room Service Laundry Facilities Daily Newspaper
Resort : Covered Parking, 'The Cliff' - Roof Top Restaurant & Bar Spa (new in 2013) Elevators & Ramps 24 Hour Reception Desk
Outdoor & Fun: Lush gardens and lawns, Kids Zone with PlayStation, games etc., Activity Room with Pool Table, Well Equipped Gym .