Enjoy the delectable grub at The Dhauladhar restaurant at the resort. The restaurant serves delicious local cuisine as well as pan-Indian and international, prepared by the talented chefs. Select from the diverse a-la-carte menu and enjoy your meal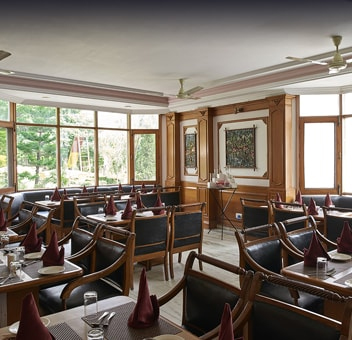 Local food & festivals Dharamshala is a melting pot of culture and food. Thanks to the motley mix of settlers from Tibet, Nepal and even other parts of India like Kashmir, the food of Dharamshala has always been diverse. To cater to the number of tourists the town attracts, there are numerous restaurants serving interesting cuisines from across the world. Start with the ubiquitous momo for appetizers and proceed to a hearty meal of Thukpa – a soupy, noodle dish from Tibet.
Japanese / Korean / Chinese or Western cuisine (read Italian), whatever your taste buds crave, you will find it in Dharamshala. However, if you are tired of all the different types of Himachal cuisines, settle in for the local Himachali fare or just regular Aloo Paratha at one of the bustling eateries in the town. Either ways, you will be never be disappointed when it comes to food.
Our chefs will ensure that you relish various local delicacies of Dharamshala during your family vacation at Club Mahindra Dharamshala resort, Himachal Pradesh.
Bar Grab a drink and relax yourself after a tiresome day or simply unwind at the resort bar, nursing your drink. The resort bar also serves up delicious cocktails made from quality IMFL.