The Geetanjali : An economy hotel for practical people, the Hotel Geetanjali offers a good view of the area.
Hotel Geetanjali Dalhousie is a very decent place to stay as one can get spectacular views of the place around. The Region can only be accessed by Road. A Train Journey is possible upto Pathankot before one has to embark on a Motor Journey into Chamba, Dalhousie and Khajjiar. Gaggals in Kangra at 140 km and Pathankot at 118km are the nearest Airports to Chamba.
Rooms are airy, spacious and decently furnished with attached baths and running hot & cold water.
Satellite Television, Restaurant.
CAFE GEETANJALI: HPTDC runs a Cafe Geetanjali at Dhundiara on the National Highway.
Ravi River flowing at the feet of Chamba town is associated with many melodic Folk Songs. Its Cultural Heritage an Iota of it Displayed in Bhuri Singh Museum, its Dances-

Dandaras and Ghurai, its folk songs, Miniature Paintings, the Chamba embroidered 'Rumaal', its 'Chukh'- a chilly Pickle and its 'Chappals' all contain a special Appeal.
In western Himachal Pradesh, the hill station of Dalhousie is full of old world charm and holds lingering echos of the Raj era. It covers an area of 14 sq. km. and is built on five hills - Kathlog, Patreyn, Tehra, Bakrota and Balun. It is named after the British governor General of the 19th century, Lord Dalhousie. The town's heights varies between 525 m and 2,378 m, and is surrounded by varied vegetation - pines, deodars, oaks and flowering rhododendron. Dalhousie has charming colonial architecture, including some beautiful churches. Its location presents panoramic views of the plains and like a long silver line, the river Ravi twists and turns below Dalhousie. The spectacular snow-covered Dhauladhar mountains are also visible form this enchanting town.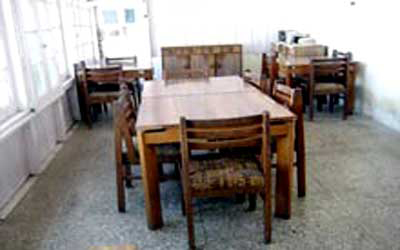 ACCESS: Dalhousie is 485 km by road from Delhi and 52 km from Chamba. The closest railhead is Pathankot, 80 km away. The airport at Gaggal in Kangra is at a distance of 135 km . Taxis and buses are easily available from these places.
CLIMATE: In winter, the temperature can drop to freezing point when heavy woolens are required. The summer temperature are mild and light woolens / cottons are recommended.
THE MANIMAHESH: Named after the adobe of Lord Shiva, Mount Kailash-Manimahesh (5656m) visible from Dalhouise, is a modern hotel with all amenities. This deluxe hotel offers commanding view of snow-clad ranges and plains.
Places Of Interest
CHURCHES: There are four beautiful churches in Dalhousie. These are St. Andrew's Church and St. Patrick's Church at Balun, St. Francis church at Subhash Chowk and St.John's Church at Gandhi Chowk.
SUBHASH BAOLI (1 km): It was at this enchanting spot surrounded by majestic trees, that Netaji Subhash Chandra Bose spent time in 1937, contemplating and meditating.
PANCHPULA (3 km): This is a picturesque spot where a stream feed a series of pools. A monument has been built here in memory of the freedom fighter, Sardar Ajit Singh.
KALATOP (10 km): This wild life sanctuary is a home to the 'ghoral' and Himalayan black bear.
SHOPPING: Tibetan handicrafts including pullovers and carpets at Dalhousie. Chamba Slippers, 'Rumals' and Shawls at Chamba town.