Ferrnhills Royaal Palace
Ooty, Code No- AT-TM05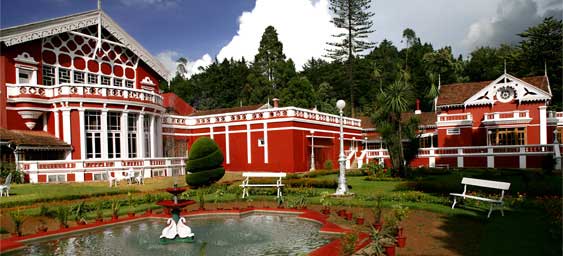 India is a land of history, legends and kingdoms. Many palaces in India are witness to sensational stories that unfolded in those very corridors centuries ago and have been retold for generations. Today many of these famed palaces have been converted into palace hotels in India. Ferrnhills RoyaalPalace, a part of Wadiyar dynasty, is a palace that offers the best of regality and hospitality, midst the rolling hills of Ooty.
The Wadiyar dynasty which began in chivalry continues its traditions until today. The royal head of this dynasty is traditionally known as Maharaja of Mysore. The ever popular thirteenth-century shrine in Mysore Palace continues to attract visitors today, bearing witness to the birth and continued glory of the dynasty.
It was on a fateful day in 1399 AD when two young men, Vijaya and Krishna of the Yadu dynasty were returning back to their homeland, Dwarka, in present day Gujarat, after a pilgrimage, when they happened to stop by the temple, dedicated to Kodi Bhyraveshwara. Here they overheard women talking of the distressed princess Devajammani. The death of her father, Chamaraja, the local ruler, had turned the neighbouring Chief of Karugahalli, Maranayaka into an opportunist who began demanding the kingdom and the princess in marriage. Seeking the help of a Jangama Odeya , a Shaivite religious man, the two brothers began mobilizing troops and succeeded in overcoming the Karugahalli Chief. The princess married the elder brother, who took the name of Vijaya Raja Wadiyar and the title of Yaduraya, becoming the first ruler of the Wadiyar dynasty. Thus began the history of a royal lineage which has continued over six centuries until today, to the 26th holder of the title, His Highness Srikanta Datta Narasimha Raja Wadiyar. From a kingdom of 30 villages and 300 soldiers, the kingdom of Mysore expanded to encompass 35,000 square miles by the time of Chikka Deva Raja Wadiyar (1645-r.1673-1704).Ooty was a part of Maharaja of Mysore's territory. Ferrnhills RoyaalPalace is listed among the historical places in Ooty. It was also the first property purchased by an Indian monarch in the British stronghold of Ooty.
Ootacamund or Ooty the queen of southern hill resorts of India is a hill resort standing at 7,349 feet above sea level. Udhagamanalam (other name for Ooty) spreads over 36 sq. miles and the temperature ranges from 25 degree Celsius in summers to near freezing in winters.This famous hill station is at the junction of Tamil Nadu, Kerala and Karnataka, three southern states of India. British founded this hill resort which seemed them as their summer headquarters. Before that time, the area was inhabited by Todas. These tribal people still inhabit the area, but only around 3000 remain

2 Nights 3 Days Package
Valid From 01st Oct 2016to 31st Mar, 2017.
02 Nights / 03 Days Package
Studio Suite: Rs.22599/- per couple.
Junior Suite: Rs.25299/- per couple.
Executive Suite: Rs.29699/- per couple.
Deluxe Suite: Rs.36899/- per couple.
Luxury Suite: Rs.45099/- per couple.
Maharaja Suite: Rs.67099/- per couple.
Includes: Accommodation, American breakfast, Lunch or Dinner & all applicable taxes.
Click here for Booking Form

Tele : +91 9810112772, 9910003772.
Email :- reservations@ashextourism.com