Hotel Geo
Bangalore Code No-AT-KT10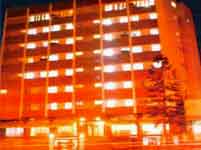 Hotel Geo ,Hotel Geo as a professionally managed 2 star hotel. We take the privilege to inform you that we are now functioning under a new management namely the Sentosa Group, hoteliers of fame in South India, well known for their hospitality and professionalism. Hotel Geo is located in the very heart of the fascinating green city of Bangalore, within the proximity of the city center, bus terminal, railway station, airport and places of tourist interest.
Accommodation

Well appointed A.C. and non-A.C. rooms, 24 Hrs check-out, 24 Hrs Room Service, direct dialing facility, fax, cable TV channels, hot water and multi-cuisine restaurant. Above all, we assure their guests of a comfortable stay with them. They also have an A.C. Conference Hall with all facilities to accommodate up to 40 persons.
Restaurant

.
Click Here for Booking Form

Tele : +91-11-41612107, 26823836. Mobile: 9810112772, 9910003772.
Email :- reservations@ashextourism.com