Hotel Windsor Sheraton
Bangalore Code No-AT-KT09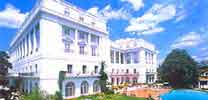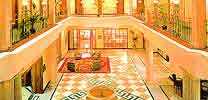 Hotel Windsor Sheraton ,Downtown location, close to the prominent business and commercial areas. Near the historic landmark Vidhana Soudha and opposite the Bangalore golf course. 12 km from the airport. 4 km from the railway station. 5 km from the city centre. .
Accommodation

240 rooms, including 22 suites. 29 Non-smoking rooms. 1 Presidential Suite. 89 Sheraton Tower rooms. 10 Towers suites. An exclusive world where you can experience the finest in hospitality and personalised service in an atmosphere of gracious elegance. Where everything you need is provided for under one roof 44 Executive Club Rooms, a unique concept in accommodation, pioneering a tradition in corporate hospitality and setting a premium on discreet efficiency and business-related services
Dining
THE RAJ PAVILION A very special 24-hour restaurant housed in a conservatory. The Raj pavilion reinforces the 'Garden City' ambience of Bangalore as well as a bit of very British Victoriana to Windsor. The menu features a variety of Indo-Anglican and Far East cuisine bringing more than a touch of nostalgia to those familiar with the cuisine of the British Raj
JOLLY NABOBS Experience the delight of Anglo Indian versions of regional dishes such as Muligatawany Soup, Cutlets Shikampuri, Dum Poked (Dum Pukth) Chicken and Kedgree (Khichri), and more. Jolly Nabobs, a term coined for the employees of the East India Company. They carried back to England a taste of the Indian art and architecture, Indian food and Indian way of living. Windsor Manor recreates the glory days of the Raj in its fusion cuisine of the Indian and English.
THE ROYAL AFGHAN The popular poolside barbecue restaurant serving the unique cuisine from the rugged Indian North-West frontier, reviving tales of roasting meat around a roaring fire and the aroma of charcoal grilled kababs.
MAHJONG ROOM This elegantly appointed Chinese restaurant, serving authentic cuisine, ushering a new concept in fine dining.
DAKSHIN A celebration of the rich diversity of South Indian cuisine. Offering the rare pleasures of authentic coastal and regional specialities.
DUBLIN - THE WELCOMPUB A first-of-its-kind, distinctively Irish Pub.'Ere's a plaice where the whole bar is likely to say'Hi' when you walk in'. Where toasts, jokes'n' blessings form the order o' the day. And losing arguments.
Tariff
Sheraton Towers**

Rs.7,000/-

Rs.7,500/-

200

210

Executive Club*

Rs.5,500/-

Rs.6,000/-

150

160

Corporate Floor

Rs.4,200/-

Rs.4,700/-

130

140

Sheraton Towers/
Manor suite**

Rs.10,000/-

275

Presidential Suite**

Rs.20,000/-

650
Note: 1. 10% HET 2. 12.5% Luxury Tax on pub. FIT Tariff. 3. Rates are subject to change without notice. 4. Taxes and service charges applicable extra. 5. Above rates are valid until further advise *Inclusive of Continental BreakFast **Inclusive of American BreakFast
Privileges include : Complimentary airport transfers in luxury limousine, Complimentary American Breakfast, 24-hour butler service, Complimentary Club Hour, Use of the exclusive Tower Club Lounge facility with its own library, bar, restaurant, tea/coffee service, Complimentary use of Office & the Meeting room at the Towers Club.
Hotel Facilities - 24-hour room service. - Doctor on call. - Golf and riding (on request) - Health and Fitness Centre - Personalised vaults and mini-bars. - Lockers, safe deposit and 24-hour money changer. - Baby sitting service - Business centre with secretarial services - Cyber Club - 24-hour laundry - Tour/travel desk - CCTV, CNN, Star TV, BBC, channel music - Internet Access .
Valid till 31 st March 2006
............ Rs.12999/-, & 20% off on food and beverages. Weekenda only.
Rates are valid for a standard room inclusive of breakfast for two adults and two children (under 12 years), Weekends include the nights of Friday , Saturday and Sunday only,Rates are exclusive of taxes and service charges,Welcomebreak is extendable on a pro-rate basis,Extra bed at Rs.500/- per day,The offer is valid on prior reservation only and is subject to availability, Offer is valid for Indian nationals and resident foreign nationals only, Rates for classic Galf resort include tented accommodation for one night for 2 adults and 2 children ( under 12 years). A-la-carte breakfast on charge.
Click Here for Booking Form

Tele : +91-11-41612107, 26823836. Mobile: 9810112772, 9910003772.
Email :- reservations@ashextourism.com