ITC Windsor
Bengaluru (Bangalore) - Karnataka
ITC Windsor, Bengaluru
ITC Windsor, a luxury hotel in Bengaluru, merges an old world ambience with international service to create a hotel experience that goes beyond expectation. This luxury hotel in Bengaluru has long acquired a reputation of playing host to the aristocracy of the world. The hotel is located 3 kilometres from the business centre and 33 kilometres from the airport in a highly secure diplomatic pocket. This splendid downtown location is near the prominent business and commercial areas, the historic landmark Vidhana Soudha and opposite the Bangalore Golf Course.


Lush landscaped gardens, wood panelling and Queen Anne furniture paint a picture of the charm and grace of the Regency era. 240 guest rooms and suites promise a respite filled with opulence and grandeur.
Balmy Bengaluru At 3018 feet above sea level, Bengaluru has the sort of gentle, affable weather that is eminently conducive to good health and a cheerful demeanour. It is no wonder that among its many complimentary epithets it was also once befittingly called the 'pensioner's paradise'.
Winsome Windsor Situated in a charmed spot, in a serendipitous combination of location and climate, ITC Windsor offers a spectacular experience of 5 star luxury hospitality in this agreeable city. Perched at the edge of a promontory in the heart of the city, overlooking the lush expanse of the Bangalore Golf Club, this 5 star luxury business hotel cuts a fine figure against Bengaluru's city skyline..
Facilities & Amenities provided on complimentary basis : Hotel Facilities: 24 hour concierge service 24 hour currency exchange 24 hour room service Access to Spa, Salon and Health Club Access to Swimming Pool Valet and self-parking facilities Hotel accessibility available for the differently abled
In Room Facilities: Internet usage at the Business Centre for 30 minutes per day Electronic Safe Multi-channel television Daily newspaper Guest stationary Bottled mineral water Tea/Coffee maker Iron and ironing board Personal care amenities!
Luxury Accommodation
ITC Windsor offers a wide selection of luxuriously appointed premium accommodation that is rated among the best in the city. Perched at a height, overlooking the Bangalore Golf Club on one side and the aquamarine swimming pool and the Lancelot Gardens at the hotel on the other, this landmark hotel presents 240 well appointed luxury rooms including 22 Luxury Suites and one regal Presidential Suite, allowing you to choose the accommodation that best suits your needs, when you are in Bengaluru.
Presidential Suite Characterised by an elegant expression of the Raj Era luxury, the Presidential Suite at ITC Windsor offers a stylishly lavish abode of comfort and indulgence to our distinguished guests..
Manor Suites Luxuriously proportioned, well appointed lavish accommodation for corporate leaders, the Manor Suites offer a delightful experience of old world hospitality in an ambience of regency grandeur combined with world class amenities for an unmatched sense of space and luxury.
ITC One The finest accommodation in the 5 Star category, ITC One rooms at ITC Windsor have been designed to emulate the grand residences of the Raj Era dignitaries.
Executive Club Distinctly Victorian in decor and amongst the most luxurious and spacious rooms in this category in Bengaluru, the Executive Club rooms at ITC Windsor offer refined luxury with a complement of warm and efficient services along with state-of-the-art amenities befitting to a 5 star luxury hotel in one of India's fastest growing metropolitan cities.
Tower Rooms An embodiment of 'a hotel within a hotel', the Towers rooms offer services tailored to your every need. Skirting around an atrium overlooking the Cabinet Lounge, these spacious and elegant rooms reflect the charm and old world grandeur of the hotel, with an accent of plush luxury that is bound to make you feel pampered.
Manor Rooms The luxuriously appointed Manor Rooms are the embodiment of understated elegance. Each Manor Room offers a spacious abode of relaxation and luxury with a fine balance of tasteful period decor and state-of-the-art luxury inroom facilities.
Eva Floor At ITC Windsor we value the experience of every guest. Part of our effort to make our lady travellers feel pampered and secure is the facility of a completely exclusive ladies-only floor..
Luxury Cuisine
Over the years, ITC Hotels has earned a reputation for excellence in its culinary endeavours by shinning a spotlight on the best of Indian and International culinary traditions, distinguishable by their authentic flavours and quality ingredients. ITC Windsor brings this exceptional repertoire of culinary excellence to Bengaluru in a selection of the city's finest dining destinations. From the robust flavours of the North West Frontier and the refined pleasures of royal Indian traditions, to the delectable flavours from Southern India and onto international favourites, along with an extensive collection of the finest beverages, the restaurants at ITC Windsor promise an inspiring culinary experience in Bengaluru.
Raj Pavilion A cheerful, cosy restaurant built in emulation of the 100 year old glass house at the Lal Bagh gardens, this multi-cuisine 24 hours hour restaurant bears the distinct ambience of a Raj Era greenhouse. Hours: 24 hours
Dum Pukht Jolly Nabobs The refined culture of courtly dining has been elevated to a sublime art at this fine dining Indian restaurant in Bengaluru. Hours: 7:30 PM - 11:30 PM
Royal Afghan Welcome to a taste of the highly acclaimed cuisine of India's North West Frontier. Hours: Lunch- 12.30 p.m. to 2.45 p.m (Saturdays and Sundays). Dinner 7.30-11.30 p.m Daily
Dublin They say, in Ireland, the craicin' good times never end. And we've brought this incomparable spirit of celebration to India, with our authentic Irish pub, Dublin. Hours: 1200 - 2330 hrs
Dakshin Recreating the magic of home cooked delicacies from across Kerala, Tamil Nadu, Andhra Pradesh and Karnataka, Dakshin presents a rare menu of Southern Indian cuisine. Hours: 12:30 pm – 2:45 pm 7:30 PM - 11:30 PM.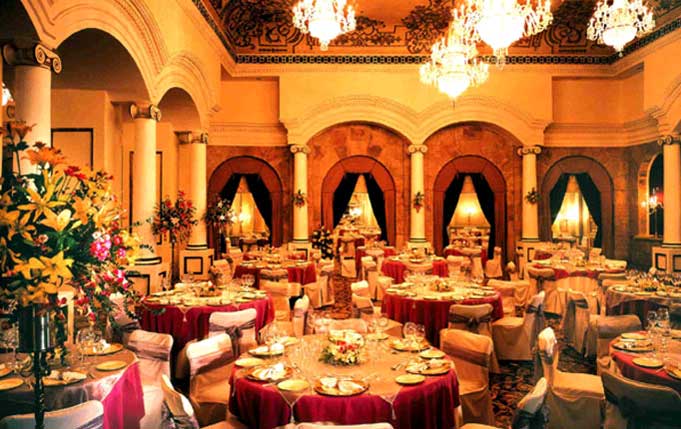 Meetings & Events An elegant building perched at a vantage point at the centre of the city, bearing the distinct aura of stateliness, ITC Windsor serves as the perfect venue for celebrations, banquets, corporate events, weddings, conferences and meetings in Bengaluru. Its seven versatile and state-of-the-art meeting, banquet and conference spaces including Regency I & II – a grand hall for large sized gatherings and conferences that can be divided into two separate spaces, Westminster Hall, House of Lords, Victoria Room, Manor Club and the beautiful Arcot Terrace that affords stunning views of the overlooking greenery are perfect for theme events, corporate functions, celebrations and parties.
Along with a bouquet of fine services, a dedicated team of event management associates and access to gourmet catering facilities have contributed to making ITC Windsor one of the most sought 5 star venues in Bengaluru.
Luxury Events Having played host to the SAARC conference in India, the Miss World Pageant, the Economic Times Corporate Excellence Awards and several state visits, ITC Windsor, Bengaluru has the ambience, the facilities, and most importantly the experience to successfully host conferences and banquets for world leaders, heads of state, corporate dinners, exclusive private luncheons and elegant receptions.
Spa
"Kaya Kalp – a Sanskrit word meaning Rejuvenation of mind, body and soul." India's culture lies at the heart of the Indian experience….. Journey through this majestic land of ancient customs and rituals, and recapture the spiritual and medicinal legacies that have been handed down through the centuries. India's rich cultural, spiritual and ancient traditions are intertwined throughout our treatment menu with healing stones, soothing music and the healing hands of the therapist's that will be effectively integrated into an experience that is relaxing, rejuvenating and rebalancing to each person on a soul level. Kaya Kalp also offers western style therapies using luxurious products that are natural but deliver the desired effects, and an array of hair and beauty services. The spa's luxurious interior designs will start your sensory journey as soon as you enter with a delightful aroma and relaxing surroundings, you will walk into a haven of peace, tranquility with unparallel luxury. "A visit promises to deliver a journey of relaxation and rejuvenation through a world of regal luxury and pampering".
Click Here to Book ITC Windsor Bangalore
Tele : +91-11-41612107, 26823836. Mobile: 9810112772, 9910003772.
Email :- reservations@ashextourism.com