Luciya International
Bangalore Code No-AT-KT09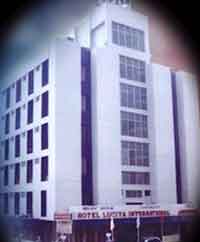 Hotel Luciya International ,Situated in the Garden City Of India, Bangalore, Hotel Luciya International has been the traveler's idea of comfort from the past few decades. Located in the heart of the city, the Hotel is 2 Km away from the Railway Station and Bus Terminus, and 7 km away from the Airport.
Accommodation

An affordable luxury to a traveler,Luciya offers non-airconditioned and aircoditioned single room, double room suits with closed circuit television, direct Dialing system and round the clock service.
Restaurant

The Golden Plate Restaurant At the restaurant we have a range of delectable cuisine to suit every palate. Our restaurant provide a delightful blend of South & North Indian, Chinese and Mughali styles, besides the ethnic culinary specialities of karnataka , reflecting the native ambience of the region. .

Tariff

Single
Double
Suite
Deluxe Non A/C
500
650
800
Deluxe A/C
650
900
1100
Executive Non A/C
650
800
1100
Executive A/C
850
1100
Extra Person Rs 200
Inclusive of complimentary Breakfast.
12.5% Luxury Tax on all the rooms

Services

Room Facilities : Exclusively furnished rooms and suites Closed Circuit Color T.V in all rooms Direct Dialing facility Air-conditioned Restaurant Safe Deposit Lockers Laundry service Doctor on call Travel Counter Book Shop .
Click Here for Booking Form

Tele : +91-11-41612107, 26823836. Mobile: 9810112772, 9910003772.
Email :- reservations@ashextourism.com