St. Mark's Hotel
Bangalore Code No-AT-KT11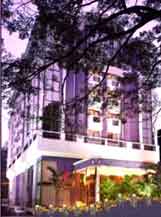 St. Mark's Hotel Business lunches client meetings quick thinking at St.Marks Hotel they know what it is to be a business traveller the reason why they have created the right ambience for you. So you can relax and work with ease situated in the heart of the city they not only provide you with excellent services, but also the perfect infrastructure besides well furnished rooms and recreational facilites they also have a full fledged business centre and banquet halls all of which help you conduct businesswit ease and sophistications.
Accommodation

The hotel has 78 deluxe rooms and 16 suites which are tastefully decorated with most modern amenites for a dicerning business traveller including internet connectivity.
Restaurant

Welcome to the "Indian Pavilions" allow their chefs to escort you through their exotic breakfast and lunch buffets and an a-la-catre menu, which offers some of the finest hand picked specialities from differenct regions of India. Bar The warm and relaxing atmosphere of the "Phonix " bar is equally conducive for discussing business over lunch or treating your family & friends to a light evening drink. Their new menu which offers a variety of cocktails, mocktails & other premium drinks and mouth watering appetizers is designed to delight the palate of today's globe trotting business traveller.

.

Tariff CP (Room & Breakfast)

Single
Double
Std Room
Rs 2650
Rs 3200
Suite
Rs 3350
Rs 3950
Extra Adult / Bed
Rs 600
baby cot available on request at no extra charge Children no charge for children under 3 years occupying the same room with parents Rs 175 shall be charged for a child between 3 and 12 years (without extra bed) Rates inclusive of buffet breakfast at the Far Pavilions restaurant
12.5% Luxury Tax on all the rooms 5 % service tax

Business center & conference faility

The business centre is fully equipped to meet all the requirements of a business traveller including seretarial services adn 24 hours internet connectivity board rooms and banquet halls to cater to all conferenceing and banqueting needs for a gathering of 6-125 guests.
Click Here for Booking Form
Tele : +91-11-41612107, 26823836. Mobile: 9810112772, 9910003772.
Email :- reservations@ashextourism.com