B R HILLS Wildlife Resort (Jungle Lodges)
Code No- AT-KT06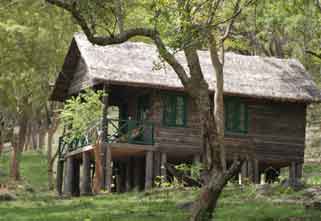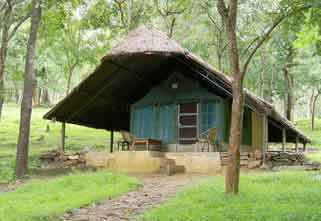 This is an unmatched combination of holiday at a hill-station and an opportunity for exploration of the wildlife. The resort is located in the heart of the Biligiri Rangaswamy Sanctuary (B R Hills) at K Gudi, just 90 km. from Mysore, on a hilly terrain at an altitude of 3300 ft., (to 5000 ft.,) above sea level.
At the camp, the deciduous, evergreen and grassland forests engulf you and put you right in the middle with the wild animals and birds that the jungle is home to. The forest is at its best greenery during June to November and wildlife is sighted round the year. A unique feature of the camp is that there is no electricity in the tents and the log-huts. Electricity, however, is provided in the hunting lodge between 7pm to 10.30 pm. As the night falls and the stars shine, the resort lights up with hurricane lamps, a magical transformation. A unique blend of a wildlife sanctuary and hill station, the Biligiri Ranganna Hills (B.R Hills) is a haven for a variety of wild animals and birds, making it a 'must see' for those who love the jungle in its pristine glory. Here, one is welcome to unwind and enjoy Nature's gifts unfettered by civilization. Jungle Lodges and Resorts offers you an experience of a lifetime where you can only expect the unexpected, the untamed and the unexplored.
ACCOMMODATION
The resort offers a choice of living quarters.
One large hunting bungalow (once the property of the Maharaja of Mysore) with furnished rooms, electricity, and attached modern toilets. It accommodates about 15 tourists.
Eight permanent furnished twin bed tents with modern toilets facilities, capable of accommodating 16 tourists on twin-sharing basis. These are lit by hurricane lamps.
Furnished ethnic huts on stilts with attached modern toilet facilities. These are lit by hurricane lamps
ACTIVITIES
Jungle safaris in jeeps and on elephant back are a must in this resort. When out on safaris in the forest, one could spot a herd of elephants or a langur, panthers, tigers, sambar deer, sloth bears, bison, wild boar, barking deer, porcupine and more.
Bird watching is another important activity at this resort. You might spot birds like the large Indian parakeet, racket-tailed drongo, hill Myna, crested serpent eagle, chestnut-bellied nuthatch among 225 species.
You could also go for long walks and treks.
Packages 2012 -13
Loghut = Rs.4350/- Per Person Per Night
Tented Cottage / Family Room = Rs.3750/- Per Person Per Night
Package Inludes: Stay, Lunch, Dinner & Breakfast, Jeep safari into BRT Wildlife Sanctuary, Guided Nature Walk, Elephant Ride (Subject to availability), Forest Entry Fees, Camera Fees & Taxes
Note:- Tariffs are per person per night on twin-sharing basis, Transfers to & from our resorts are not included in the tariff, Single occupancy charges for Old Magazine House and Bannerghatta Nature Camp an additional of Rs.500 per night for Indian & Foreigner respectively, and for the other properties additional of Rs.1000 per night for Indian & Foreigner respectively, Tariff for Children (accompanying parents) between 5 and 12 years is 50%.
Click Here for Booking Form
Tele : +91-11-41612107, 26823836. Mobile: 9810002772, 9910002772.
Email :- reservation@ashextourism.com