Bheemeswari Fishing And Nature Camp
Code No- AT-KT07.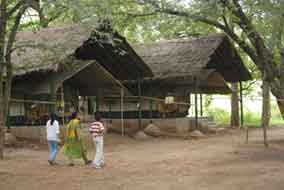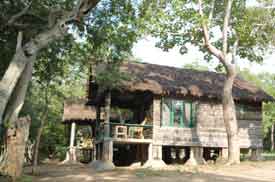 Meandering through the woody landscape of the forests of Karnataka is the Cauvery, a large and majestic river of South India. Perched on the banks of this river are the Cauvery Fishing and Nature Camps, now known as home to the great Mahseer -- the most challenging and the largest tropical sporting river fish known to man.
Tucked away from Bangalore city, yet close enough for you to reach it in two hours, these camps offer a slice of nature that is unique, rugged, and breathtakingly beautiful - one in which you can totally feel free! It is also an ideal wilderness retreat for the (non-fishing) nature lovers and knowledge workers.

Bheemeshwari : Bheemeshwari, the favorite getaway for day trippers is 100 kms from Bangalore. This place is a sanctuary to enjoy the calm environs with a dash of luxury. The original "Mahseer Camp" has grown into an adventure sport too.
If you're looking for luxury, settle on Bheemeshwari. There are 8 luxurious ethnic log-huts on stilts, four of which are air-conditioned, blending beautifully with the surrounding trees. There are also 9 well-furnished tent cottages for those who prefer a more rustic existence.
Galibore is the haven for seekers of isolation. There are 10 beautiful tent cottages, all with attached baths, very clean, illuminated at night with hurricane lamps. There is no electricity here. We have created a beautiful, but rustic atmosphere here, which blends with the environs.
Doddamakali is another place for isolation and rugged living. There are six tents here. Doddamakali is the best place if you are prepared to rough it out.