DEVBAGH BEACH RESORT
Karwar, Karnataka JUNGLE LODGES
Code No- AT-KT09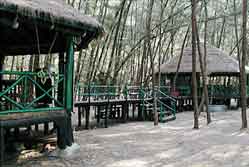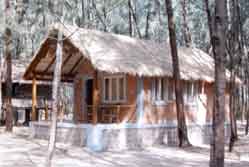 Devbagh Beach resort is on an island and can be reached by boat, making it a tranquil and panoramic getaway for a perfect and quiet holiday. The entire island is covered with thick casuarinas trees. The unspoilt ivory beaches beckon you. This resort is hardly 22 km south of the Goa border (devbagh is just 2 and half hours from Goa), and is located off Karwar, in Karnataka, India.
Devbagh is totally secluded; you are literally marooned, castaway from the cares of the world. Their guests have all the time in the world to walk around, laze in a casuarinas grove, lie in hammocks to read books, play beach volleyball, or just take a swim in the waters. You can enjoy water sports in the creek. With cozily furnished log huts-on-stilts and a rustic gazebo called the Gol Ghar, you may enjoy some fresh seafood and delightful Indian vegetarian and non-vegetarian cuisine.
ACCOMMODATION
Devbagh Beach Resort is luxury at its best. There are eight ethnic-style well- designed log huts which stand on 10-foot high wooden stilts, each at least 30 to 50 feet apart, all with attached modern baths. The view from your sit-out to your exclusive beach is spell binding. The log hut interiors are spacious and comfortably furnished.
Six tents (16 ft. x 12 ft.) with a row of modern bath nearby, are also available at a cheaper rate. Treat yourself to a sumptuous buffet of both vegetarian and non-vegetarian cuisine in an open-to-sides dining hall -- the Gol Ghar. Have your lunch around 1.30 pm after you check in. You are served tea in the evening, dinner in Gol-Ghar around 9 p.m., bed-tea and breakfast to keep you smiling.
Only Devbagh offers you a rare opportunity to experience first hand the life of the marine communities that dwell beneath the sparkling azure waters surrounding this secluded ivory beach resort. You can go scuba diving or snorkelling under the supervision and guidance of our trained staff.
Sit on the beach and take a chance to watch dozens of dolphins frolicking in the waters. Go on a round trip for several hours deep into the Arabian sea and look at several other islands like Kumaragarh, Oyster Rock, Anjudeep and Sanyasi. And all along, sea otters and dolphins will keep you company. The trawler trip costs Rs. 1,000 per trip, irrespective of the number of persons. Go trekking in the forest or work up a sweat at some beach sports. Enjoy the luxury of having your own beach for for swimming and sunbathing. If lazing around is your idea of a holiday, then you could spend hours together doing just that, lying in your hammock under the shade of the trees.
Valid till 31st August 2012
Devbagh Beach Resort, Karwar

Foreigner

Indian

Loghut

Rs.5300/-

Rs.3600/-

Cottage

Rs.5300/-

Rs.3600/-
Applicable only on weekdays (Monday to Thyrsday) and stay package only.
No other offer can be combined.
Discount is on basic rate only.
JLR has all rights to modify or cancel the offer with out prior notice.
Corporate offer is for the registered corporate client with group of minimum 15 member.
It should be ensured that the benefit of discount is passed on to the customer to help to popularized JLR.
Misuse of the discounts provided for the customers will result in serious action.
Travel agents should provide booking voucher with the number of guests and collected amount.
If any addition(Extra Pax) in the existing reservation need be booked it should either be done in the reservation system or mailed to the sales executive before check-in.
Tele : +91-11-41612107, 26823836. Mobile: 9810002772, 9910002772.
Click Here for Booking Form
Email :- urgent.reservation@ashextourism.com