Guhantara the Cave Resort
Bangalore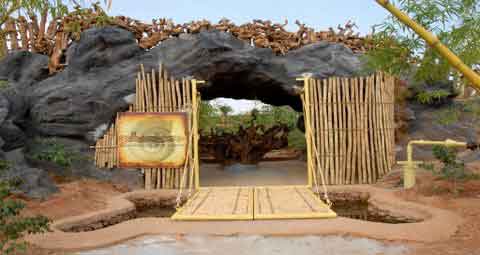 Guhantara (a under ground cave resort), As Guhantara, or in the heart of the cave as it would literally mean, you find yourself in midst of of an exhilerating expierience. India's very first resort, which is nested peacefullly under the surface of the earth. Retelling the story of us; lifting off feet and transporting to a different world is Guhantara - combining luxuary with Spartan splendour. Guhantara is not only an fascinating destination but also a symbol of brilliance of man's mind as he fashioned civilization with all but his two hands.

Distance Distance from Devanahalli Airport: 60 kms Distance from Bus & Railway station: - 25 kms Distance from White field: - 40 kms Distance from electronic city: - 20 kms Distance from global village:-20 kms Distance from Baghmanhe tech park: - 30 kms Distance from IBC Knowledge park: - 27 kms. Area of Resort 3 ½ acres of landscaped with spacious car parking, gardens and offer an ideal retreat for both corporate and leisure travelers.
Accommodaton
The resorts has 20 rooms with unsuited bathrooms and a sit out, each room overlooking a lake that has been created by rain water harvesting, its waters held by a bund. All rooms of this circular resort have an access to the blue skies through skylights and through the sit outs that look up to the skies. A stream runs around the resorts synthesizing the element of nature and adding beauty.
Sambhojana
Sambhojana, the food court offers a multi cuisine fare. The austere décor and amazing surroundings bring out the charm of zen like simplicity and togetherness.
Madhushala
Madhushala weaves the languid air as wine pours from the nimble hands of the saki. Guhantara's bar is a quietly intoxicating bliss!
Rangamandapa
Rangamadapa is the auditorium that greets upon entering this haven. The auditorium can house nearly 700 people at once. Entertainment is bound to be a different journey as the folk artists conjure magic with old refrains.
Samvaad
Samvad is the resorts conference room that comes equipped with state of the art facilities. As the heads meet to confer in such conducive place there can be no doubt about their putting the best foot forward. Harmony prevails far from the modern distractions.

Accommodating Capacity We can provide an ideal venue for your leisure get-togethers for anywhere from 20 to 1000 people. We also offer excellent conferencing options, comfortably accommodating anywhere between 10 to 100 people, complete with audio/visual aids, Internet connectivity and a full-fledged business center, keeping all your business needs in mind.
Conference Packages
APAI (incl of tax)
(A) Week Ends)
Single occupancy :- Rs. 6000/-
Twin sharing : - Rs. 3750/-
Triple sharing : - Rs. 3500/-
Four sharing : - Rs. 3250/-

(B) Week days
Single occupancy : - Rs. 5500/-
Twin sharing : - Rs. 3250/-
Triple sharing : - Rs.3000/-
Four sharing : - Rs. 2750/-
INCLUSIVE OF :- Room, Bed Tea/Coffee, Break Fast, Tea-1st session, Lunch, Hi-Tea with veg snacks, Dinner Conference Hall, Indoor & Out door games.
Facilites : Conference Hall (Samvaada) Lounge Bar (Madhu Shala) Ethnic Restaurant (Sambhojana) Doctor on call Ayurvedic Massage and Spa Gift and Bouquet Shop Wi Fi system

Activities : Tunnel Trekking Beach Volley Ball Archery Rain Dance Bicycle ride Bonfire (on demand) Table tennis Cultural programmes (on demand) Dart Billiards Carom & Chess Cricket Cater pillar (Sling Shot)
Tariff 2010
Primitive Single
Rs. 3500/-
Primitive Double
Rs. 4500/-
Lithic Single
Rs. 4500/-
Lithic Double
Rs. 5500/-
Lithic Suite
Rs. 6000/-
Cave Suite
Rs. 9000/-
Extra Bed
Rs. 750/-
Breakfast complimentary and indoor & outdoor games are included.
Munjaneinda - Upto Evening
( Day out with Breakfast ) Timings : 9am - 5 pm Breakfast ,
welcome drink, lunch , hi-tea snacks.
Rs 750/- + 13.5 % tax per head.
Nenapina doni - Upto Evening.
( Day out without Breakfast )
Timings : 10am - 5 pm
Welcome drink, , lunch , hi-tea snacks.
Rs 650/- + 13.5 % tax per head.
Sampoorna majamadi
( Day out with Breakfast ) Timings :
9am - 9 pm
Breakfast , welcome drink, lunch , hi-tea snacks, dinner.
Rs 1000/- + 13.5 % tax per head.
Muthsanje ( Mussanje ).
Timings : 5pm - 10pm.
Hi-tea snacks , dinner.
Rs 600+ 13.5 % tax per head.
EXTRAS : MC ( Team building activities ) / Bonfire. NOTE: Above rates applicable only on Weekends. Avail discount of Rs 100/- on weekdays.( Monday - Thursday ). Above packages includes usage of all the facilities at the resort.
SPA & MASSAGE:
Shirodhara (tailadhara) - Rs. 1,000/-
Takradhara - Rs. 600/-
Abhyanga + Steam - Rs. 750/-
Swedana - Rs. 250/-
Padabhyanga - Rs.300/-
Shirobhyanga - Rs.250/-
Akshitarpana - Rs. 300/-
Mukhabhyanga (herbal facial) - Rs.300/-
Nasyakarma - Rs.300/-
Jacuzzi - Rs. 400/- Sauna - Rs. 200/- Steam - Rs.200/-

Few tips to follow
Swimming costumes is a must for pool (bring your own).
Dance floor on selective times (30 minutes rain dance) ·
No liquor on dance floor ·
Snooker and Billiards only for professionals ·
Conference hall can be provided for a group of more than 15 no's only ·
No exclusively can be assured as there may be other guests availing the same facility at the same time.
Click Here to Book Guhantara Cave Resort
Tele : +91-11-41612107, 26823836. Mobile: 9810112772, 9910003772.
Email :- reservations@ashextourism.com