Lalitha Mahal Palace Hotel
(Mysore) Code No-AT-KT11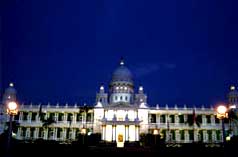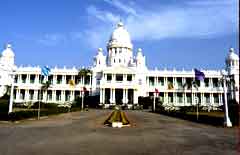 Lalitha Mahal, built by the erstwhile Maharaja of Mysore to host his most important guest, the Viceroy of India. The Lalitha Mahal is now one of India's most opulent hotels, a palace hotel that offers an experience of princely living in a real Maharaja's palace. On a little hillock of the Royal City of Mysore stands a shimmering White Palace - A majestic two storey composition of twin lonic columns with a projecting porch, on top of which rests a slightly recessed pedimented pavilion, spherical dome on the roof top placed on colonnaded drums. The central dome which dominates the elevation rises above the central entrance hall.
Reminiscence of the Past:
The accommodation at this Heritage Hotel consists of 54 stately suites and rooms with tariff chargeable in US Dollars. LMPH also offers various packages to suit the needs of the discerning traveler,
The Viceroy, Vicerine, Duplex Suites and rooms of the Hotel are of princely proportions. They are cool, airy, high ceiling with plenty of natural light, period furniture, four poster beds, deep velvet covered arm chairs, gilt framed Belgian mirrors etc. The huge Awe inspiring Bathrooms are equipped with original Shanks of Scotland plumbing fixtures.
For the sports enthusiasts there are the Swimming Pool, Billiard Room, Tennis Court, Chess, Jogging Track and Health Club to choose from. LMPH has also tied up with the local Sheri Jayachamarajendra Wadiyar Golf course for the benefit of Golf Addicts.
The erstwhile Ballroom has been recreated as a Gourmet Restaurant open for Breakfast, Lunch and Dinner. The stunning Durbar ambience with rich lace curtains and Jharokas. In the Balcony, fragrant magnolia and mogra flowers in lacquered brass bowls on each table, burnished silver, pictures of all the Kings in the Wadiyar Dynasty (24, down the line) in malleable gold, service staffin ethnic attire, exotic greens and more is nothing less than Nostalgia. Amongst the most sought after dishes is the "MYSORE SILVER THALI" which brings together in several small bowls the finest array of South India's delicately spiced delights.
.A Glimpse of Paradise:
Stroll into our sprawling interiors and experience the ambience cut out for those who seek an escape from the ordinary. Reign and relax in comfort in the architectural wonder of Mysore - THE PARADISE.
The tariff

In US $ w.e.f. 1st October 2003

Single Room
USD 140
Double Room
USD 160
Double Suite
USD 230
Duplex Suite
USD 450
Victory Suite
USD 750
Turret Single
USD 60
Turret Double
USD 70
10 % Luxury Tax is applicable on the above tariff.
Click Here for Booking Form
Tele : +91-11-41612107, 26823836. Mobile: 9810112772, 9910003772.


Email :- reservations@ashextourism.com