Solitaire Hotel
Bangalore - Karnataka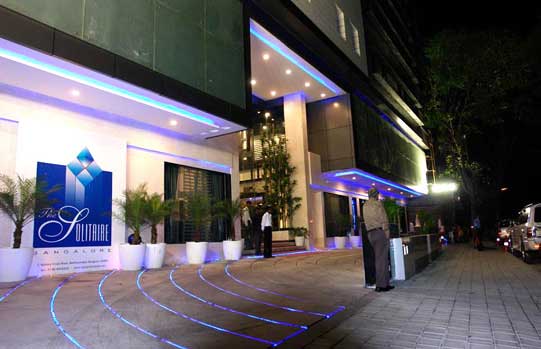 Solitaire Hotel We would like to introduce ourselves as one of the premium properties located in the heart of the city, overlooking the Race Course, 2 km from M G Road, 38 kms from the Airport, its close proximity to the city's business and commercial areas make it the perfect choice for your guests stay.

The Solitaire hotel is a premier four star Hotel in Bangalore. The Solitaire is located at a prime location in the heart of the city, next to the Race Course. The Solitaire is a full facility 4 star deluxe hotel in Bangalore for the discerning business traveler. Designed and built with no compromise on quality, the uniquely designed 99 rooms & suites, are complemented by gourmet restaurants, a lounge bar, and a coffee shop with an exclusive and exciting menu. The Solitaire is equipped with the state of art facilities to cater your business needs also. We have multifunctional meetings halls and audio/video conferencing facilities. Our consistency in providing world class facilities and service has made us, one of the best four star hotels in India..


Room Tariff

CATEGORY

RATES

Standard Single

Rs. 6500/-

Standard Double

Rs. 7000/-

Junior Suites Single

Rs. 7500/-

Junior Suites Double

Rs. 8500/-

Deluxe Suite

Rs. 9000/-

Extra Person

Rs. 1000/-

Luxury Taxes and Service charge at 12% and 2% are applicable respectively on the above said tariff
tariff includes the following buffet breakfast at Bean Here Coffee Shop
Wifi internet in the room botttled mineral water, limited laundry
1 pair pressing, usage of swimming pool and fitness center.
Types of Accommodation : Suites and Rooms

LUXURY HOTEL ROOMS IN BANGALORE INDIA The Solitaire is a departure from the ordinary. Inside, style, service and a sense of intrigue define the experience. Guests enjoy a higher level of luxury, with unrivaled hospitality and amenities. Conceptualised based on fine gems, the name represents the rare quality that makes some precious gems stand apart. Unique in its being. The one and only . The Solitaire ... Our rooms and suites reflect these themes : Day and Night, Earth Cream, Earth Red & Neel, and they have been designed and built with exceptional quality. For our guests at The Solitaire, rejuvenation is never far away. Within the serene sanctuary of our treatment rooms, you can pamper yourself with a relaxing full-body massage, clarifying or detoxing facial, warm herbal wrap or body glow scrub. A quick workout in our health Club will help you release the stress and tension of the day. Take a relaxing dip and watch the stars from our pool on the 7th Floor ! This is a perfect respite after a hectic business day.
Restaurant - The Solitaire has four exclusive F & B outlets, that offers extraordinary cuisine. With a Master chef, tuned into creative experimentation, signature dishes with exceptional flavours. Race Course and Bangalore's panoramas, flawless service and captivating presentation complement the experience, so that dining with us will always be an experience in itself. Our gourmet outlets draw in people with a penchant for a fine dining experience.

MINE RESTAURANT A lounge bar recreating the environment of deep down mine tunnel ambience. Enjoy the evening with fine drinks and exciting cocktails and ice-cold beers. The place is ideal when you want to relax at the end of a hard day's work. Our bartenders will show you and your guests how to mix your favorite drinks so you can make them in the future!

BEAN RESTAURANT The Bean 24 hrs Coffee Shop over looks the poolside brings the best of world cuisines together. Also serves an elaborate a-la-carte menu. BEAN HERE 24 hrs Coffee Shop is an elegantly decorated place to unwind while watching the pool. A lavish spread of breakfast, lunch and dinner, apart from the delectable all day menu. The lticuisine buffets here are what attracts people to it at all times of day and night.

NAWAB RESTAURANT The Nawab ~ Speciality Indian Restaurant When you're in the mood for good times, pleasant dining, and great cuisine, The Nawab can't be beat. Our 98 seater fine dining Indian restaurant offers a pleasant, inviting atmosphere that is perfect for casual dining with families and friends. The menu features an extensive array of selections like authentic north Indian-style cuisine, Kebab & Curries with our regular impressive lunch & dinner buffets. It's hard to get bored with the flavors of The Nawab.

7TH HEAVEN RESTAURANT An upscale, classy Chinese restaurant that features beautiful Chinese decorations draping the walls and an open skyline view of Bangalore City. seventh heaven offers a variety of classic and specialty Chinese dishes. Our chef provides a range of Chinese cuisine and Malaysian specialities. Choose from sweet and sour, chow mein, poultry, seafood or vegetable dishes.

CONFERENCE / BANQUETS The Solitaire offers the perfect venue for both business and pleasure. Whether it's an important meeting or intimate social gathering, your event will certainly make an impression. The Banquet hall with a capacity of 500 pax, which can be partioned to three accomodating 40-50 pax each. With outstanding cuisine from our inhouse restaurants, it's an ideal setting. Be it a personal celebration or a corporate event, we can provide a package that will be hard to beat..
Facilities and Services »We offer a fully geared Business Centre with state of the art facilities, coupled with boardrooms and a multifunctional hall, to cater to meetings, theatre style seminars, promotions and exhibitions, sit down dinners and lunches with full audio + video conferencing facilities.
In-Room Facilities Wi-Fi Internet Access, LCD TV's, Electronic Safe, Mini Bar, 24 Hours Room Service, One Touch Bed Side Auto Controls.. Other Facilities Doctor On Call, Expert Laundry, Valet Service
Click Here to Book Solitaire Hotel, Bangalore
Tele : +91-11-41612107, 26823836. Mobile: 9810112772, 9910003772.
Email :- reservations@ashextourism.com