THE TAJ MAHAL HOTEL
MUMBAI, Code No- AT-MH02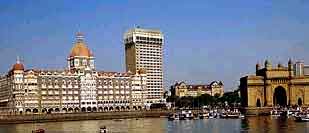 Welcome to the Taj Mahal Hotel, Mumbai - the premier hotel of India. An accolade which has been enjoyed by the hotel ever since the opening, around the turn of the century. Located on the seafront, adjacent to the Gateway of India the hotel is as much an architectural marvel as it is home to luxurious accommodation, the fine dining of various cuisines and ever hospitable service. 32 kms from Airoport and minutes away from the commercial shopping and banking districts
In all this hotel consists of 600 rooms. From standard rooms to the most luxurious suites all offer the most modern comforts. Complete peace of mind from advanced water purification to the latest telecommunications and leisurely relaxation. Accommodation 582 rooms including 49 suites
Tower Wing Rooms - with easy access to the business center, htese rooms have been completely renovated. Hight speed internet connectivity and interactive televisions in rooms. The rooms are equipped with data ports fro PCs and modems, 2 line speaker phones with international direct dial facility and voice mail. Complimentary in room fax on request. Mini bar personal safe, channel music, 24 hours room service choice of City/Sea facing rooms
The Taj Club - Located on the top floors of the Heritage Wing. The Taj Club is desinged for the business traveller. Complimentary airport limousine transfers, private check in on the club floor. complimentary bottle of wine and chocolates, Valet service, use of the Club lounge offering complimentary deluxe continental breakfast, cocktail hour and tea/coffee throughout the day. Exclusive meeting room and Business service unit.
Suites Choose from elegantly appointe Junior Suites tastefully decorated executive suites newly renovated luxury suites spacious, plush garand luxe suites or the luxurously appointed presidential suites, decorated with original paintings and antiques personal valet service offered for grand luxe and presidential suites guests. Complimentary use of steam, jacuzzi and gymnasium at the fitness centre for all guests.
Tariff (1st Sept 2003 to 30th August 2004)

Single

Double

USD

INR

USD

INR

Tower Wing
Superior City View Room
230
8,000
255
9,000
Superior Sea View Room
245
8,500
270
9,500
Deluxe City View Room
250
9,000
275
10,000
Deluxe Sea View Room
265
9,500
290
10,500
Palace Wing
Luxury City /Pool View Room
290
10,000
315
11000
Luxury Sea View Room
315
11,500
340
12,500
Luxury Grande City / Pool Room
325
12,000
350
13,000
Luxury Grande Sea View*
350
13,500
375
14,500
Taj Club City /Pool View Room @*
350
13,500
380
14,750
Taj Club Sea View Room @*
375
15,000
405
16,250
Suites
Junior @*
500
20,000
500
20,000
Executive @*
650
25,000
650
25,000
Luxury @*
850
35,000
850
35,000
Grande luxury @*
1000
50,000
1200
50,000
Presidential @*
1500
70,000
1500
70,000
Luxury tax 6%, Exp tax 10%
@ Includes complimentary airport limousine transfer, club floor check-in, complimentary breakfast, personalished valet service and complimentary cocktail hour.
#Includes one way airport transfers. * Will have Butler plus serivce from Oct 03
Business Facilities - Fully equipped 24 hours Business centre with 8 meeting rooms offering high sped internet connectivity work station multimedia computers, laptops, portable printers, cell phones, color copier facility and secretarial service. Interpretation/translation facilities on request
Restaurants and Bars
Shamiana - All day casual elegant dining, Sea Lounge Meeting place in Mumbai for tea and light meal, Harbour Bar Mumbais oldest bar. Apollo Bar The rooftop bar, Starboard Bar Mumbais lively new bar with the widest range of liquors. Zodiac Grill European fine dining restaurant Golden Dragon Authentic Sichuan Cuisine. Tanjore Indian cuisine with classical music and dance performance in the evening Beyond 1900's Mumbai's trendiest night club
Facilities and Services - Swimming pool, fitness centre, beauty Parlour, barber shop, travel desk. car rental, pastry shop, book shop, shopping arced, currency exchange, doctor on call and babysitting, arrangements for golf, badminton squash, billiards, tennis, and table tennis on request.
Meeting Room and Banquets facilities - 12 rooms with a capacity ranging from 25 to 500 persons auditorium style or 18 to 2000 persons for cocktails/receptions. State of the art conference facilities.
Click here for Booking Form | Other Taj Hotels India
Tele : +91-11-41612107, 26823836. Mobile: 9810112772, 9910003772.
Email :- reservations@ashextourism.com