Mandawa Haveli
Jaipur, Code No- AT-RJ 57
The Mandawa Haveli was built in 1896 by Thakur Bhagwat Singhji, the fifteenth ruler of Mandawa. THis feudal principality in the heart of the Shekhawati region was ruled by the clan of Kachhawa Rajputs from the house of Amber. Their ancestor Rao Shekhaji, who established the region of Shekhawati was the son of a ruler of Amber. Originally conceived as a town house when on state duty in jaipur, the was surrounded by acres of land which included orchards and gardens. The Haveli was built in Jaipur, style of architecture with one main hall in the centre and rooms on either side with verandahs running the length of the house both in front and at the back.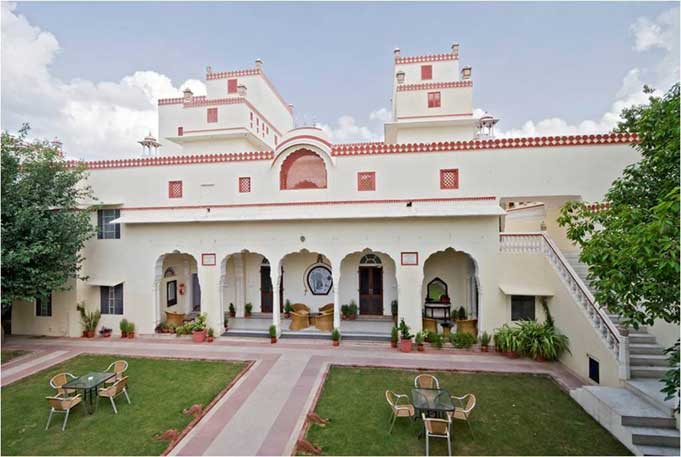 The haveli built in the Jaipur style of architecture with numerous pillars and arches is located in the heart of Jaipur City on Sansar Chandra Road. The hotel combines old world charm with the best of present day facilities.
Originally conceived as a town house it was under the guidance of Thakur Devi Singhji, the 17th descendant of Rao Shekha, that the Haveli was converted into a luxury hotel with all modern amenities.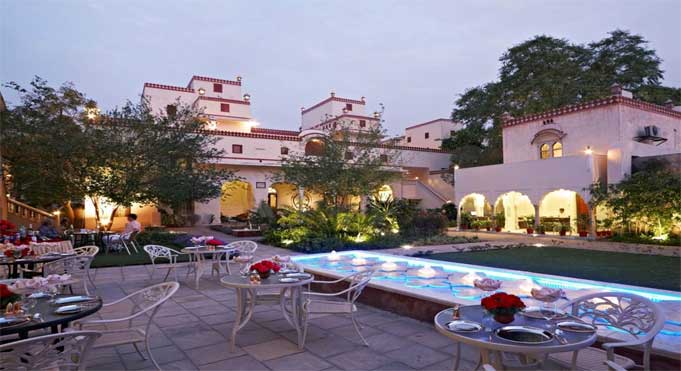 There are pleasant courtyards, lawns and terraces with a view of the splendid Nahargarh Fort. It has a beautiful dining hall overlooking one of the terraces. Candlelight dinners can be organised on the rooftop on request. Friendly, charming service and attention to detail pamper discerning travellers.
Guest feel they are staying in a fine residence.
Today the hotel boasts of 70 well appointed rooms, swimming pool, a beautiful dining room overlooking one of the terraces and an Indian cuisine restaurant in the courtyard. The hotel offers special arrangements for gala evenings of folk dances, music and puppet shows.
Hotel Mandawa Haveli in Jaipur is rich in Jaipurís royal heritage and architecture. Experience the traditional heritage feel of Jaipur with modern luxury amenities like Swimming Pool, grand luxury suites and deluxe room, and other facilities.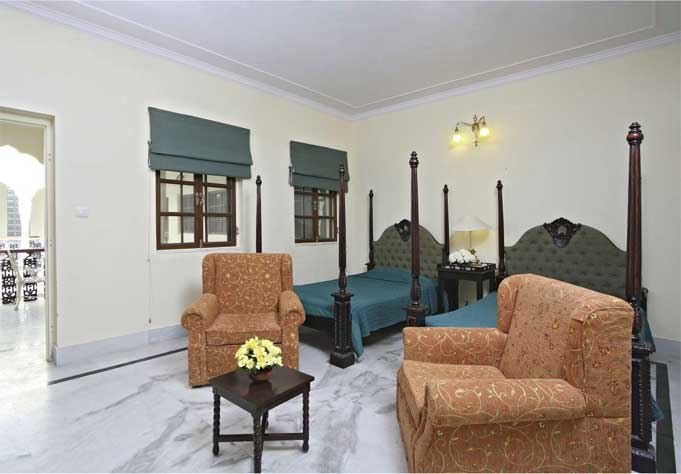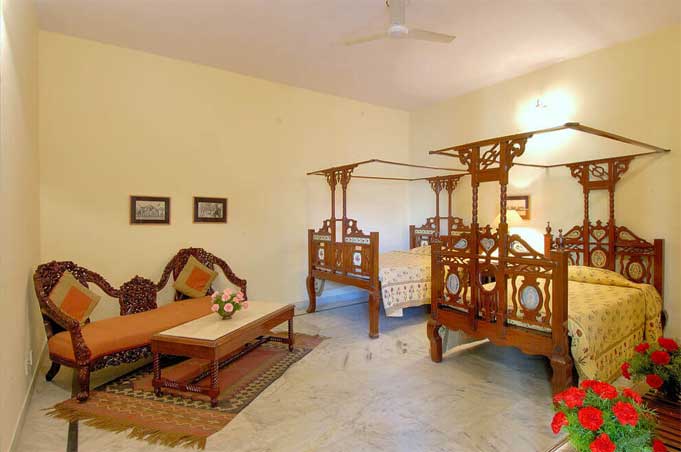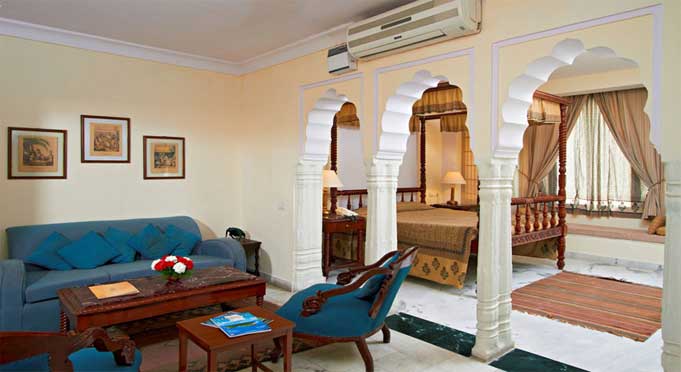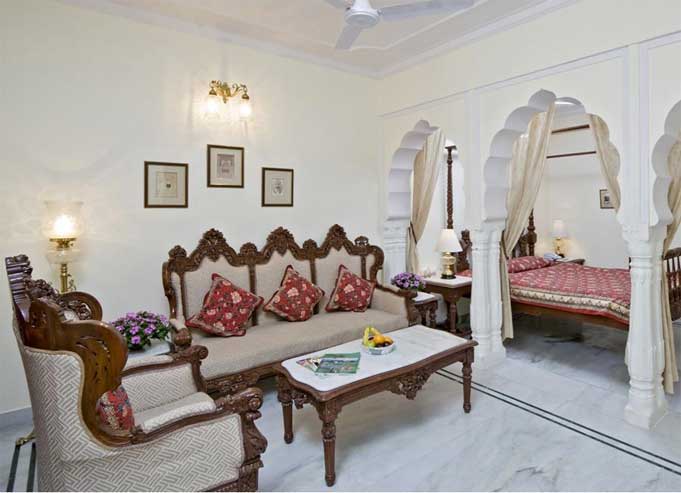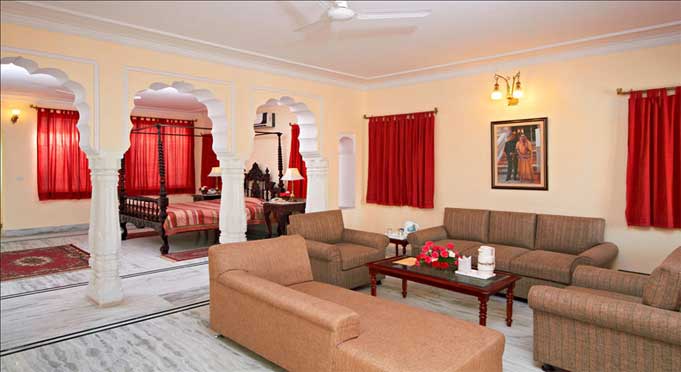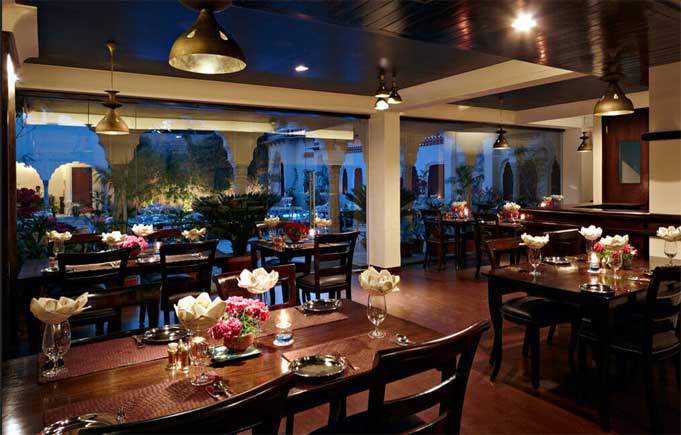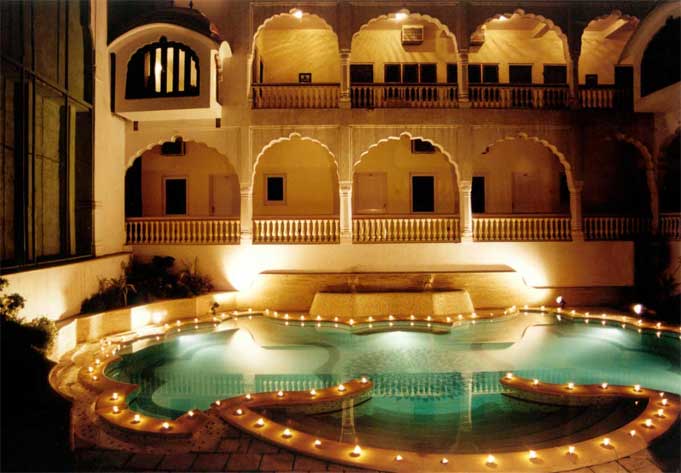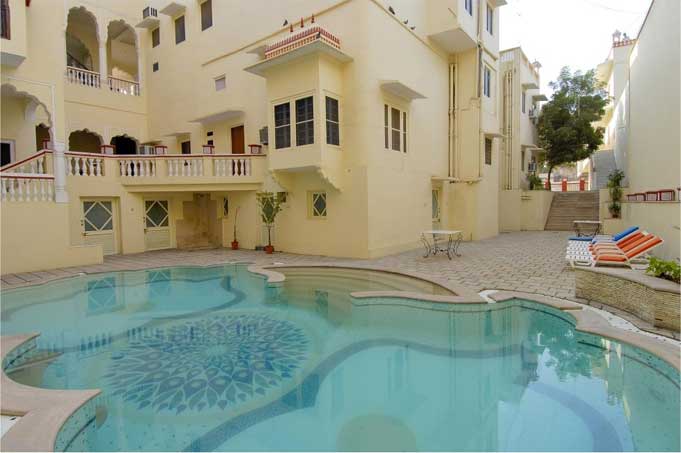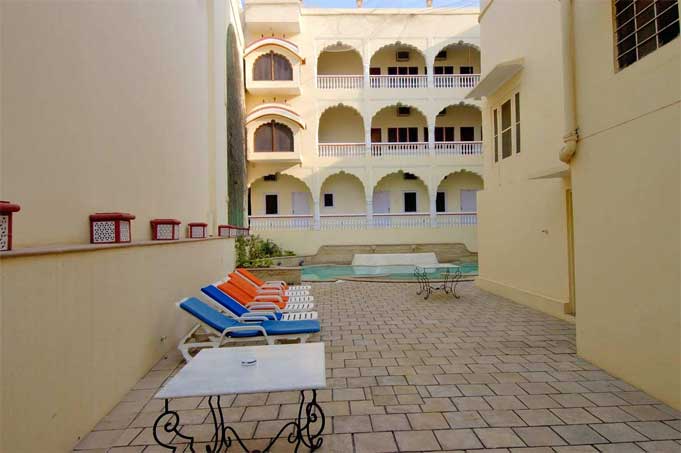 FACILITIES 70 Rooms (7 Suites, 32 Deluxe Rooms & 31 Standard Rooms) Suites have Mini Bars, Tea And Coffee Maker, Heaters/ Air Conditioner, Safes Attached bathrooms fitted with modern amenities (Hair Dryers), Telephones with internal Dialing Facility, 24 hr Room Service & Reception Desk Laundry and Dry Cleaning
Multi-Cuisine Restaurants, Ayurvedic Massage, Doctor on Cal,l Outdoor Swimming Pool, Modern Conference Facilities, Coffee Shop, WiFi , Internet