Harasar Haveli
Bikaner, Code no- AT-RJ27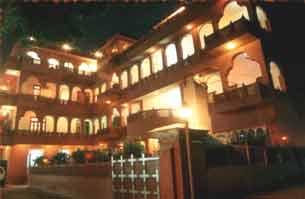 The blend of traditionality in looks and services make your visit to the hotel to be cherished forever. The hotel ensembles typical Rajasthani Haveli looks with hospitality par excellence. You will find this theme enshrouding the haveli all over. The founder of Harasar Haveli, Thakur Jeoraj Singh of Sarothia was nobel man in the reign of Maharaja Ganga singhji, whose history still dominates the Bikaner culture
Tariff

Rooms

Single

Double

Deluxe

Single

Double

Situated near Lalgarh, the abode of Bikaner Royal Family, Harasar is one of the best accomadation place in the city of camels.

According to client's requirements we have graded our rooms facility wise. They are Super deluxe, Deluxe and Standard.

They at Harasar, ensure by all means that our clients get the best of services. Our management and staff are always eager to help you, no matter what your demand is. Just call anyone of us and we are there for you.

Your satisfaction is our first priority. Because you have chosen Bikaner as your relaxing part, we know that you are expecting some traditionality to come your way.

Cultural Bash - We organize everyday folkdance and music by gypsies with dinner. Every evening from 7:30 to 10:00 it's cultural extravaganza.

Excursion - Our all clients are very special to us and for them we make arrangements to have dinner on countryside accompanied with scenic beauty, folklore, folkdance and live music.

Bubble Desert Safari

Harasar Haveli offers you all. From luxurious accommodation to Desert Safari Tours. The management arranges desert safari for its visitors on pay basis. If interested, the client can intimate his desire in advance or after arrival at the haveli. The safari includes tour arrangements, tents, vehicles, camel, camel carts, food, drinks, syces, guides etc. The Safari starts from Raisar, a village nearby the city and on its way to desert it crosses "Deshnok" which is world famous for its "Rat Temple" and is Royal family's religious temple. The trek is prepared keeping in mind that you don't have to take that extra burden to visit it on your own. There are excellent arrangments of food and drink while you ride on camel back. Villages and huts come in between to give you a glimpse of Indian rural life. You will find that you left no stone untouched after you have finished. The safari is organized covering all the scenic desert beauty, village culture, wildlife accompanied with thrilling adventurous spirit. It is advised to keep with you, sunscreen, glasses, boots and general medicines while exploring great desert.
Click here for Booking Form

Tele : +91-11-41612107, 26823836. Mobile: 9810002772, 9910002772.

Email :- reservations@ashextourism.com