JAI MAHAL PALACE
JAIPUR, Code No- AT-RJ03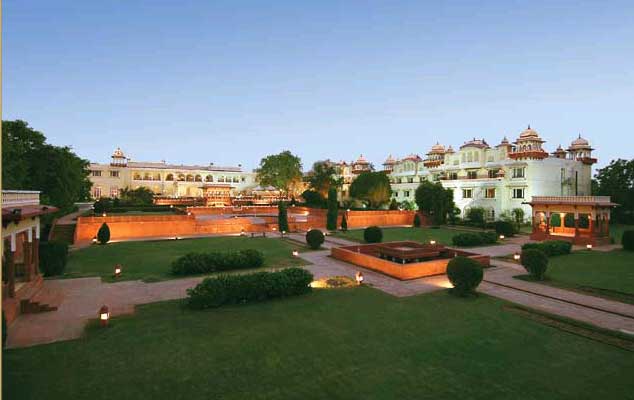 The 255 year-old Jai Mahal Palace, is a masterpiece in the Indo Saracenic style of architecture. The palace is set amidst 18 acres of beautifully landscaped Moghul gardens, spread over 3 levels. The hotel has 102 rooms designed to transport guests into a world of unimaginable opulence and luxury.
Set amidst 18 acres of beautifully landscaped Moghul gardens, this incomparable Palace dates back to 1745 A.D. A masterpiece in the Indo Saracenic style of architecture, it blends spotlight-grabbing opulence with tantalizing comforts that transport guests to a world of Rajasthan magnificence. It is located downtown, close to the main shopping center and historical monuments.
Accommodation
At Jai Mahal Palace, guests can step into a world that stirs the senses. 100 rooms including 6 suites. Colonial style furniture, miniature paintings, gold-hued silks, sheet curtains and stylish bathrooms offer contemporary comfort with a regal touch. all the rooms have a tea/coffee maker, mini bar, safe, colour TV, direct dial telephone with satellite programs and hair dryer. Wi-Fi connectivity is available
10 Deluxe Rooms, 67 Luxury Rooms, 17 Luxury rooms with private sit-out, 03 Deluxe Suites, 03 Deluxe Premium Suites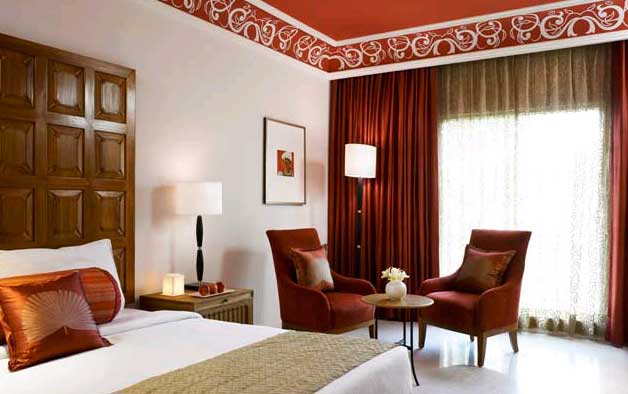 Deluxe Rooms The Deluxe Rooms are tastefully decorated in traditional Rajasthani décor with marble flooring and reflect ancient Rajput culture and heritage. Original paintings by contemporary Indian artists or prints of classical and mythological themes by famous Indian artists enhance the ambience.
Luxury Rooms The Luxury Rooms, designed in turquoise and red, evoke the rich colours of Rajasthan. The rooms seamlessly blend contemporary and traditional style and offer modern facilities such as cordless phone and LCDTV. The stylish bathrooms have state of the art fittings, a separate shower cubical and a separate bath tub. These rooms offer a spectrum of moods in their design elements.
Luxury Rooms with private sit-out The new Luxury Rooms with private sit-out, located on the ground floor, offer the same décor and amenities as the Luxury Rooms with the additional advantage of a private sit-out with tranquil views of the beautifully landscaped lawns or the pool.
Deluxe Suites The Deluxe Suites each with its unique Theme and layout - Topaz, Gangaur and Junior represents the traditional Rajput Culture and heritage. Marbled living area adjoining the bedroom richly adorned with Oil paintings, Rajasthani artifacts and rich silks create a warm and welcoming ambience.
Deluxe Premium Suites Our Deluxe Premium Suites an epitome of opulence are reminiscent of the grandeur of Jaipur's royal heritage. We offer three distinct thematic suites - Crystal, Jaipur and Peacock that evoke a Luxurious feel with spacious living room and bathroom creates a perfect ambience for the leisure traveler seeking a Royal experience.
Food and Wine
From casual, all-day eateries to formal, fine dining, guests can look forward to a wide selection of delectable dishes and refreshing drinks. At Taj, we offer a distinctive dining experience, one that explores the nuances of the finest Indian and international cuisines, serving traditional and contemporary favourites.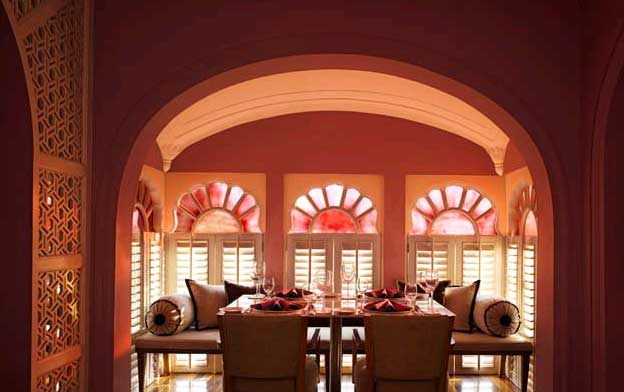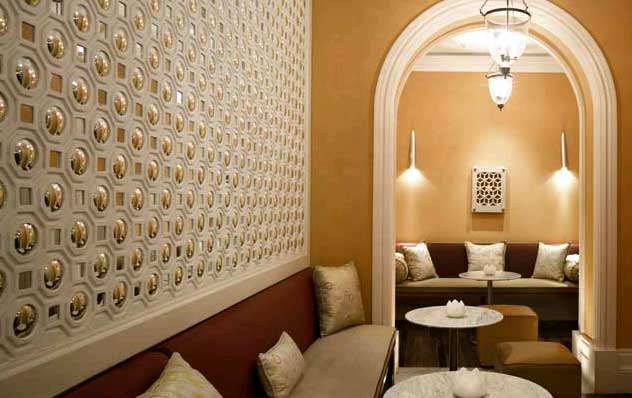 CINNAMON

A pan-Indian restaurant that is a seamless blend of the traditional and contemporary.

The food at Cinnamon is inspired by the two spheres of cooking - Punjab and the Moghul India, connected by what are called the cinnamon-saffron link. Redefining Indian food, the menu at Cinnamon uses only the freshest ingredients and authentic herbs and spices to provide a modern twist to traditional Indian cuisine.
Attire: Casual
Hours: 12:30 pm — 3:00 pm 7:00 pm — 11:00 pm
GIARDINO

Charming open-air Italian restaurant located near the poolside.
Set in a red brick courtyard near the poolside, Giardino serves traditional Italian cuisine. An open kitchen makes for a more interactive experience.
Attire: Smart Casual
Hours: 7:00 pm – 11:00 pm
MARBLE ARCH
All-day dining restaurant serves traditional and contemporary dishes along with seasonal local fare.
All-day dining restaurant with curved archways and impressive stoneware, the design a combinination of traditional ambience and modern settings. Serves traditional Indian /Rajasthani delicacies, fine European fare and delightful Oriental cuisine
Attire: Casual
Hours: 24 hours
MARIGOLD BAR
Offers a fine selection of wines and beverages.
This fashionable and trendy bar offers a wide variety of international and Indian liquor and beverages, including a selection of single malts and cigars. Our bartenders also conjure up innovative cocktails.
Attire: Casual
Hours: 11:00 am — 11:00 pm
POOL LOUNGE
Offers light snacks and refreshments.
Attire: Casual
Hours: 1:00 pm — 8:00 pm
Meeting Rooms & Banquet Facilities include:
One conference hall and two board rooms can accommodate from 10 to 150 guests auditorium-style or 200 guests for cocktails and receptions at the conference hall.
Lawn and garden areas can accommodate up to 2000 persons for evening functions.
Catering is available for breakfast, lunch, dinner, meeting breaks and cocktail parties.
Incentives available at this Hotel: Life size chess board game Badminton Putting green Sightseeing/excursion tours to Ramgarh Lodge Swimming Tennis Croquet Pool Table Table Tennis.
Recreation Guest can take advantage of our recreation activities for relaxation and rejuvenation.
Fitness and Fun F84 Croquet Gymnasium Life size chess board game Mini golf Nature walks Open air folk dances Pool table Swimming Pool
Beach and sports include: Badminton Tennis
Hotel Leisure Services Spa and Relaxation include: Yoga classes Spa
Kids Games and Play Entertainment programmes Kids activities
Recreation outside the Hotel Golf Horseback riding Sightseeing/excursion tours to Ramgarh Lodge.