Jaisamand Island Resort
Udaipur Code No- AT-RJ49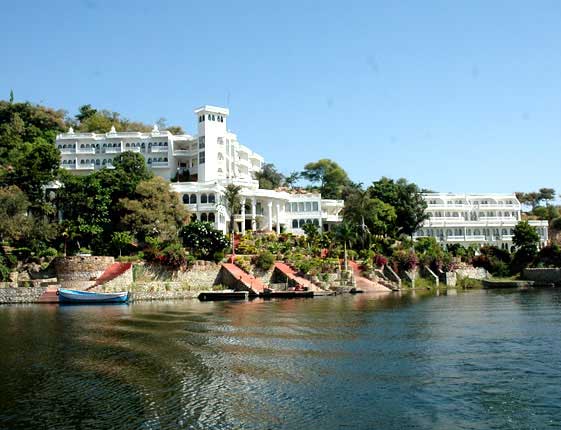 Jaisamand Lake Fifty one kilometer south of Udaipur lies JAISAMAND Lake, one of the largest artificial lake of the world. Fourteen kilometers in length & nine kilometers in width, the lake has a circumference of nearly eighty eight kilometers. It was built by the Maharaja Jaisingh, who on it's inauguration on 2nd June, 1691 walked around it distributing gold equal to his own weight in charity. He built Six Chhatris (cenotaphs) with finely embroidered elephants in front, the temple of Lord Shiva in the center on the embankment.
Close to Jaisamand is the game sanctuary, which is spread over an area of about 45 kilometers & has a motor able road. The sanctuary shelters wild animals like panthers, wild bear, spotted deer, sambhars etc. Jaisamand Island Resort is situated in the midst of the largest man-made lake in Asia, Jaisamand Lake, provides a panoramic view of the picturesque surroundings. The unbelievable vastness of the lake ringed with the undulating Aravallis transports one into a world of pristine, chaste natural beauty. The wild life Game Sanctuary dotted with migratory & other rare birds is pleasure of life time.
Accommodation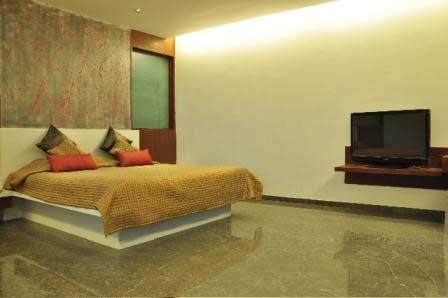 The ethnic decor of Resort & the luxuriously furnished deluxe rooms overlooking the lake provide visit of breathtaking scenic beauty for the inmates. The rooms have all modern amenities of a Five Star Hotel. There are 20 Deluxe Rooms & 15 Luxury Suites in the resort.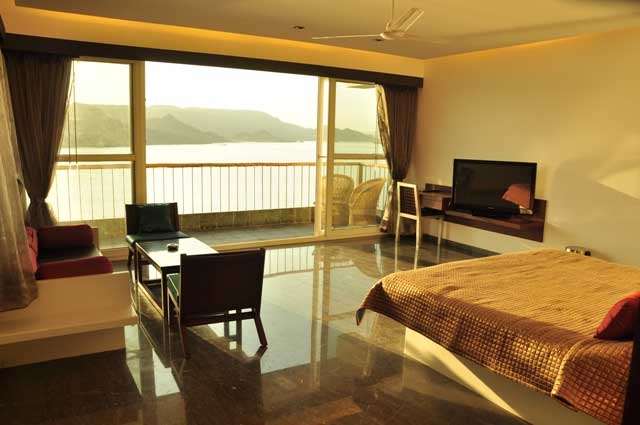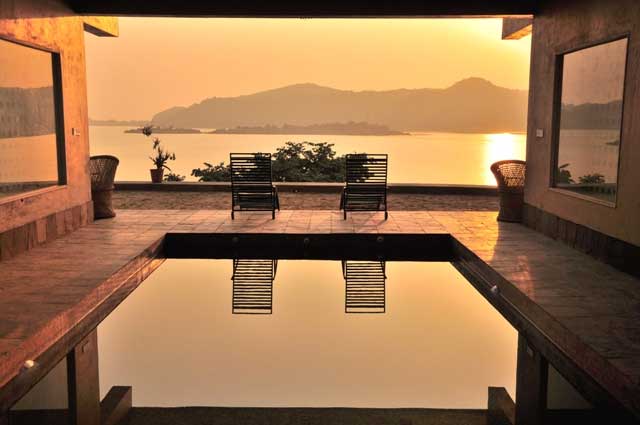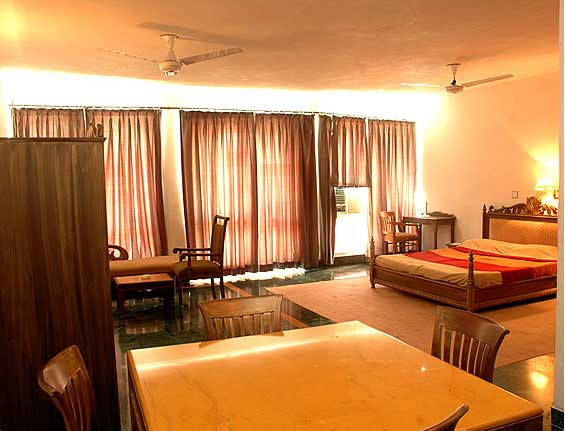 Services in the resort include Room Services, Laundry ,STD/ISD, Shopping Arcade, Car , Driver accommodation,Car Parking at the Dam, Doctor on call, Currency Exchange
Exotic Indian, Continental & Chinese, Bar Counter are served intraditional style in an ambience of the Rich Culture Heritage Of Mewar
Facilities


Artificial Beach just for you.....
A perfect way to Relax in sun all alone.The massive Jaisamand lake offers a breathtaking beautiful view of its island inhabited by exquisite birds. Regular boat rides are made available to individual visitors as well as to groups. Visits to the Wild Life Game Sanctuary are also organized. Other facilities include Conference Hall, Health Club, Bird Watching, trips to places of interest near-by, horse riding, camel riding & indoor games such as billiards, caram, table-tennis & swimming pool.
Package 2014-2015
Valid From 01st Oct, 2014 to 30th Sept, 2015.

02 Nights Package

Deluxe Room: Rs.17000/- per couple + 7.42% Tax = Rs.18261/- per couple.

Suite Room: Rs.19000/- per couple + 7.42% Tax = Rs.20409/- per couple.

Villa: Rs.26000/- per couple + 7.42% Tax = Rs.27929/- per couple.

Extra Child: Rs.2000/- per child + 7.42% Tax = Rs.2148/- per child (5 to 11 years).
Extra Child: Rs.3000/- per child + 7.42% Tax = Rs.3222/- per child (12 to 15 years).
Extra Adult: Rs.5000/- per adult + 7.42% Tax = Rs.5371/- per adult (15 years above).
Includes: Accommodation, Welcome Drink on arrival, 2 Breakfasts, 2 Lunches and 2 Dinners. Use of Jacuzzi and swimming pool. Came Rides and Row Boating in the Evenings.
Conference
Jaisamand Island Resort is an ideal venue for board meetings, dealer's meets, marketing conferences. They have one conference hall with a seating capacity of 200 persons. All modern audio-visual facilities are available for a successful conference. We also have a banquet hall attached to the conference hall, where session, teas, lunches and dinners can be organized.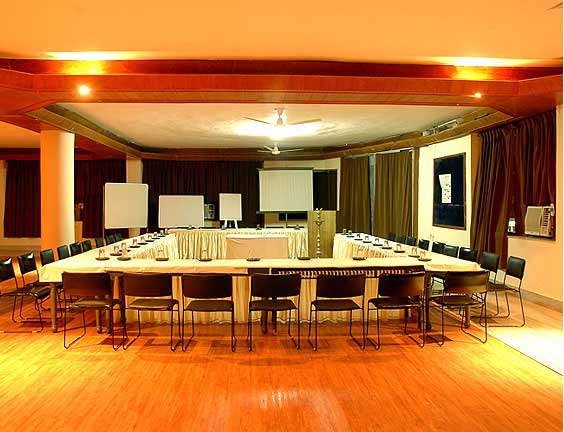 On the activities list for the delegates we organize: Boat rides. Camel rides, Horse rides, Rajasthani cultural show, Puppet show, Ride to the wild life sanctuary and Sight seeing trips to Udaipur and its surrounding.
Recreation
The resort area itself is a treat for eyes because it is the only hotel on the island. Since the Island is isolated & so exclusive You can relax on the artificial beach, go out for a jogging along the coast & Bird Watchers can take a boat or just swim to the Bird's Island nearby.The temple of Jagat is dedicated to the deity Ambika Mata. It dates back to 10th century. The carvings & sculptures are a piece of rare art. The temple has a touch of Khajuraho style sculptures. temple is just 20 k.m. from the Jaisamand lake. While staying at Jaisamand Island Resort, trips are made to the famous Wild Life Game Sanctuary. There are around eleven islands in the lake which are frequented by various species of migratory birds. Here you can find some rare Birds & some wild life too, like Panther, Wild Bear, Deer, Samber etc.
Click here for Booking Form

Tele : +91-11-41612107, 26823836. Mobile: 9810002772, 9910002772.
Email :- reservations@ashextourism.com