Fort Pachewar Garh
Code No- AT-RJ26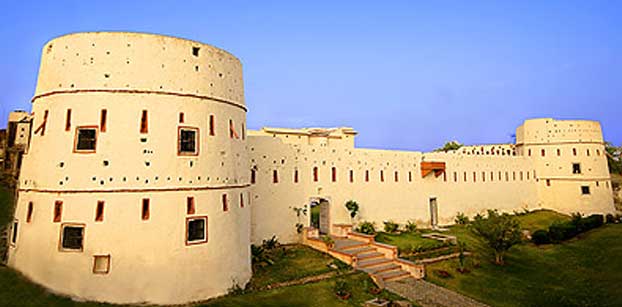 Fort Pachewar Garh, a great land of culture offers equally great destinations like Rajasthan, where valour, chivalry and royalty have played a great deal in shaping the glorious traditions of its land and people
Heritage Hotel "FORT PACHEWAR GARH" is situated near the Pumpa Sagar Lake in the heart of Rajasthan. While heading from Jaipur to Ajmer, the distance is about 90 kms from Jaipur. This ancestral castle which is more than 350 years old has now been renovated and converted into a luxurious Heritage Hotel. Away from the hustle and bustle of the city, one can enjoy the rural culture, feel old traditions, witness customs, try attires and experience the rich hospitality and richer ambiance of Rajasthan.
The fort is surrounded by a deep and wide moat. There is only one entrance to the fort, which is highly guarded by bastions and series of gateways. Fort has three tiered fortification. There is another moat along with second tier of fortification. The fort is constructed in local stone and has arched openings and gateways. The gun holes in the parapets of rampart and bastions and Jharokha in the royal residence are worth noticing. The Fort is located in the Village Pachewar, which is 25 Kms from Dudu, a small town, on NH 8 ie Jaipur Ajmer Highway.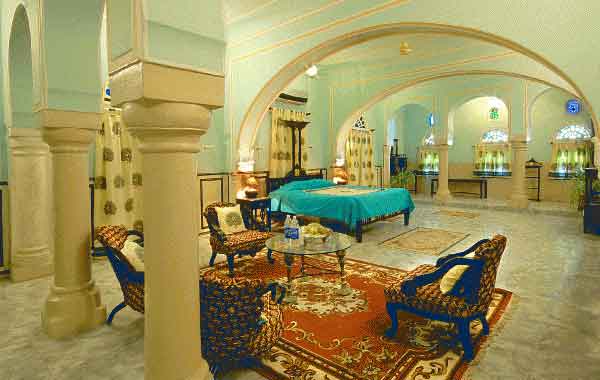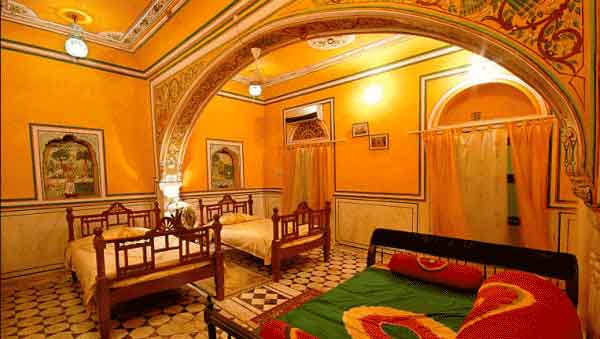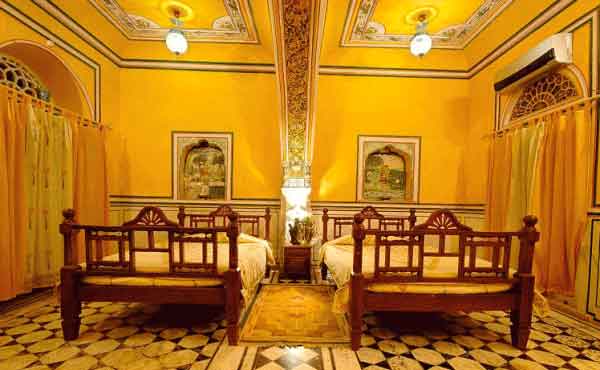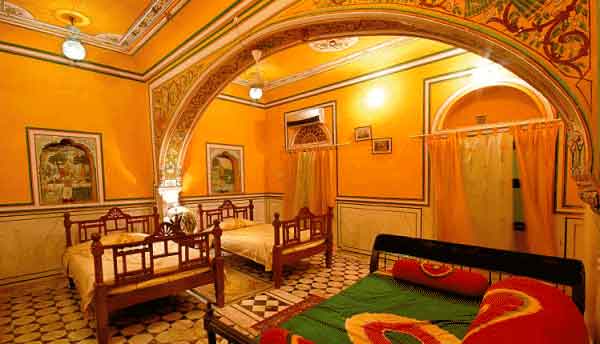 A well-preserved tranquil fort with its massive ramparts imposing gates, intricate balconies and spacious apartments, adorned with antique frescos of exquisite beauty. To Pachewar is only 25 minutes drive from Dudu a small town- situated on Jaipur- Ajmer national highway on dadu-malpura road, renowned for its traditional textiles. For a memorable, comfortable and pleasant stay, there exist lush green lawn, a swimming pool, taste gully furnished suites and deluxe rooms, with attached bathrooms, badminton courts, massage-center, medical facilities, laundry services etc. Breakfast in the courtyard and rooftop dinner with delicious Rajasthani cuisines is our specialty.
Pachewar- 90 kms away from Jaipur, capital of Rajasthan, is a mute yet vibrant, silent but lively village, once ruled by Khangarot Rajputs, a sub clan of Kachhawas-the rulers of erstwhile Jaipur State. Thakur Anoop Singh Khanngarot, then Qiledar of Khandar, captured the fort of Ranthambor from the Marathas and annexed it into Jaipur State. To reward his exemplary courage and loyalty to Maharaja Sawai Madhosingh-1 of Jaipur , granted him the fief of Pachewar in 1758 A.D.
Well furnished single, double bedrooms & family rooms with good ventilation.
All rooms with attached toilets. * Running hot and cold water. * Breakfast in the courtyard and Roof-top dinner with delicious Rajasthani cuisines. * Separate Kitchen facility for groups. * Massage Center

Travel information and assistance.
Itinerary planning.* Luggage storage while on tour. * Same day laundry (clothes given before 9.00 A.M.) * Doctor on call. * Car, taxi bus hire. * Rail, Bus & Air ticketing (As per availability) * Postal / courier services. Photo goods.
Pachewar fort also provides you opportunities of bird watching, fishing, campfire, theater, folk music and dances. Royal safaris on horseback, camels, and jeeps may also be arranged on request for Diggi (15 kms), where exists a renowned temple of Kalyanji. Step wells of Toda Rai singh (55 kms), Ajmer (90 kms) & Pushkar (90 kms). The itinerary of local sightseeing includes a visit to the royal cenotaphs, built on the banks of Pumpa Sagar lake, ancient temples and intimate exposure to the village- life, where you can watch the village craftsmen and artisans creating delicate blue pottery, cosy carpets, colorful tie and dye, and terra-cotta. Nomadic ' Gadia- Luhars (iron-smiths) tempering the red-hot iron carrying their entire household in a single bullock-craft can also be watched here
Special Evening
Welcome with garlands, one non alcoholic welcome drink, folk dances, mini fireworks, dinner - min 10 pax
Rates :
Recreation on Request
Fishing, Boating, Jeep Safaris, Badminton
Village Safari by Jeep
Day return excursion to Todaraisingh to see the lovely stepped wells, temples and havelis. Also visit the village crafts.
Day a return excursion to Sambhar Lake, largest salt lake in Asia, to see silting of salt and a large variety of water birds - local as well as migratory. Lesser known amongst the waters of Rajasthan, Sambhar Lake attracts migratory birds almost in comparison to Ghana Bird Sanctuary.
Tariff 2015

Single

Double

Suite

6500.00

7500.00

AC Delux

5500.00

6500.00

Extra Bed : 1100.00
Food is prepared by experienced cooks and is served in traditional Rajasthani style. A separate banquet hall with capacity of 50 pax and special arrangements for groups is also available.
Above Tariff is inclusive of taxes.
Rates are quoted in INR only. Rates are per room per night.
All meals are served on fixed menu basis.
Maximum occupancy per room is two adults.
Child below 08 years of age can stay in the parent's room without an additional charge.

Tariff is subject to change without any prior notice.
Rates are subject to increase on or between following calendar days:

Diwali - 05 days before and 03 days after Diwali Holi - 05 days before and 03 days after Holi.

New year - 29 December to 2nd January
Tele : +91-11-41612107, 26823836. Mobile: 9810002772, 9910002772.