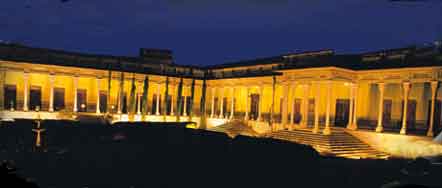 THE PIRAMAL HAVELI
Code No- AT-RJ28
This was the home of Seth Piramal Chaturbhuj Makharia (1892-1958) whose fortune was made in Bombay, trading in cotton, opium, silver and other commodities.
Built in the Rajasthani-colonial style of the 1920's, The Piramal Haveli is an 8-room'non-hotel.' It is 250 kms. from Delhi and 100 kms. from Neemrana and is run by the same management. Here, the famed traditional vegetarian cuisine of the Marwaris is served in thalis. Dinners on the sand dunes can also be arranged at a prior notice, for a minimum of 8 guests.
The region of Shekhavati, where The Piramal Haveli is located, was made into an independent kingdom in 1471 by Rao Shekha (1433-1488), till 1738, when it reverted back to the Jaipur State. The Haveli has traditional courtyards enclosed by colonial pillared corridors. Frescoes of flying angels and gods in motor cars adorn the walls.
Within the region in India known as Rajasthan lies Shekhavati. This is the region of the painted havelis (mansions) of the Marwaris, the trading community of Rajasthan who from 1820 onwards migrated to the ports of Calcutta and Bombay, amassed huge fortunes, and even today control virtually every sector of the modern Indian economy.
The Piramal Haveli in Bagar is Shekhavati's closest hotel to Delhi - and among its grandest havelis. It was built in 1928 with a large open garden and two pillared courtyards painted with colorful kitsch frescoes of flying angels and gods in motor cars. These add a special charm to this mansion reflecting the British presence in Jaipur since 1803.
The Directors of Neemrana Hotels, Aman Nath and Francis Wacziarg, extensively traveled and photographed the region of Shekhavati from 1977 to 1982. Their pioneering book led to the discovery of what they called `an open-air art gallery'. The book led to the opening of this region to tourism.
Tariff Valid to 30th September 2010

Type(* Airconditioned)

Pink

* Grand Room

Grey

* Grand Room

Blue

Grand Room

Yellow

Grand Room

Gold

* Grand Room

White

Grand Room

Green

* Grand Room

Red

Room
Meals - Breakfast Rs100 Lunch Rs 200 Dinner Rs 200
Sales tax and surcharge on food & beverages subject to change as per Government regulations. Luxury tax on rooms or as per Government regulations
Click here for Booking Form

Tele : +91-11-41612107, 26823836. Mobile: 9810002772, 9910002772.

Email :- reservation@ashextourism.com