Samode Haveli
Jaipur, Code No- AT-RJ 59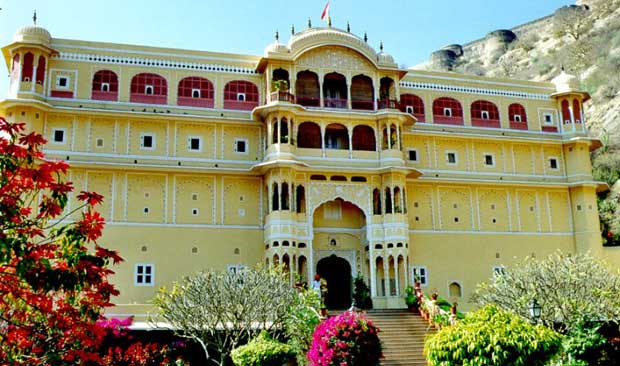 The Samode Haveli is a small intimate hotel offering personalised service. It has been meticulously restored and integrated into a unique property. This unique atmosphere of the contemporary and the historic gives Samode Haveli a warm & friendly atmosphere enabling guests to relax and treat it as a home away from home! With its understated luxury, antique furniture, furnishings and original work-of-art, the hotel is a celebration of traditional values and gracious living. To be there is to belong. It was built as the Samode Royal family's suburban manor house and was converted into a heritage hotel in 1988. Today it stands as a reminder of a halcyonic past offering moments of subtle luxury. The property was constructed facing North away from the burning Rajasthan sun and features a spectacular painted dining room, an airy verandah and an elephant ramp at the entrance which was specially constructed in the 1940's for the marriage ceremony of the late Rawal Sahib's aunt. The Haveli has been masterfully restored and integrated into a unique property.
THE ONLY F.I.T. (FREE INDVIDUAL TRAVELLER) HOTEL IN THE COUNTRY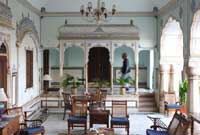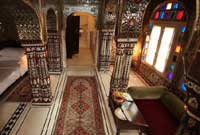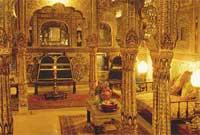 Guest Room
Each of the 22 well appointed rooms and suites are individually designed and furnished with genuine antiques and fixtures, old family portraits adorn the walls, the ambience and experience is further enhanced due to the presence of state-of-the-art in room amenities.

Most of the rooms have a separate dressing area. All rooms are with ensuite bathrooms with shower and tub with hot and cold water, air conditioning, television with cable connection, telephones with international dialing facilities. The guest rooms are regal & celebrate the richness of India's culture in a tapestry of classic décor & unmatched comfort. The spacious Maharaja and Maharani suites are absolutely stunning, with every inch of the ceiling and walls ornately painted and ornamented with mirror mosaics.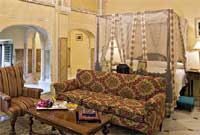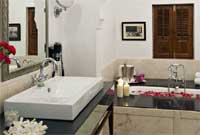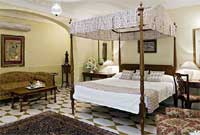 INCENTIVES & BANQUET FACILITIES
Business and social gatherings are expertly accommodated. Conference rooms for 50 persons with all audio video equipment can be arranged. Al fresco reception facilities upto 150 people. Special theme lunches and dinners can be organized.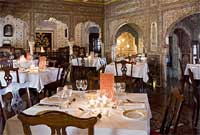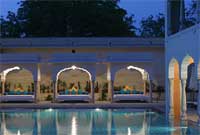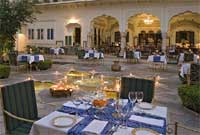 Samode Haveli features a spectacular hand painted (from floor to ceiling) dining hall which provides a special setting for dinner, a beautiful airy verandah (lounge) where afternoon tea is a treat and where you can enjoy delicate teas & cakes. Their staff can also arrange for private meals and candle-lit dinners in the lush green back garden. Enjoy a puppet show, traditional Rajasthani dance and music over a drink in the open air lounge every evening.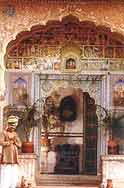 Open air swimming pool and health club (to be opened shortly), Table Tennis, Golf at Jaipur Golf Course 6 Km away and some of the recreational activities available.
01 Night Package
Valid From 01st Oct, 2014 to 31st Mar, 2015.

Double Room: Rs.14900/- per room per night + 16% Tax = Rs.17284/- per room per night.

Deluxe Suite: Rs.17200/- per room per night + 16% Tax = Rs.19952/- per room per night.

Haveli Suite: Rs.19400/- per room per night + 16% Tax = Rs.22504/- per room per night.

Sheesh Mahal Suite: Rs.19400/- per room per night + 16% Tax = Rs.22504/- per room per night.

Extra Person: Rs.3500/- per person per night + 16% Tax = Rs.4060/- per person per night.

Includes: Accommodation, Breakfast and Taxes.
Click here for Booking Form
Tele : +91-11-41612107, 26823836. Mobile: 9810002772, 9910002772.
Email :- reservations@ashextourism.com