Hotel Accommodation

Room & suites All of the 38 rooms at Shahpura House are unique; luxurious and beautiful, yet equipped with the most modern facilities to make a guest feel utterly at home. The Luxury suite, called Shahpura Suite, has a beautiful view, of its own. Each room is embellished with marble and semi-precious stones accompanying with marble bathrooms and private verandahs and lobbies.
LCD TV | Satellite television | Wired & wireless broadband internet access | Electronic safe | Direct dial telephone with voice mail | Personal mini-bar | Tea-Coffee Maker, Rajput inspired decoration and marble bathrooms help to create a luxurious haven for our guests.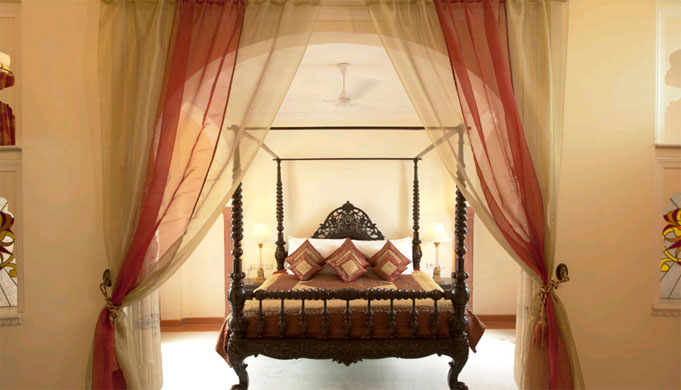 Shahpura Suites Shahpura Suite are the most spacious and tastefully designed suites at Shahpura House. They offer complete privacy and have a spectacular view of the city, which can be enjoyed through their private terrace. There are 06 Shahpura suites in the property. In every suite the furniture and the upholstery have bed/twin bed, air conditioning and have their large sitting area. These suites have their private elevators to the floor and a large terrace specially made for them.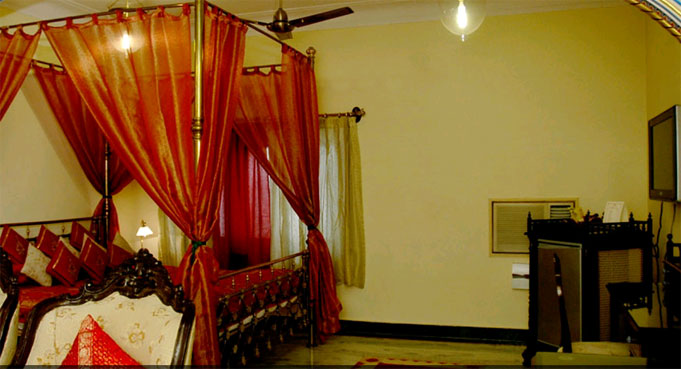 Royal Suites These rooms have elegant period furniture and fittings, the murals and entire dιcor will take you in the bygone-era of the maharajas. These rooms are spacious, have king size bed/twin bed, air conditioned and some of the royal suites have attached balconies facing towards the pool. Some are highlighted with mirror work and gold work done on the arches (specially designed for honeymooners).
Suites The suites are tastefully designed and furnished rooms with a traditional architecture of Rajasthan and some decorated with frescoes, colored aarish and typical wall surface finish that takes back several centuries, carved, marble pillars.
Deluxe Rooms These rooms are the base rooms of Shahpura House also equipped with the modern faculties and lavish bathrooms.
HOTEL SHAHPURA HOUSE has been known for its cuisine and culture over the last 40 odd years and has played host to many dignitaries & is being admired for its delicious lunches and dinners with ceremonial evenings.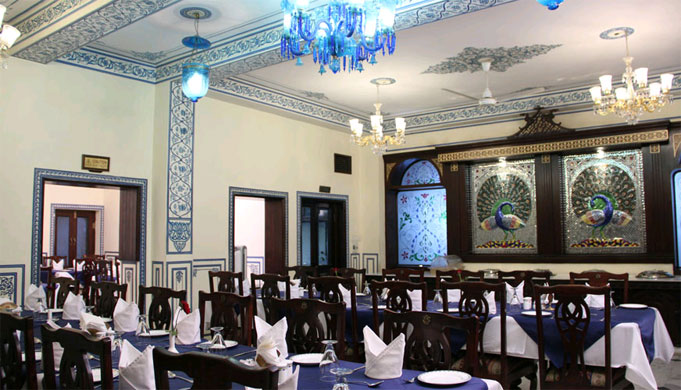 Fine Dining Indulge royally in our fine dining restaurants and legendary bars where culinary masterpieces and exquisite ambiance blend in delicious harmony.
Rang Mahal Restaurant Our multi-cuisine restaurant offers both Indian and international cuisines. Stunning view of the amber fort and surroundings can be enjoyed from the restaurant, while you enjoy authentic home cooked flavours using only the freshest ingredients available.
Type of cuisine • Multicuisine Opening hours • Open daily, all year round • Breakfast buffet: 7.30 to 11am • Lunch: noon to 3pm • Dinner 7.00 – 11 pm Services • Lunches, dinners and cocktails can be organised
Roof Top Restaurant Relax on the terrace after a long, tiring day of sightseeing and shopping. An Ideal place to unwind with a refreshing drink, a candle - lit dinner under the Stars, soft music, muted light and beautiful evening breeze...Winter evenings Are special with bonfires, live musicians to entertain you as surrender to the Pampering of the warm, ever friendly and efficient staff. It is an experience in itself. Type of cuisine Multicuisine Opening hours Open daily all year round 7.00 pm to 11.00pm Services Live entertainment every night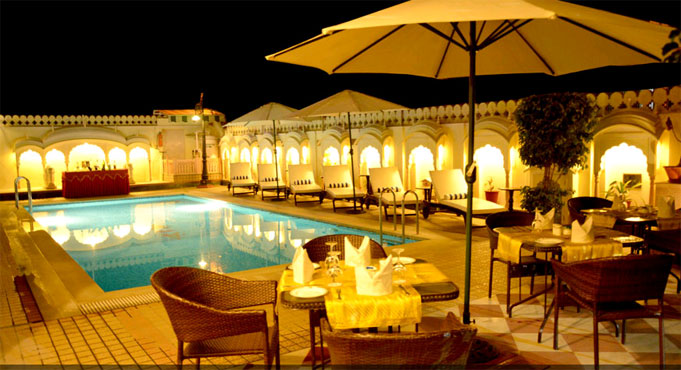 Pool Side Restaurant A perfect way to relax and rejuvenate. You can give yourself over to a quiet meal as you admire the swimming pool that surrounds you and you may like to linger on much after the meal is over. An ideal place to unwind with a refreshing drink. Type of cuisine • Hi Tea & Snacks Opening hours • Open daily, all year round • Hi – Tea 4.00 pm – 5.00 pm Services • Lunches, dinners and cocktails can be organised
Bar Featuring spectacular sunset views, the Bar at Shahpura House is a fun relaxed space integrating the colours and energy of Rajasthan. We also have a well stocked bar where an eclectic mix of drinks such as spirits stirred with pomegranate juice are available alongside more familiar favourites.
Tariff Valid From 01st Oct, 2015 to 30th Sept, 2016.
Deluxe Room: Rs.6000/- per room per night.
Suite Room: Rs.7000/- per room per night.
Royal Suite: Rs.8000/- per room per night.
Shahpura Suite: Rs.12000/- per room per night.
Includes: Accommodation and Taxes.
Arrival and Departure Policy
Check-In - 1200 Hours
Early arrival is subject to availability. For guaranteed early check-in, reservation needs to be made starting from the previous night.
Check-Out - 12 Noon
Later check-outs are available on request and subject to availability.
Children up to 12 years stay free in parents room when using existing beds in room (Extra bed to be charged upon request).
Children aged 13 years and older are fully charged.
Please Note
Effective 2nd October 2008, the Government has introduced "No-Smoking" legislation for hotels, restaurants and all public places. As a consequence, smoking is prohibited in all parts of the hotel except in designated bedrooms where smoking is permitted.
The hotel has dedicated smoking guest bedrooms. Should you desire a smoking bedroom, please let us know. We shall endeavor to reserve a smoking bedroom for you, subject to availability.