Sri Niwas Country Homes
Jaipur, Rajasthan.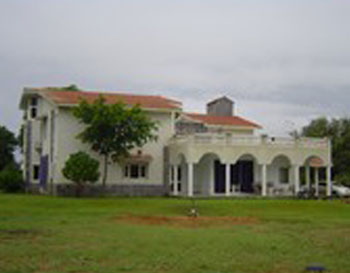 Sri Niwas Country Homes in Jaipur, Rajasthan, offers a tranquil respite during your visit to the beautiful pink city of Jaipur . The country home is conveniently located at a 30 minute drive from the airport and railway station. Your oasis in the desert, it enables you to savour the pleasures of traditional Indian hospitality in the quiet and restful environment of a country home. The country home features well appointed rooms comfortable lounges, an ante room, a reading room with internet and ISD call facility and deep verandahs all around where you can relax and observe nature closely.
Sri Niwas Country Homes as a concept aspires to provide the traveler the feel of Ďa home away from home'. The combination of a designer home, impressive surroundings and personalized service will ensure that your stay with us will be comfortable and a memorable one.
Sri Niwas Country Homes offer you an exceptional choice in affordable Home Stay in the beautiful and historic Jaipur, the pink city.
Your Hostess
Mrs Candy Singh, belongs to the well-known erstwhile feudal family of Mandawa, her father late Bhim Singhji Mandawa was elected to the Indian Parliament and Rajasthan State Legislature. An alumnus of the famous Maharani Gayatri Devi Girls' Public School, she has done her masters in English Literature.

Married to a cavalry officer, Candy has traveled widely in India to far-flung places, while accompanying her husband and has imbibed the great social and cultural diversity of India . Widely read, she encompasses in her personality the very essence of Indian ness. An expert in Indian, Rajasthani and Continental cuisine, she personally supervises the preparation of food at Sri Niwas to exacting standards of culinary excellence. A touch that is well acknowledged by our honoured guests.
Facilities
Sri Niwas country homes located in Jaipur, Rajasthan is A fully equipped home away from the home, It has everything a modern day traveler wants and expects from a hotel plus exclusively you get the personal warmth and care associated with a home which welcomes discerning tourists like you with open arms.
The home as we like to call it has all the amenities to fulfill your desires and appetite as well as to pass your free time when you return from a strenuous excursion of Jaipur.
You will not have a moment of boredom or traveler's fatigue staying with us.
Below are some of the features of our Country Home.

Sri Niwas Country Homes provides four luxurious and spacious air conditioned suites with walk in wardrobes and attached bathrooms equipped with all modern amenities. Generously proportioned, the suites have been elegantly outfitted with high end furnishings hand block printed with the lotus motif.
The large picture windows of the suites and the bathrooms offer a pleasurable view of the well laid garden of the country home and the vista around. With a beautiful view from your room, you will enjoy the warmth of a private home and noteworthy service.