UDAI BILAS PALACE
Dungarpur, Code No- AT-RJ 59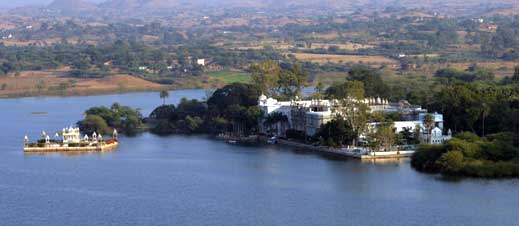 The history of Udai Bilas Palace, Dungarpur, Rajasthan dates from the mid-19th century, when Maharawal Udai Singhji-II, a great patron of art and architecture built a wing of bluish grey local stone " Pareva" overlooking the lake and the " Ek Thambia Mahal," featuring intricate sculptured pillars and panels, ornate balconies, balustrades, bracketed windows, arches and frieze of marble carvings, a veritable marvel of Rajput architecture. Dungarpur is full of surprises and promises to be a memorable experience in your journey across India. The Udai Bilas Palace was enlarged in 1940 by Maharawal Laxman Singhji, who built three new wings around the " Ek Thambia Mahal" (Literally one- pillared Palace) and thus created the famous " courtyard of the palace. The result is an architectural expression exquisitely detailed. Still the royal residence, the Palace offers accommodation in the house-guest tradition with seventeen spacious and lavishly appointed bedrooms, seven double, three single and seven suites. No two rooms are alike, simply because no two guests are alike. From suites to guest-rooms each enchants with its own personality, spaciousness and modern comforts for a unique experience.

Nestled in idyllic splendour, with the blue waters of Gaibsagar lake on one side and a cove of private reserve forest on the other, Udai Bilas Palace is the embodiment of the old world charm of princely India. Udai Bilas Palace, Dungarpur, is a Heritage Hotel in Rajasthan India about 120 Kms. from Udaipur Airport. Udai Bilas Palace, has 23 beautiful Rooms. Six of which are Standard Single / Double, Eleven are Suites, two Grand Suites, three art Deco Suites and 1 Maharawal Suite.

Location : Ahmedabad airport is just 175 kms. away and Udaipur airport is at a distance of 120 kms. Dungarpur also receives convenient daily trains and buses from Ahmedabad and Udaipur. Excellent roads place Dungarpur just 25 km. from National Highway No.8 approached either from Ahmedabad or Udaipur.
Accommodation @ Udai Bilas Palace

Udai Bilas Palace, has 23 beautiful Rooms. Six of which are Standard Single / Double, 11 are Deluxe Suites, 2 Grand Suites, 3 art Deco Suites and 1 Maharawal Suite.
The Furnishings are mostly from the 20th century art-deco style, marble bathrooms with English fixtures and running hot and cold water. Meals are served either in the banquet hall which displays crystal chandeliers or in the more intimate family dining room.


Fixed menus are predominantly Indian, subtly spiced to suit our western guests. Continental or Chinese dishes are served on request, special candlelit dinners are provided by the lakeside, or picnic lunches at the ancient fortified ruins with a panoramic view of the ancient town of Dungarpur. The Udai Bilas Palace offers such modern amenities as in-house laundry service, international telephone and fax facilities, doctor on call and conference facilities.

Sightseeing-The Juna Mahal

Unlike the more recent Udai Bilas, the Old Palace or Juna Mahal as it is locally known is no longer occupied. It is still owned by the family and can be visited only on invitation. Almost as old as the town itself, the construction of the palace was started sometime in the turbulent 13th century amongst the superb natural defenses of a rocky peak some 1500 ft. from the sea level.
This seven storied structure resembles a fortress with crenellated walls, turrets and narrow entrances and passage-ways to slow down the enemy, Inside, one will see the most colorful and vibrant palaces embellished with frescoes, miniature paintings, glass and mirror inlay work. The city palace can reached by vehicle on a road which winds through the narrow lanes of the town, a scenic drive through villages and countryside, or simply by trekking across the well wooded hill tracks.
Dungarpur district is the stronghold of Bheels, a tribe whose history of occupancy in the Aravalli range is said to date back to 4000 BC Besides visits to the many unspoiled Bheel hamlets in and around the town, you can look forward to special shows of tribal music and dancing at the palaces itself. Bheels from this region and from the neighbouring states of Madhyapradesh and Gujarat can be seen at their best during the annual tribal fair at Baneshwar temple around 70 kms from Dungarpur where they assemble in large numbers. More information on their festivals can be provided on request. Excursions can be arranged to the 8th century AD ancient temple ruins of Arthuna ( 80 km), the 14th century temple of Rishabdeo noted for its intricate carvings and precious stone-studded idol of Lord Kesariyaji (45 Kms), the impressive white marble Muslim shrine at Galiakot, the Mecca of the Bohra sect of Islam (60 Kms), the 12th century temple of Deo Somnath (25 Kms) and many temples in Dungarpur town itself.
A Bird Watcher's Paradise
Nature lovers can expect visits to the Sitamata Wildlife sanctuary, a 423 - sq km forest which abounds in bird life and animals such as the leopard, four horned antelope, spotted deer, sambar and even the giant brown flying squirrel ( 140 Kms) Another sanctuary is at Jaisamand which spreads around one of the largest artificial lakes of India (90 Kms).
Udai Bilas Palace is a round-the-year paradise for bird watchers. The cooler months from November to February are the best to see winter migratory birds and the monsoon season, from July to October, is the nesting season when birds can be observed in attractive plumage. One can see from the Palace itself at remarkably close range egrets, night and pond herons, white necked and painted storks, coots and winter or resident ducks among others, depending on the season of your visit. Birds are also plentiful in the wood lands where one can hope to see the Grey Hornbill, Gray Partridge, Green Pigeon, Peafowl, Paradise fly-catcher and the Golden backed woodpecker, to name a few representative species. Saras Cranes and Wading birds are abundant at marshes en-route from Udai Bilas Palace to old Palace ( 4 kms). Nature lovers are welcome to spend hours rowing on the lake or trekking in the forest to get a close look at the bird life. Bird-watching trips can also be arranged to nearby lakes.
Room Tariffs Valid from 1st October 2013 to 30th September 2014

Rooms Category
Tariffs
Standard SGL Room:
Rs.5900/-
Standard DBL Room:
Rs.7500/-
Suite Room:
Rs.9200/-
Grand Suite:
Rs 11700/-
Art- Deco Suite:
Rs 16000/-
Maharawal Suite:
Rs 22000/-
Extra Bed:
Rs 2500/-

Group rates are on request and applicable to bookings over 7 rooms at Double room rates.
Total : 23 Air-conditioned rooms and suites.
Single Rooms: 02 ; Double Rooms: 04; Superior Suites: 09; Grand Suite: 04; Art- Deco Suites: 03; Maharawal Suite: 01;

Meal Tariffs
Breakfast:
Rs.470/-
Lunch:
Rs.770/-
Dinner:
Rs.870/-

8% L.T.+ 3.6% Service Tax +3% Education cess on room rate 5% VAT + 4.8% Service Tax + 3% Education cess on food (Taxes subject to change according to Govt. policy)

Click here to Book Udai Bilas Palace

Tele : +91-11- 41612107, 26823836. Mobile: 9810002772, 9910002772.

Email :- reservation@ashextourism.com