Araliayas Resorts
Udaipur, Rajasthan.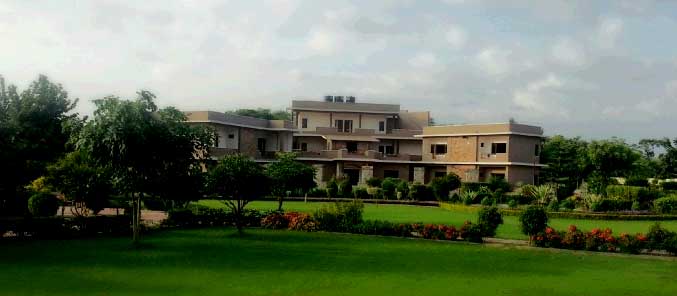 Araliayas in Udaipur is a privately owned estate; located amidst the scenic mountains of the Aravali range your first impressions of Araliayas will probably be the space, peace and the breathtaking panoramic views. The privacy, location and the splendid views provide a lush green scape that rejuvenates the senses and it's been so designed that indoor merges seamlessly with the outdoors. It is the ideal place to relax, unwind and soak in what promises to be an unforgettable experience.
The unique experience begins with an enchanting drive from the city to the location. Like a moving cameo the splendour of the city gives way to the serene lakeside and then to the rustic simplicity of village life located in the heart of the woods. After a short acquaintance, you will feel that Araliayas is just like home. There is nowhere quite like it for perfect relaxation, and though the city is merely a few minutes' away, Araliayas is in another world.
Accommodation
Araliayas has 12 suites perfectly poised to embrace the unique panorama of mountain scenery merging into the green farm land. The views are quite simply awe inspiring. Contemporary and traditional architecture are combined to feature the light mosaic floor. Stylish finish of the minimalistic interiors is the highlight. Relax in the heavenly luxury of this stunning property.
Each bedroom is en-suite and has a private balcony with amazing views. The lawns are spacious and the flowerbeds give splashes of colour around the garden and near the swimming pool. There are several private corners for a tete-a-tete and a pleasant barbeque area. Araliayas has a friendly, intimate atmosphere that will calm and relax you.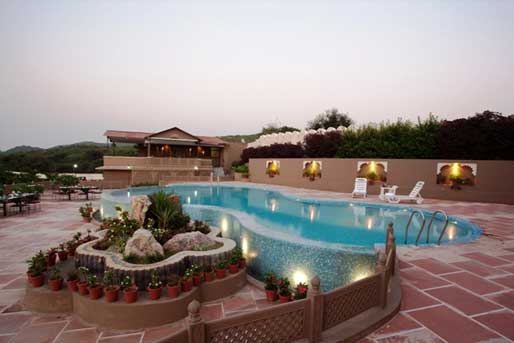 Restaurant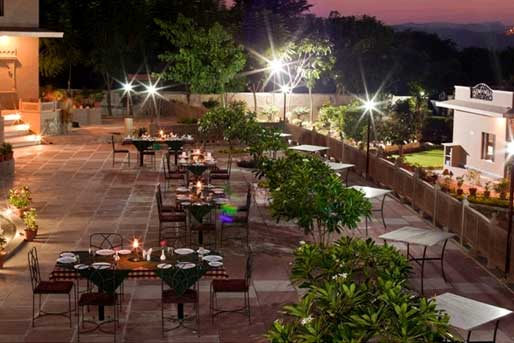 Oasis - Garden Dinning In midst of beautifully landscaped gardens, lush green surroundings and water bodies this seating is so comfortable and , it will help you loosen up. This is an informal outdoor location for cultural and entertainment evenings where the sunset and the beautiful lighting after the sun goes down can be enjoyed by one and all. It is an ideal place for winter with charcoal heaters by your tables. Perfect place for group lunches and dinners.
Ambrosia - The Multi Cuisine Restaurant An air-conditioned sixty covers fine dining multi cuisine restaurant; guests can satiate their appetite by choosing any of Indian, Continental, Mughlai, Rajasthani or Chinese preparations. The interiors are simple and chic and create a sophisticated metropolitan atmosphere. Simple yet elegant glassware and cutlery complete the perfect dining experience.
Upper Deck - The Lounge This is a landscaped gathering place perfect for private parties. The open-air deck is located on the upper most levels of the resort, overlooking the expansive landscaped garden; here guests can enjoy BBQ's or partake of drinks. The choices are many, depending on one's mood and way of life.
Services & Facilities
Located amidst the sprawling scenic mountains Araliayas offers the most rejuvenating, exhilarating leisure activities. Indoor Games and Viewing Movies: Indulge yourself in indoor games like Table Tennis, carom and pool. You can also enjoy a movie of your choice on a LCD Screen. Swimming Pool: Just chill out and relax in the blue lagoon. Wild Life and Nature: A drive in the nearby Sajjangarh Wildlife Sanctuary, will give you enough thrill and adventure. Conference Hall- which can accommodate 100 people in theatre style. Yoga - Revitalise your body naturally by an hour of simple exercises which relaxes the body, calms the mind and restores the spirit. "Ambrosia" the multi-cuisine Restaurant, "Upper Deck" the pool side lounge. Team Building and motivational games/exercises. Internet Access with Wi-Fi.Doctor on Call'

Wedding : Araliayas is one of the most exquisite and exclusive venues for holding wedding ceremonies. Our intention is to make your wedding a memorable one, we take special care by bringing in a genuine touch to your wedding with a perfect blend of the culture, decor and surrounding. We help in organizing weddings with a true Rajasthani flavour. We believe in providing innovative and exclusive wedding services with our team of highly professional, well experienced experts and wedding planners. Those looking for a perfect and exclusive wedding can contact us and we assure you to make your ceremony a special and unforgettable experience.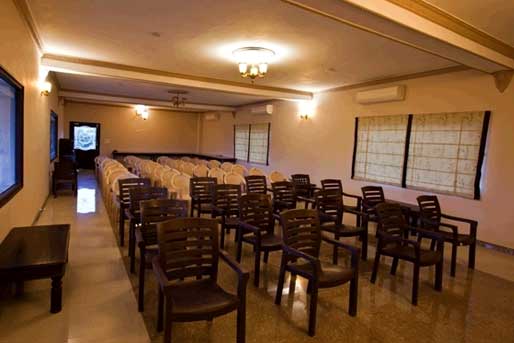 We have pretty spacious venues and well manicured lawns with special features like welcoming with rose petals, traditional wedding music, nagada and shehnai, puppet shows, dancers, musicians, presence of camels and elephants, Dhol walas and DJ. These programmes and performances will give your wedding a very traditional feeling. You can select from the huge variety of royal feast to be served (Indian, Chinese, Continental and Traditional Rajasthani Dishes) during the occasion which are prepared by our highly experienced and professional chefs. We decorate the venue in a very ethnic pattern; features like decorative glass pots, beautiful rangoli designs, henna artists, bandhni tapestries, lamps, red carpet, floral decorations, which will make your wedding ceremony truly memorable in all aspects. Those who want an unforgettable wedding experience.
Tariff 2013- 2014
ROOM CATEGORY

Single

Double

Executive Rooms

Rs. 7500

Rs. 8500

Superior Rooms

Rs. 8500

Rs. 9500

Extra Person - 1500/- INR Taxes as applicable. Tariff validity : From 1st Oct to 31st March
Summer Tariff (validity : From 1st April to 30th Sept)
ROOM CATEGORY

Single

Double

Executive Rooms

Rs. 4000

Rs. 5000

Superior Rooms

Rs. 5000

Rs. 6000

Extra Person - 1200/- INR Taxes as applicable. Tariff validity : From 1st April to 30th Sept
Check in time is 1300 Hrs and check out time is till 1000 Hrs. Further delay in check out will be on 50% chargeable basis (on the basis of availability).
2 Nights Winter Packages (from 1st Oct to 31st March)
ROOM CATEGORY

Single

Double

Executive Rooms

Rs. 14,000

Rs. 15,000

Superior Rooms

Rs. 15,000

Rs. 16,000

Extra Person - 1200/- INR Taxes as applicable. Tariff validity : From 1st April to 30th Sept
Package valid from 1st Oct to 31st March. Package is not valid : From 24th Dec. to 2nd Jan. (Christmas and New Year Period) Extra Nights extendable on Pro Rata basis. Child below 5 years complimentary (on existing bedding).