Balaji Resort
Bikaner Code No- AT-RJ33
Amidst the dancing, scintillating and rolling sand dunes and harsh desert of Rajasthan lies The Desert city "BIKANER" .The Fortified city, still preserves the aura of medieval times and ancient Rajasthani culture. Balaji resort is located in the lap of nature near a village surrounded by vast ocean of desert .It is an unparallel Resort for Farm and Rural tourism offering all fun filled and relaxing high class facilities in close vicinity of Bikaner.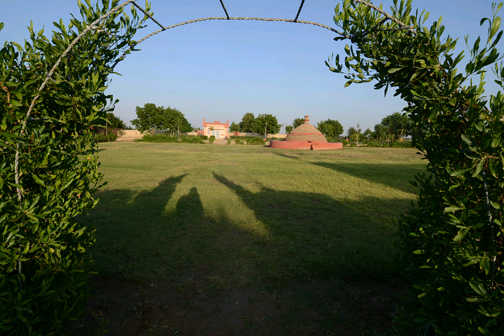 Facilities
The resort provides two large swimming pools having separate changing rooms with cabins to cool your heels at the hottest place in desert. This Facility is available only in Balaji resort in Bikaner. The resort has its own restaurant which offers authentic Rajasthani, Indian, Continental, mouth watering dishes. Rajasthani belle shall be preparing authentic Rajasthani food on "chullha" which will be served in village style. Our specialty is "Camp Fire "dinner with traditional folk dances camp fire shall provide much needed warmth and pleasure after hectic journey. Open sky and vastness of desert shall add unimaginable pleasure to the camp fire dinner or dance.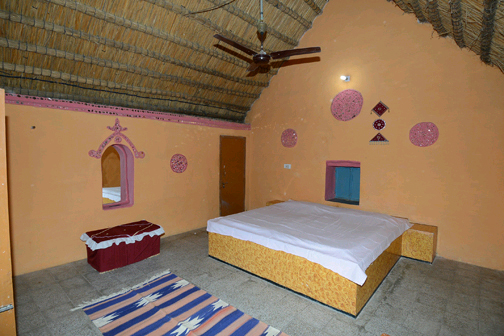 In addition to this they also provide Sunbath treatment to rejuvenate body, free Reiki treatment, sand skiing and sand volleyball, camel safari, telephone, large parking space in resort, roof top restaurant, transport on payment for sight seeing, free transport to bus stand and railway station, spacious lawn, conference hall, room service, doctor on call and many more. Hot iron Fire Dance and Fire Dance are arranged on advance booking on payment.
If one wants to enjoy the rustic beauty of Bikaner in all its true form then nothing can be better thanBalaji Resort. Located on sand dunes it is free from pollution, with the largest lawn in Bikaner, rural and ethnic environment, most peaceful ambience, the resort could be an interesting place for star gazing. The waterfall and soothing fountains are special attractions for students, tourists and nature lovers who will enjoy the cool and pleasant environment in the heart of the desert. The ethnic rural huts known as 'Jhonpa' with attached bathrooms, each hut is ethnically designed on principles of Pyramid that are echo-friendly, sound proff and weather friendly, hence they remain cool in summers and warm in winters. These huts are also unique as they have the echo effect at the center and are decorated according to centuries' old tradition. The deluxe rooms are airy, spacious with bathtubs fitted bathrooms. The ethnic furniture adds to the attraction and the rooms have the provision of one foot air cushion in the roof making them weather proof.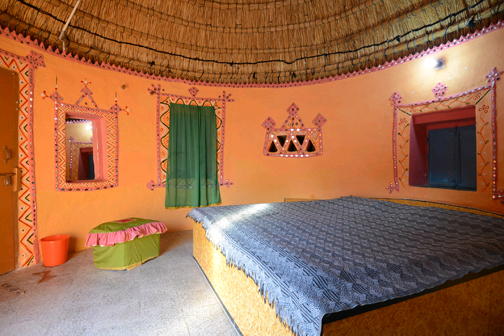 The restaurant also has this kind of an air cushion. This is also the only hotel in Bikaner where the traditional Rajasthani cuisine is prepared on 'Chullah' by the local ladies. Meals too are served in age-old style of sitting in the 'Angan' while all other meals are also served in its restaurant with a big hall. For the tourists the hotel also showcases Rajasthan's local talent and provides tribal performance like the fire dance, piercing needles in cheeks etc. This is the only hotel, which has such facility within its premises. Two swimming pools, pyramid glass house for sunbath, reiki, croquet, badminton, cricket, sand volleyball are provided to rejuvenate the mind and body.
The hotel also has secure camping site with toilets and other amenities and offers camel/jeep safaris, desert trekking, puppet and cultural shows, camp fire, large parking space etc. To help the students it also offers special packages for educational and recreational activities for two days like exposure to desert and rural life, camel breeding, visit to nearby places, Indira Gandhi canal at nominal rates.
.