The Birder's Inn
Bharatpur, Code No- AT-RJ 55.
Birder's Inn Located a mere stones throw from the entrance to the Keoladeo National Park, The Birderís Inn is a quiet, peaceful haven for visitors to the area. Offering gracious hospitality and comfortable lodgings, the Inn is run by Tirath Singh- an avid birder and naturalist of considerable repute, who grew up in the area and still makes his home there. This beautiful little lodge is the ideal place for the keen bird-watcher, offering the very best services in terms of naturalists and guides to share their experience and insight to make visits to the Park truly worthwhile. The Inn hosts eight well-appointed rooms with all the modern comforts one would aspect, including air-conditioning and hot and cold running water The Multicuisine Restaurant & Grill serves up a delectable variety of dishes to satisfy even the most discerning palate. But, finally-it is the gracious, unobtrusive hospitality that only a home run lodge can offer which truly sets the place apart.
Browse through our small library or borrow a pair of binoculars should you have forgotten yours. During your stay, you can interact with our resident artist and pick up exquisite bird paintings, miniature animal carvings and other local handicrafts as a souvenir. But when you leave it is the memories of an enriching wildlife trip and the gracious, unobtrusive hospitality that you take away with you.
The Ornithologists Paradise of Bharatpur offers an eclectic mix of rich heritage and history with the elegance of nature and wildlife and has attained the position of a popular tourist destination in India.
How to Reach The Birder's Inn By Air The nearest airport is situated at Agra, which is 56-kms from Bharatpur. Delhi is 184 Kms from Bharatpur.
By Rail/ Train Regular rail services connect Bharatpur with all the major cities such as Delhi, Mumbai, Jaipur and Agra.. The Bharatpur railway station is about 5 Kms from the park/bird sanctuary.
By Road An excellent network of roads connects Bharatpur to all the major cities of the Rajasthan and the neighboring states like Delhi, Uttar Pradesh, Haryana. Bharatpur is well connected by road from Agra (56-kms, 1 hour), Delhi (184-kms, 4 hours) and Jaipur (176-kms, 3 hours).
Located in quiet and peaceful surroundings, The Birder's Inn is very close to the entrance of the Bharatpur National Park. The resort is known for its hospitality and comfortable lodgings. This beautiful little lodge offers the best of facilities and services for the keen bird-watchers such as well-trained and specialized naturalists and guides to share their experience and insight to make visits to the Park truly adventurous.
Accommodation & Dining: The Birder's Inn boasts a total of 10 well-appointed rooms. All rooms of the resort are equipped with amenities such as Air-conditioning and Attached Bath Rooms with H/C water supply among many others. The resort also has a Multi-cuisine Restaurant & Grill, serving a delectable variety of dishes to satisfy even the most discerning guests.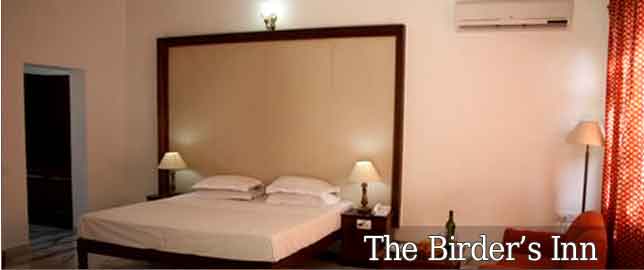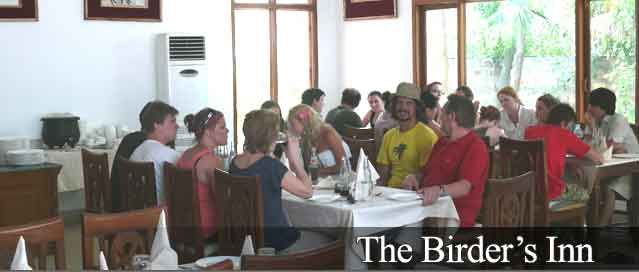 Keoladeo National Park
Situated at the confluence of the rivers Gambhir and Banganga in the Bharatpur district of Rajasthan, Keoladeo National Park is a World Heritage site and one of the most popular bird-watching sites of Asia. The Park-colloquially known as Ghana is an absolutely fascinating tapestry of wetlands, woodlands, woodland swamps and dry grass lands, making it a natural habitation of rich biological diversity. Originally a natural depression (believed to be part of a riverbed- probably the river Yamuna), the region that is now known as Keoladeo National Park was prone to seasonal flooding. This caused it over a period of time,to develop into a lush, thriving system of fresh-water marshes that attracted a large and diverse population of migratory birds. The unchallenged highlight of the Park is that it is the only known wintering region for the highly endangered central population of Siberian Cranes. By virtue of the sheer diversity and richness of its natural geographical features, this quaint and diminutive National Park- all home and sanctuary to an astounding variety of life forms, including 366 avian species, 379 species of flora,

50 species of fish, and a host of snakes, lizards, turtles, amphibians and invertebrates. Keoladeo National Park is a veritable paradise for the serious bird-watcher, offering outstanding opportunities to site an amazing variety of rare and common avian species in their natural habitats. The Parkís proximity to Delhi and popular tourist destinations such as Agra, Mathura and Jaipur makes it an irresistible stop over for the general tourist as well. Today, the Park attracts more than a million visitors each year, including some 45,000 from abroad. Keoladeo National Park gets its name from Lord Shiva, whose temple stands stoic and serene at the heart of the Park. Shiva, is the form of Pashupati- is the protector and lord of the animal kingdom. It is almost as though a higher spirit emanates his protection and blessings over the wondrous oasis of beauty and nature that is the Keoladeo National Park. Along with the sincere conservation efforts that are on in the region-and, indeed, the world- this haven of nature will continue to thrive and be cherished by visitors from across the globe. For the avid bird-watcher, Keoladeo National Park needs no introduction. It is a place which has drawn them with itís unmatched sighting opportunities and quaint charm for years- and continues to do so to date.

Rooms

NEAREST RAILHEAD Bharatpur-4km WEATHER:

Warm- April to June (day temperatures cross 40 degrees Celsius) Wet- July to September (monsoons), Cold Ė October to March (night temperatures go below 10 degrees Celsius)

GEAR: Dress sensibly! Light cotton clothing in warm weather. Rain gear in wet weather. Woolens and jackets in cold weather. Preferably wear neutral colors ( greens and earth tones). Definitely carry binoculars and camera.

TIME TO VISIT: The Park is open throughout the year. However, peak season is between October and March, when the weather is very pleasant, and migratory birds also make their annual visits to the Park.
GETTING AROUND:
Apart from the conventional method of getting around the park (on foot), one may also explore the Park by boat, bicycle or cycle rickshaw that are available on hire. Each gives a unique dimension to the Keoladeo National Park experience.