Gulmohar Sariska Resort
Sariska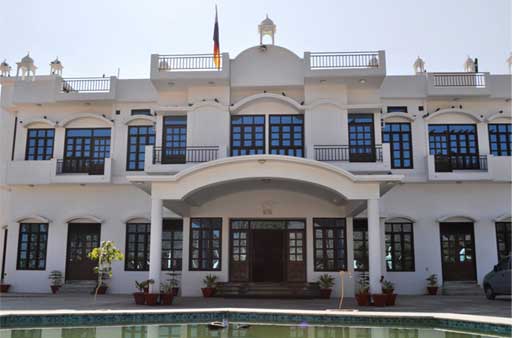 Gulmohar Sariska Resort latest resort in Sariska national park. With just 4 hours drive from Delhi, Sariska national park has become one of the major attractions for tourists. Set in 6.5 acres of lush green landscaping, Gulmohar Sariska Resort is located in the beautiful valley of Viratnagar & surrounded by Aravali Hills. It is an ideal holiday destination, tastefully designed in harmony with the peaceful surrounding offers a perfect setting to commune with nature. Suitably located facing a picturesque valley it is an ideal place, economical, affordable and yet with uncompromising comfort for the person seeking rest away from hectic city life.

The architecture of the resort is a blend of Royal Havelis & today's modern hotels. Just 18 kms from the resort, Sariska National Park is one of the major attractions among tourists.
Location :- Gulmohar Sariska Resort is located in the beautiful valley of Viratnagar & surrounded by Aravali Hills. It is 18 kms from the entrance gate of Sariska National park on Delhi - Alwar road.
Types of Accommodation
At Gulmohar Sariska Resort, rooms are designed for comfort, a luxurious stay & to add to your holiday charm all of our rooms provide a scenic portrait of the Aravali hills. The rooms are contemporary designed with a classical charm, with carpeting and attached (fully tiled) bathrooms, with comfortable bedding and bed linen. Our staff works round the clock to ensure cleanliness in the rooms.
Our 8 luxurious & spacious rooms are elegantly furnished to provide you with a host of services to savor in the rustic ambience of our well appointed rooms with wooden flooring, tasteful interiors, complimented by our LCD televisions. With indoor heating, round the clock running hot water and a natural water source nearby, Bridge View Hotel is supreme for all seasons.

| | |
| --- | --- |
| | |

Dining hall :- Gulmohar Sariska Resort has one multi-cuisine restaurant which serve traditional dishes as well and a bar which offers breathtaking views of the Aravali Hills which will set you free, just enjoy your drink with cool breezes and the marvelous view.

Facilities and Services Ideal Location, panoramic views, Drive in parking Lush green lawns, Nature Farm inside the resort premises, Elegant furnished and tastefully decorated neat and clean rooms, Rajasthani marble flooring, 24 hours running hot and cold water, Multi channel cable with 21" TV, Laundry Service, Indoor games like Table Tennis, chess, carom, Outdoor games like cricket, Foot ball, badminton and volleyball, Doctor on call And above all homely atmosphere.
Tariff

Meal Plan
Rates per Night

EP Plan(Room Only)

Rs. /-

CP Plan(Room & Breakfast)

Rs./-

MAP(Room, Breakfast and Dinner)

Rs./-

AP(Room & All Meals)

Rs./-

The above rates are quoted for per couple only 2.
Room for Single Occupancy- 80% of the Couple Cost 3.
Extra bed for one adult (above 18 years) will cost 40% extra
Child from 12 and 18 years - 35% of couple cost. . Child from 6 and 12 years - 25% of couple cost. . Child below 6 years – complementary.
Taxes extra as applicable
Click here for Booking Form
Tele : +91-11-41612107, 26823836. Mobile: 9810002772, 9910002772.
Email :- reservations@ashextourism.com