Hotel Shree Jagdish Mahal
Udaipur, Rajasthan.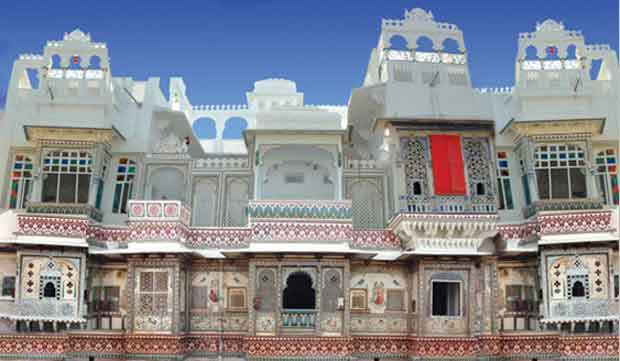 In Udaipur city this Haveli is situated on bank of famous road Jadion Ki Ol from Gantaghar (Clock lower) to Samor Bagh.
Haveli is easily Approachable from City Palace to Ganerao Ki Ghati & From Surajpol via Shrinath ji ki haveli. This 250 years old Antique Haveli is very much famous for its Architecture & historical wall Paintings and Beautiful Halls and Gokhdas decorated with number of Belgium glasses.
The historical wall paintings of this Haveli are very much popular in Italian fresco and its called Boono fresco. In 1800 century Maratha Baji Rao Peshwa attacked on Mewar (Presently known as Udaipur ) and imposed heavy taxes also pressurized for treaty & due to constant robbery on Mewar by Pindar Robbrs Mewar condition decline.
To restate the prosperity & Glory of Mewar Col. James Todd advised to Maharana Bhim Singh to invite Seth Shri Jorawarmal Ji Bapna therefore Mewar Maharana Bhim Singh respectfully invited Shri Jorawar Mal Ji Bapna of Jaisalmer, by that time he was Prime minister of lndor Holkar State , looking toward higher moral values of Mewar people. Seth Jorawar Mal Ji accepted Maharana's Invitation and joined Mewar Government. In respect of Seth ji Maharana Offered this Historical Haveli to Seth ji since then this Haveli's Name was "Nagar Seth Ri Haveli".

Suite
Shree Jagadish Mahal has 9 well appointed suites. Each suite is spotlessly clean, decorated with Old heritage style, Belgium glasses and Boono frescos with Traditionally furnished. Every room has a Tradtional 'Zarokha' where one can relax with the rays of the sun filtering through the coloured glasses. All bedrooms are looking out over the old residential houses surrounded with in Aravali Hills.
The rooms have modern amenities like telephone, CCTV, running hot & cold water, traditional Galicha & air conditioner.
Room
Shree Jagadish Mahal has elegantly appointed 20 luxury and deluxe rooms. Each room is tastefully designed to meet the basic comforts & necessity of the guest, the interiors are carefully chosen to provide a relaxing atmosphere with a perfect ambience to relieve the stress of a weary tourist, from the cool comfort of any air conditioned bedroom.
Facilities
24 hrs. Room service, Same day laundry, Doctor on call, Money exchange,Credit Card acceptance
Travel desk, Car rental, Bus, Train, Airways reservation & Confirmation, STD, ISD, Internet, Cable TV, Body Massage, Rajasthani folk Dance performers arranged on request.
Restaurant
Shree Jagadish Mahal Rooftop restaurant is ideal venue whether it be for family outing or just a romantic tete - a - tete, the cuisine is excellent, offering a choice of Indian & International dishes. The rooftop restaurant offering a panoramic view of Temples , City Palace , old haveles and amazing view of Udaipur city surrounded with Aravali Hills.
Tariff Valid - 01st Oct - 13 to 31st March 2014.

Suite Room: Rs.6500/- per room per night per couple.
Special Rate: Rs.4343/- per room per night per couple.

Luxury Room: Rs.4200/- per room per night per couple.
Special Rate: Rs.3140/- per room per night per couple.

Deluxe Room: Rs.3200/- per room per night per couple.
Special Rate: Rs.2200/- per room per night per couple.

Includes: Accommodation, Breakfast & Taxes.