Jagat Palace Hotel
Pushkar Code No- AT-RJ45
Jagat Palace offers a splendid view of the biggest sand dune of the Thar Desert and the spectacular Snake Mountain. So when you're in Pushkar take a journey in the resplendid past and experience the princely comforts at the Jagat Singh Palace Hotel. It will be an experience of a life time. This hotel is also classified as a three star hotel by the Department of Toursim, Govenment of India.
Nested in the beautiful snake mountain on one side and the great thar sand dunes on other, the heritage property jagat singh palace hotel offers a royal. setting to explore the magic of the holy Kasba of Pushkar. build and managed by the princely family of Khanpur, this heritage hotel offers traditional hospitality perfectly blended with all modern amenities.
Attraction & Excursions
The moment a traveller gets out of the hotel can visit around 500 temples, hundreds of old palaces & Havelies owned by the erstwhile Rulers, Jagirdars, Tajimdars & Istramirdars of this country. These temples and Havelies are built in Rajasthani Architecture, which is totally geometrical. Their age id from 100 to 2500 years old, many of them are monuments which is worth visting. In half an hour walk, one can visit the Goddess 'Savitri Temple, Nag Pahar (Snake Mountain), where you can find hundreds of caves & temples, wild life and jungle birds to see. Gaumukh, Punchkund, Pandawa's caves, Agust Muni's cave are also in the Snake Mountain. Places like Budha Pushkar (Old Pushkar), Madhya Pushkar, Baijnath etc. are only half an hour drive by car. We take you to the village Devnagar, where you can have breakfast, lunch & dinner with traditional Rajasthani families and make them life time friends.
Pushkar is a great place to get your cloths stitched. There are about 2000 tailors stitching cloths. It is very famous for shoe smiths, where hundreds of houses & shops of shoe smiths making shoes and selling them. Pushkar is famous for its painters, and you can see the painters painting miniatures in the town. You can attend "Yoga and Meditation" Classes as there are many institutions at Pushkar. The great Indian Bustered 'Soklia' a protected Indian Century can visit by jeep. Museum & Soni Temple are at Ajmer, which is half an hour drive.
Room Service - Travel Desk, Laundry Service, Doctor on call, Car Rental, Clock Room, Swimming pool, STD/ISD Telephone, Camping, Jeep, Horse and Camel Safaries, Money Exchange, Camel Karwan, Minibar, Elevators
Safaris:
Jeep, Camel, Horse, Bicycle and Motor Cycle can be arranged on request for a few hours, half day and over night at very reasonable rates

Swimming Pool: Jagat Singh Palace Hotel, where they have one among the best Swimming Pool in the town
Recreation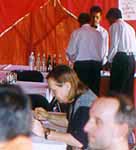 Safari - Royal Horse Safari, Royal Cycling Tour, Royal Camel Safari, Wild Desert Safari,Jeep Safari -Wild Life Safari . Desert Safari , Camel Karwan
Accommodation
Royal Splendour: It's 85 super deluxe spacious AC/Heated rooms have been tastefully furnished in art-deco style to blend with the Rajasthan art and architecture. Your stay with us will be a life time experience. The Palace provides a distinctive range of accommodation with an individual. Jharokha and garden, sand Dunes and Snake Mountain view from all of its 85 super deluxe rooms.
Facilities
Its kingly grandeur are the conference Hall perfectly named "Darbar Hall" and the "Umaid Mahal" a restaurant that serves tempting delicacies

Services - Room Service, Travel Desk, Laundry Service, Doctor on call, Car Rental, Clock Room, Swimming pool
STD/ISD Telephone, Camping, Jeep, Horse and Camel Safaris, Money Exchange, Camel Karwan, Minibar
Elevators.
Royal Rajasthani camel carts having covered top with seating arrangements takes our guests to Brahma temple old Rang jee temple escorted by a group escort who explains about Hindu Religion, Pushkar, Brahma, god & goddess. The guests are then taken to Hotel Pushkar Palace where they can see the sunset and after having a cup of tea & snacks the Karwan leaves for Jagat Singh Palace.
Tariff (1 April 08 to 31 March 09 Rates Rates per night)
EP

CP

MAP

AP

Super Deluxe Room

DBL

3500

4000

4650

5370

SGL

2950

3300

3500

3875

Extra bed

1000

1250

1550

1925

Super Deluxe Package

7200 (including Breakfast Two Night & Three Days)

Tax Extra
TARIFF DURING PUSHKAR FAIR Effective from 05 Nov. 08 to 13 Nov. 08 (for 9 nights) Rates per Night in INR on A.P. Basic
Super Deluxe Room (DBL/SGL)
14500
Extra Bed
3800
Taxes as applicable will be charged extra.

Click here for Book Jagat Palace Hotel
Tele : +91-11-41612107, 26823836. Mobile: 9810002772, 9910002772.

Email :- reservations@ashextourism.com