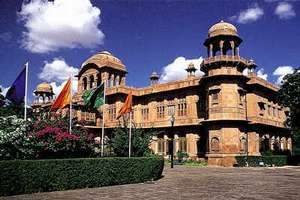 Lallgarh Palace
Bikaner, Code No- AT-RJ21
One of the most impressive palaces constructed during the last half of the nineteenth century, the Lallgarh Place defies the bleak and rugged reality of the harsh Thar Desert around Bikaner. The renowned architect, Sir Swinton Jacob, was commissioned for the proposed residence of the young ruler, Maharaja Ganga Singh. Initially, the palace was proposed to be finished within a lakh of rupees and further reductions in cost were suggested to be made by substituting stucco for carved stone. But the moment Maharaja Ganga Singh got personally involved in the building exercise, all cost cutting was banished. The Palace began in 1896 and by the time the first quadrant, Lakshmi Niwas was completed in 1902, cost had already zoomed to ten lakh rupees. The idea of using cheap stucco was replaced with the finest and most intricate stone carving of all the modern palaces in India. The princely abode welcomed Lord Curzon as its first important guest. Maharaja Ganga Singh named his new residence in honour of his father, Maharaja Lall Singh.Lallgarh Palace was the most completely integrated example of Indo-Saracenic architecture, and as some hold, the most perfectly realised of Sir Samuel Jacob's creations. The sheer poetry in sandstone was further extended for the Maharaja's son, Sadul Singh, and grandson, Karni Singh
Tariff in US Dollars

Deluxe Room

Single

Double

(Extra bed @ US $ 12per night on EP basis)

Buffet meals Breakfast-US Lunch- Dinner-US

Facilities

38 air-conditioned rooms
Telephone with direct dialling facility
Running hot and cold water
Refrigerator in rooms
Television with satellite channels in rooms
Indian and continental cuisine
Well stocked bar
Indoor swimming pool and jogging trail
Tennis, billiards, croquet and masseur
Credit cards and money exchange
Conference facilities
Doctor on call

Around Bikaner

Camel Breeding Farm: Just 8 km away from the city, at the govt. run camel breeding farm, you discover a lot about the Ship of the Desert. You learn that the long -haired camel with hair on its ears is the Bikaner variety, famed for its strength. The light- coloured ones are the ones from Jaisalmer, and are prized for their speed. The dark-coloured camels come from Gujarat and the female camels are prized for their milk-producing capacity.

Devi Kund: Eight kilometres form Bikaner, this is the place which contains chatris (cenotaphs) of the Bika rulers.

Karni Mata Temple at Deshnoke: Millions throng the Karni Mata Temple at the village of Deshnok, 30 km south of Bikaner. At this place, holy rodents flourish all over and are fed milk by the devotees. The rats are known as kabas and it is considered extremely auspicious if they oblige by running over your feet.

Package 2012 - 2013

Valid From 01st October 2012 To 31st March 2013





2 Nights Packages


Standard Rs.12,999/- Per Couple
Suite Rs.19,999/- Per Couple

Includes : Double Room for 2 Nights inclusive of daily American Breakfast, Lunch or Dinner and all applicable Taxes.
Click here for Booking Form

Tele : +91-11-41612107, 26823836. Mobile: 9810002772, 9910002772.
Email :- reservations@ashextourism.com