Lohagarh Fort Resort
Jaipur, Rajasthan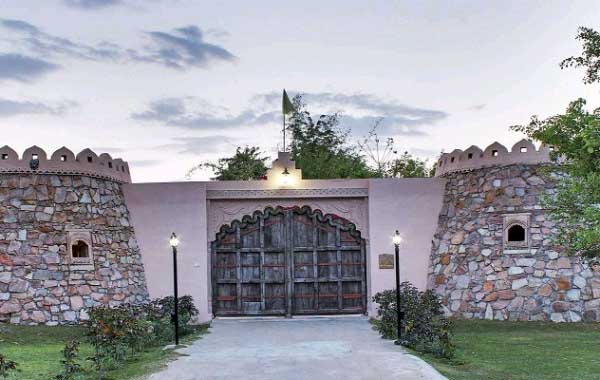 Welcome to Lohagarh Fort Resort Jaipur, a two times award winning resort offering a vacation experience to couples, families and to all those who are seeking quality time with their loved ones in a resort near Delhi. Lohagarh is an eco-friendly resort which isn't just luxurious, but also offers unique accommodation in their Cottages with Private Pool, White Quartz Suites, Natural Aroma Tree Houses and the only luxury resort in Jaipur who offer Luxury Tent with Jacuzzi.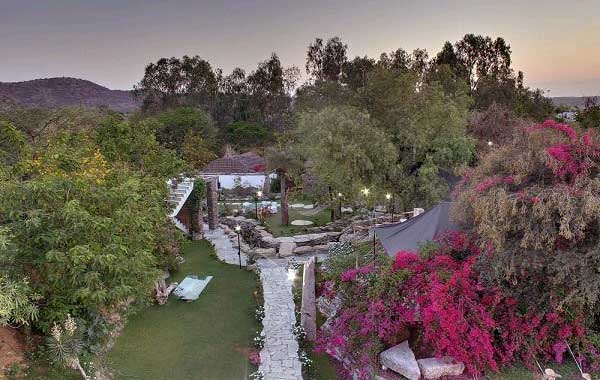 Our resort is surrounded with beautiful Aravali hills of Kukas, which is 4.5 kms from main Jaipur Delhi Highway, and away from the busy traffic of metro cities. The only voice you should hear will be of peacocks, sparrows and migratory birds which visits us in winter season.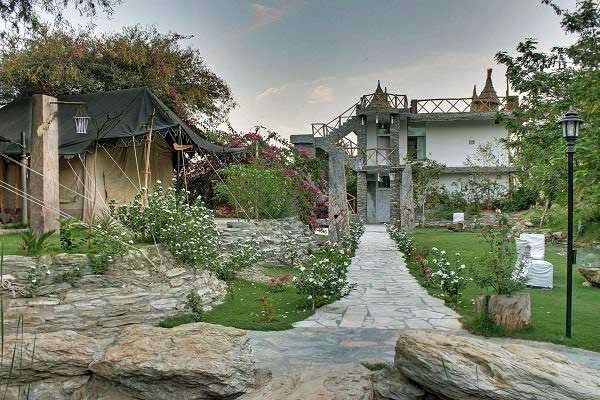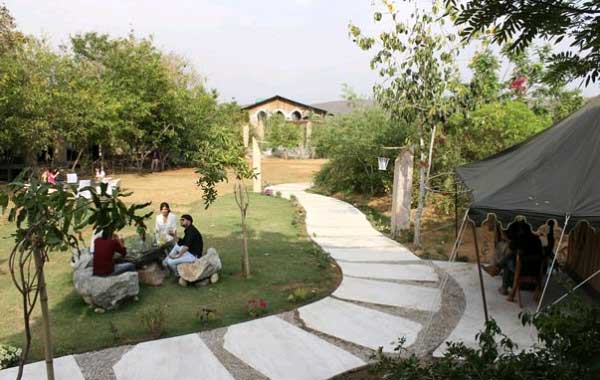 Lohagarh Fort Resort is a 13 acres lush green region spread in Kookas (Kukas), near Jaipur, and 4 kms from main Delhi-Jaipur highway. Away from the hustle and bustle of big cities, our honeymoon resort offers rejuvenation to our guests' mind, body and soul.


Accommodation
At Lohagarh, we offer luxury cottages with pools, suites made up of white quartz, tree houses which stands on 400 years old tree and Luxury Tent with Jacuzzi, which are simply breathtaking. Have a look below for more details.
Lohagarh Fort Resort offers some of the best in-house services along with the amazing & luxurious cottages with private pool, Luxury Tent with Jacuzzi, in-house restaurant, playing area, gymnasium, dedicated team of Ayurvedic massage, naturopathy and everyone's favorite tree house in Jaipur. Lohagarh is situated in 13 acres of lush green mountain area & offers some of the best ethnic meals along with continental dishes.
All accommodations include daily housekeeping service, complimentary mineral water, tea and coffee maker, modern bathroom toiletries, access to swimming pool and spa services.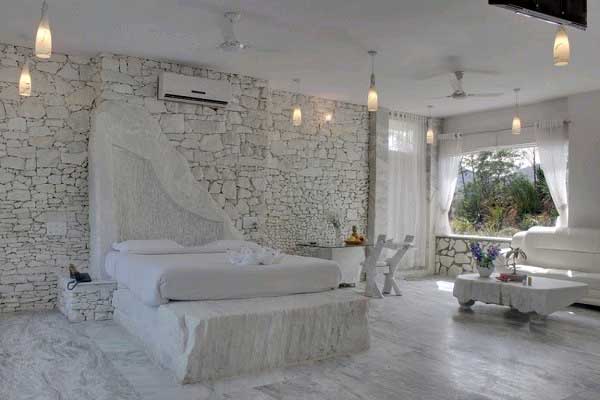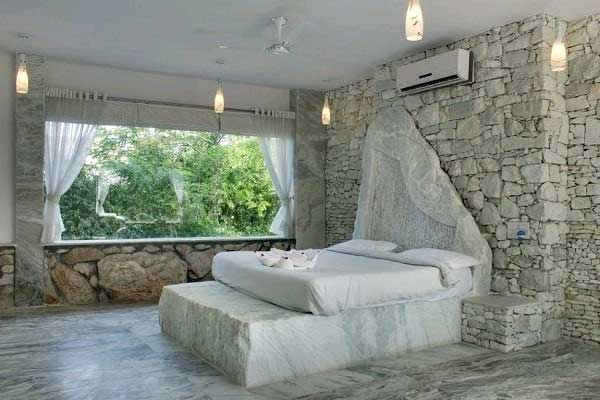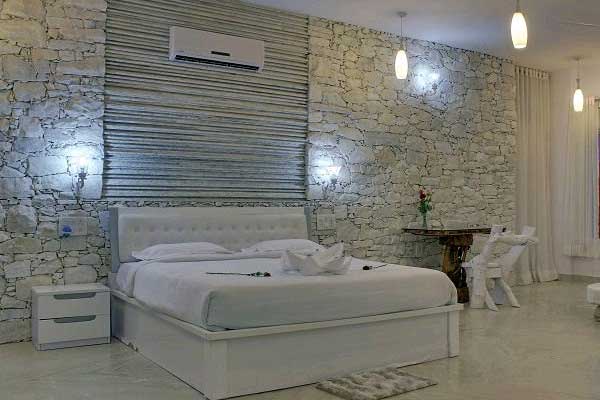 Treehouse
Our Jaipur Tree House is a perfect blend of luxury & nature. It stands on a 300 years old tree which gives natural emery from its stems. Legend has it that old trees have a pure natural aura which has the power to purify the mind and heart of those standing next to them. This beautiful structure offers a calming and rejuvenating stay, incorporating the healing principles of the East. Our Tree House is a must see & one of the most incredible accommodation in whole Jaipur.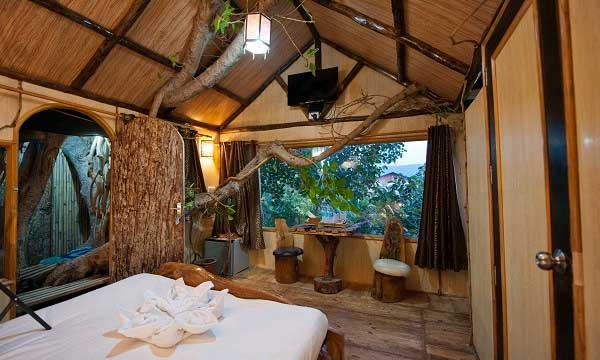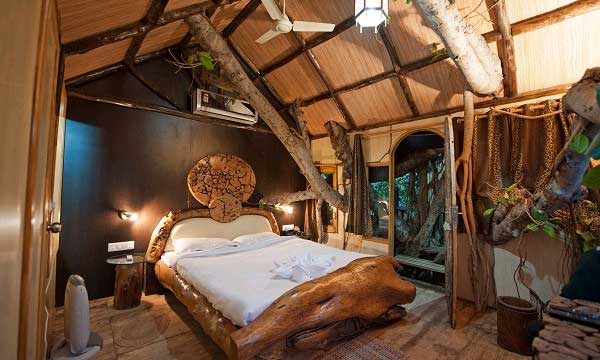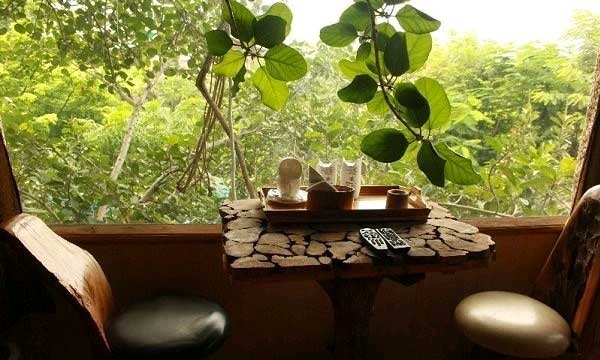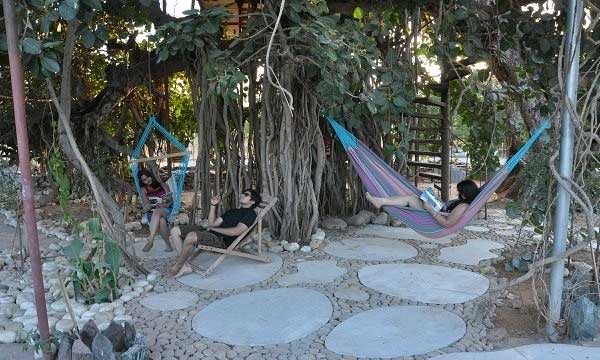 Tree House Resort Amenities: Pool view Mini fridge Complimentary breakfast, lunch, high tea & dinner Writing Table & Unique interior Incredible view of the resort Hammocks and swings
Luxury Suites (Lohagarh Paradise and White Quatz Cottage) Lohagarh Resort offers two unique and luxurious cottages "Lohagarh Paradise and White Quartz Cottage". Both of them have the finest interior, luxury amenities and comfort like you have never experienced before.
Lohagarh Suites Amenities: Pool view Mini Complimentary breakfast, lunch, high tea & dinner Luxurious & relaxing Full body massage Fruit basket
Cottages with Private Pool Our Cottages at Lohagarh Fort Resort are unique, with beautiful & never seen wooden and marble interiors. Beds in our cottages are on a natural stone slab, with luxurious amenities and a dedicated private swimming pool.. The stone slab beds is a Korean healing therapy technique which naturally offer a restful experience to all those who sleeps on this bed for a night.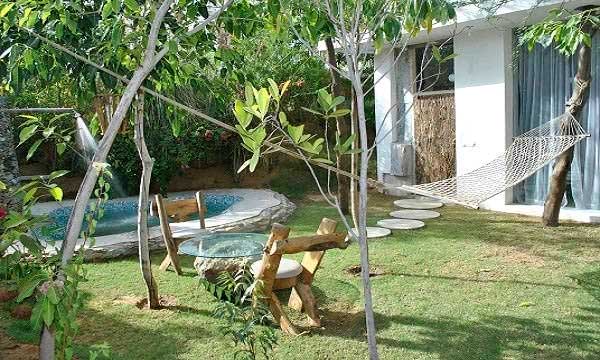 Cottage with Pool Amenities: Natural Healing Stone Slab Bed Mini fridge Private Garden & private Swimming Pool Spa & Massage Complementary Lunch, Breakfast & Dinner Tea/ Coffee Maker Writing Table with Unique interior Modern bathroom toiletries Daily housekeeping included in room rates 24 hours Front Desk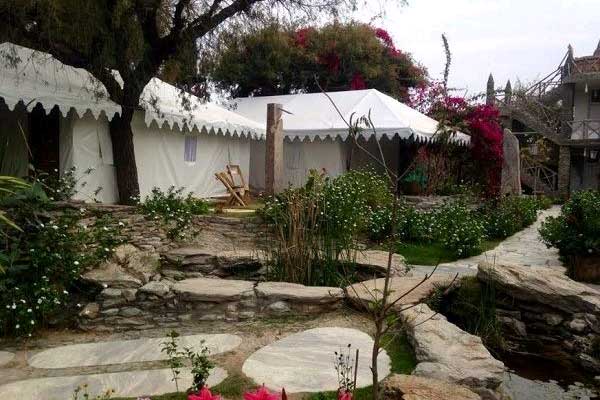 Feeling adventurous? Luxury Tents with Jacuzzi are the right accommodation for you and your loved ones. Lohagarh Fort offers 9 of the finest luxury Tents in Jaipur, which are sure to provide you with a different and fun experience.
Luxury Tent with Jacuzzi As Lohagarh Fort Resort focuses on natural elements, our Luxury Tents are definitely a perfect accommodation option. Waking up to the sound of singing birds and living close to nature, while having access to all the luxury amenities of a 5 star resort, is an incredible and healing experience.
Luxurious Tents Amenities: Garden view with private sitting area Camp fire facility Jacuzzi Complimentary breakfast LED TV Air –Conditioner & heater Wardrobe Writing table Luxurious & unique interior
Multi Cuisine Restaurant From Royal Rajasthani cuisine to Mediterranean-inspired dishes, Lohagarh Fort's restaurant will be sure to impress the foodie in you. Treat yourself to some of the best Rajasthani food, along with western flavors, all under a single roof surrounded by mystical and relaxing nature.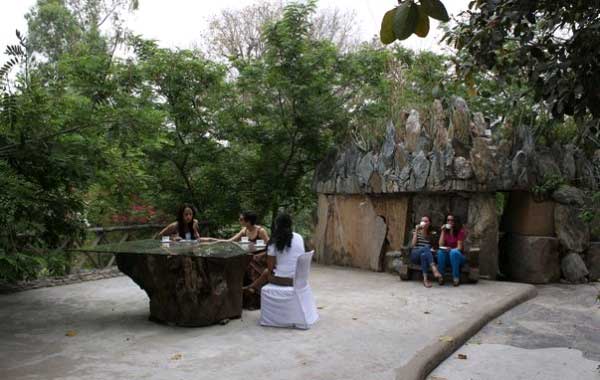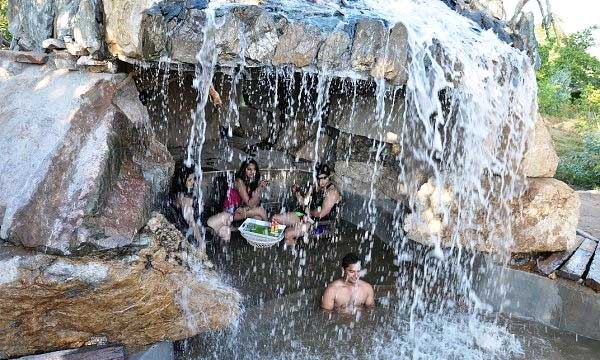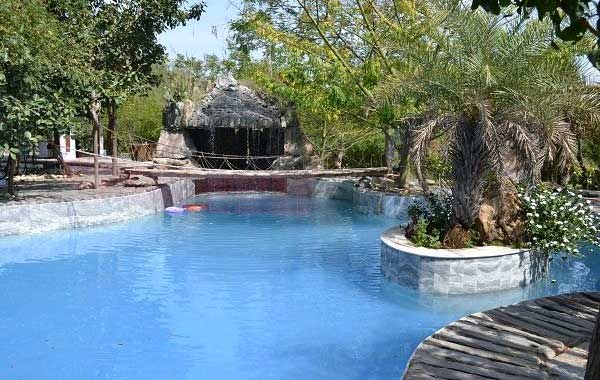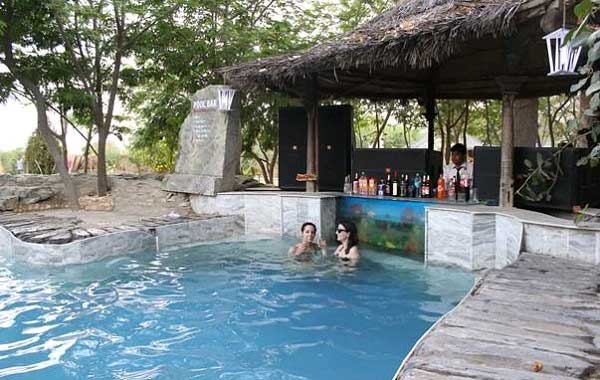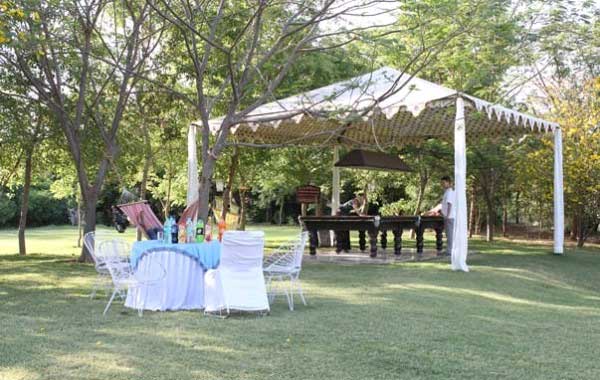 Lohagarh Fort Resort is based on the philosophy of Nature, Green & Wellness. So our dedicated team of Yoga, Spa and Massage is always available at your service.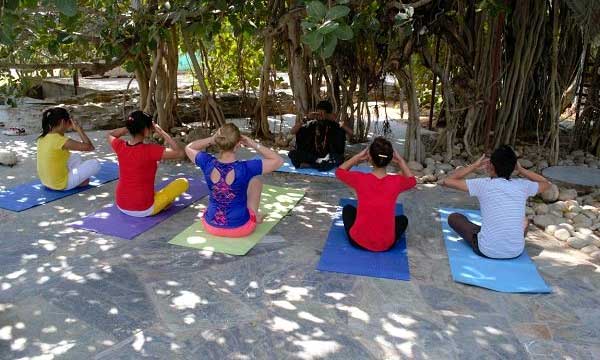 Valid Till 31st Mar, 2017.
Luxury Tent with Jacuzzi: Rs.8,800/- per room per night.
Cottage with Jacuzzi: Rs.12,900/- per room per night.
Cottage with Private Pool: Rs.12,900/- per room per night.
Luxury Suite: Rs.15,900/- per suite per night.
Extra Bedding: Rs.2500/- per adult per night.
Includes: Accommodation, Breakfast and Taxes.Complimentary Facilities: Swimming Pool Usage & Gym Usage, Games: (Cricket, Football, Pool Volleyball, Badminton, Gun Shooting, Archery Shooting, Table Tennis, Billiards, Chess, Carom, Cycling.
Click here for Booking Form

Tele : +91- 9810002772, 9910002772.

Email :- reservations@ashextourism.com