Pugmark Resort
Ranthambore, Code No- AT-RJ 70
Pugmark A Wild Life Resort, sprawling over an area of more than 5 acres is situated at the edge of the Ranthambhore National Park in Rajasthan. It's set amidst trees on a private estate, overlooking Aravali Ranges. It is a five minute drive from the main entrance of the reserve. The facade of the resort is a harmonious mix of modern architecture and imaginative Landscaping. You are greeted by the thoughtful portrayal and the thinkable amalgamation of distinct yet uniquely interesting forms of expression coming together in the form of free and boundless expression. A dazzling main block greets you with the reception, the main lobby, the 24 hrs. Coffee shop, restaurant area and the conference hall, Location Around 390 km by road from Delhi , Around 180 km by road from Jaipur , Around 250 km by road from Agra
The Resort: Natures you ...It's your Nature !!! Rinse your soul with this rendezvous! You won't have encountered ecstasy in such a form. Amazingly outlandish and absolutely lateral, the ride itself embosses the effect on you. And, nature plays its sweet music to put you in rhythm. You are greeted by the wild side of nature in the most fantasy like manner . . . You can't help much! The Pugmark, sprawling over an area of more than 5 acres is situated at the edge of the Ranthambhore National Park in Rajasthan. It's set amidst trees on a private estate, overlooking Aravali Ranges. It is a five minute drive from the main entrance of the reserve. The facade of the resort is a harmonious mix of modern architecture and imaginative Landscaping.

You are greeted by the thoughtful portrayal and the thinkable amalgamation of distinct yet uniquely interesting forms of expression coming together in the form of free and boundless expression. . A dazzling main block greets you with the reception, the main lobby, the 24 hrs. Coffee shop, restaurant area and the conference hall.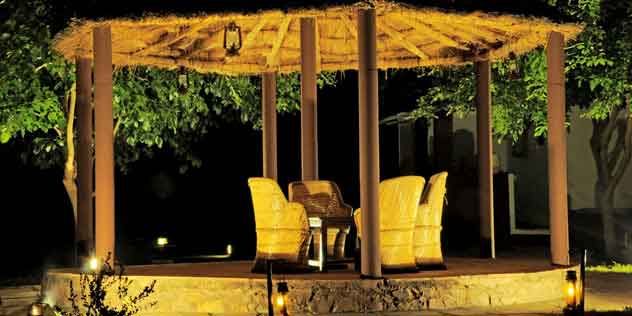 Just adjacent to it, overlooking the solitary tree is the cascading cave entrance. Beautifully designed to recreate the enchanting ways of nature, the cave is an ornate story of lily pools, waterfall and the raw rocks. The cave unwinds itself to let you through in the garden and that's where a new sense of magnetism grips you. And you realize . . . every boundary has a point from where freedom creeps in.
Overlooking the awesome Aravali ranges, The Pugmark is conveniently located. The distance of the national park is hardly 2 KM and a 5 minutes drive from the resort will take travelers to the park. The Pugmark is close to the railway station too. Besides, it is connected with the cities like Jaipur, Kota, Agra, Delhi, Jodhpur, Ajmer and Udiapur by road.
By Air: The closest airport is Sanghaner airport in Jaipur, which is 180 kms and three and half hours drive from the resort. Jaipur is well connected to New Delhi and Mumbai with daily flights operated by Jet Airways, Sahara Airlines and Indian Airlines. The flying time from Jaipur to Delhi is thirty minutes and from Mumbai to Jaipur is one hour and thirty minutes.
By Road: The drive from Jaipur to Ranthambhore takes three and a half hours. The drive from Agra to Ranthambhore takes six hours. The drive from New Delhi to Ranthambhore via Jaipur, takes approximately eight hours. Around 340 km by road from Delhi Around 180 km by road from Jaipur Around 250 km by road from Agra.
By Train: Sawai Madhopur (10 km) is on the main rail line between Delhi and Mumbai and is also well connected to Jaipur. There are regular super fast trains like Jan Shatabdi, Rajdhani between these destinations. The travel time from Sawai Madhopur to Jaipur is approximately two hours and thirty minutes, to Delhi is 5 hours and to Mumbai is around fifteen hours.

The 26 well appointed luxury air-conditioned cottage rooms, 03 Suite and 01 pool villa luxury rooms with your private mini bar are an extension to the primary theme of the property and have all the features to deliver the comforts of a pleasurable stay to you. The special suite is an enclosed heaven. The master bedroom is complimented with a mini bar and the study adjacent to it. The private pool of the suite is a sensational spot. A place that makes you imagine as if you too are being followed by the paparazzi. It's not just a matter of freedom, a relaxed and illuminated stay is absolutely the prime agenda for us as we know, if we make you feel happy, . You feel free, naturally!



There is no dearth of modern amenities and services at these rooms. Definitely, your stay at these guestrooms will be soothing and superb. Having 2 cottages and a living room, the pool villa here is the place of elegance and opulence. Guests will avail here a personal swimming pool along with other amenities.
Park Timings The Park timings depend on the time of the sunrise and sunset. Generally speaking, the Park opens to the tourists half an hour after sunrise and closes half an hour before sunset. For most part of the year it would be safe to say that the timings are as follows, Summer : Morning April to June 0630 hr to 1030 hr Evening 1530 hr to 1830 hr , Winter : October to March Morning 0700 hr to 1100 hr Evening 1500 hr to 1800 hr
Dinning & Bar



Cave Palate: A Multi cuisine restaurant
Cave Palate is a multi-cuisine restaurant offers a sumptuous buffet for all meals, Adjacent to the main restaurant, at the garden of resort Guests are entertained with live Rajasthani, Indian cultural performances in the evenings. Most of our everyday ingredients are sourced from our organic farms at the resort. Even the milk is from the ours resort and local farm where the cows are fed organic feed. You can visit our organic farm.
Cuisine: Indian, Chinese and continental Timings: 6 am to 10 pm
The Flames: Highly spirited Bar
Located inside the restaurant, bar is a perfect setting for guests. A quiet nightcap from an extensive selection of spirits and wines.
Timings: 11 am to 11 pm.
Trial End Café: A 24 hours open coffee sho
Rustic Earth: An open air amphitheatre cum restaurant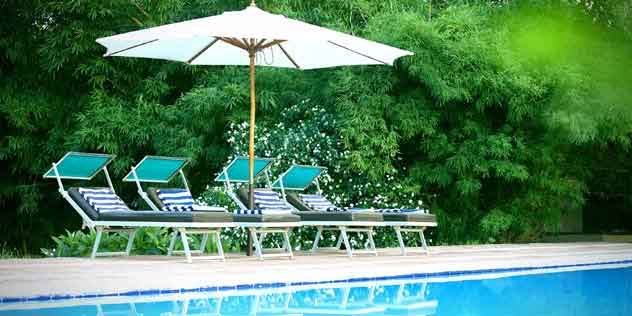 ROOM

PLAN

RATES

SINGLE

DOUBLE

Luxury Cottage Room

APAI

INR 7500

INR 8500

Pool Villa Room (2 Bedroom set, lobby, mini oval shape pool)

APAI

INR 20000

INR 20000

*APAI includes: All Taxes, Accommodation in Air Conditioned Double or Twin Sharing Room, Breakfast, Lunch, Dinner and Morning, Evening Tea & Coffee

Conditions:

Rates are quoted of taxes.

All meals are fixed mend basis.

Children below 05 years age: free

Children between 05-12 year of age: will be charged INR 2500 per child in the same room without extra bed.
Children above 12 years of age: Will be charges INR 5000 per kids in the same room without extra bed.

Validity: 01st Oct 2013 to 30th June 2014 (excluding X-mas/ New Year festive period)

Check in: 11:30 hrs; Check out: 11:00 hrs.

Early Check in; late check out subject to availability.
Click here to Book Pugmark Resort

Tele : +91-11-41612107, 26823836. Mobile: 9810002772, 9910002772.

Email :- reservation@ashextourism.com