Ramada Resorts & Spa
Udaipur, Rajasthan.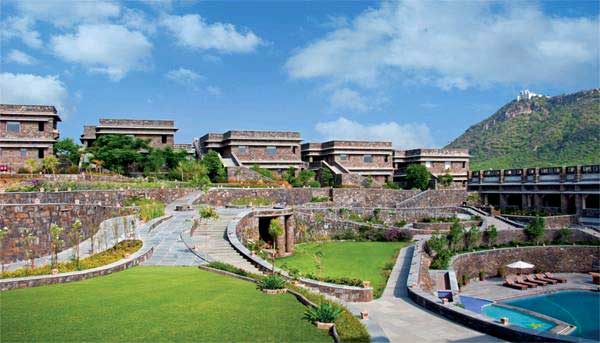 Ramada Worldwide offers a warm and friendly stay at nearly 900 hotels in over 50 countries around the world. We provide our guests with free, high-speed wireless Internet access, cozy beds for a relaxed and restful stay, guest bathrooms stocked with San Francisco Soap Company amenities, and a variety of hotel choices to match every trip; from a family vacation or "quick stop and recharge," to a full-scale conference or lavish wedding.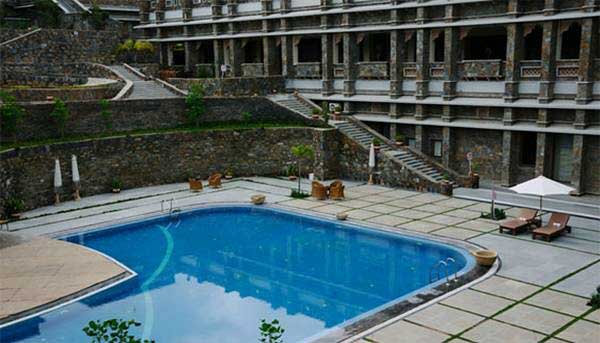 The Ramada Udaipur Resort & Spa is spread over 6.5 acres of undulated land, varying in height by approximately 40 Meters from the lowest point to the highest, creating spectacular views, and with its array of gardens, has a tranquil, salubrious setting. it is set in the backdrop of the majestic Aravalli Mountains offering breathtaking views of the Monsoon Palace (Sajjan Garh) as well a paormaci view as of Lake Pichola and the historic Udaipur City The true charactor of the resort's architecture is in the traditional construction know as 'Tekri Work' (Ashlor & Rubble Masonry) that maximizes use of traditional materials, craftsmanship and locally available stones. This not only pays tribute to the native heritage of the region but also provides opportunities to the tranditionel craftsman, contributing significantly to the local economy. to ensure that the resort blendes seemlessly with its natural surroundings, open courtyards, verandas and terraces have been integrated with this Tekri Work facade, corridors and balconies. Spoil yourself with luxurious accommodation facilities at the Ramada, one of the best spa resorts in Udaipur.
Accommodation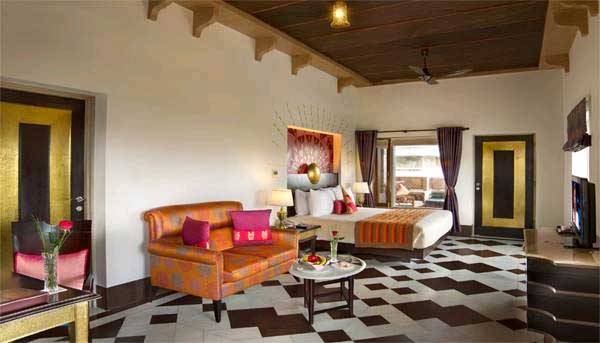 Ramada Udaipur offers beautiful rooms that boast of exquisite amenities and services. The rooms overlook the Aravalli Hills, Lake Pichola, Lake Fateh Sagar and the city itself. More than 400 sq ft. in area, the rooms and suites of this spa resort are elegantly designed with fine Indian textiles and are replete with an additional private sit out.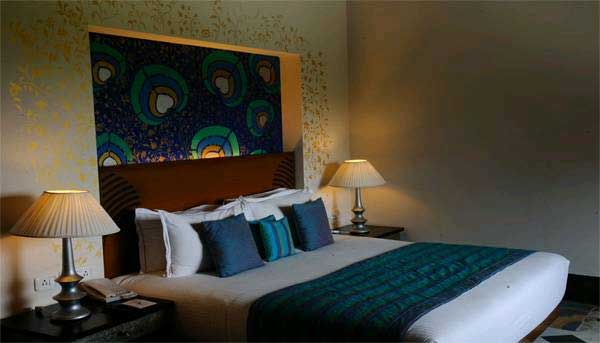 The thickness of the wall and the high ceiling ensures that the room remains naturally cool. Corridors are adorned with the famous Udaipur Green Marble, Agariya White Marble and Jaisalmer Yellow Marble creating a colourful mosaic reflecting the traditional architecture of the Mewar region.
At this resort, the Deluxe and Super Deluxe Rooms are located in one wing and are open to natural ventilation. The Premium Rooms and Suites are located on the opposite side in nine clusters resembling independent villas.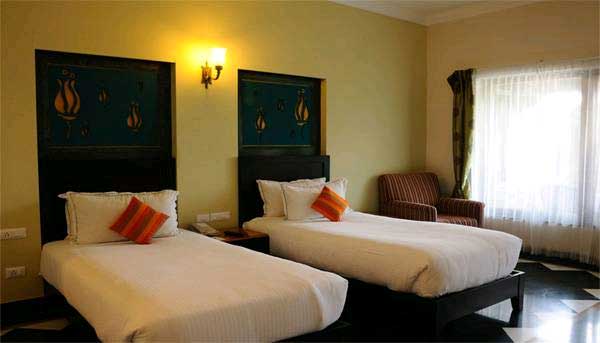 Restaurant
MźRA All Day Dining A multi - cuisine restaurant serving gastronomic delights. Enjoy the spice of life surrounded by its elegant interiors or the romance of dining under a star lit sky!.
ZU:MA Indian Speciality Restaurant An Indian Speciality Restaurant, serving the authentic flavours of India, enriched with culture and flavors to Whet your palate. An ideal setting for a memorable Indian cullinary experience..
LIQUID LOUNGE Bar Lounge The Bar at the resort is fun, relaxed space, well stocked with an eclectic mix of spirits, wines and cocktails. A great place to unwind your day's adventure and let your spirits hit a new high..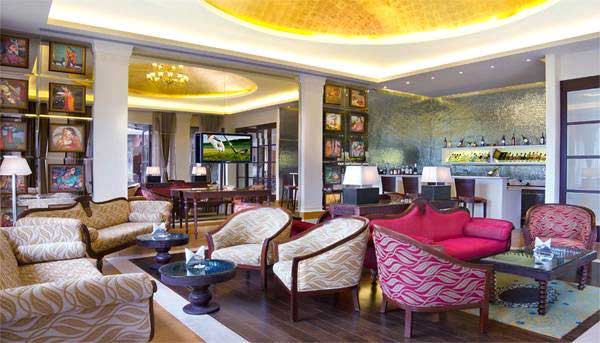 Services & Facilities
High speed internet connectivity in rooms & public areasFitness centreSwimming poolSpaOutdoor Heated Pool with JacuzziRound the clock concierge serviceRound the clock security service & close circuit camera in all public areasRound the clock room serviceTea, coffee making facilityDigitally secure safesChoice of newspaperHair dryerClose shave mirrorAccess controlNon-smoking roomRoom for physically challengedIron and Ironing board on requestBusiness centreLaundry & dry cleaning servicesDirect dial telephone servicesValet parkingDoctor on call
Meeting and Events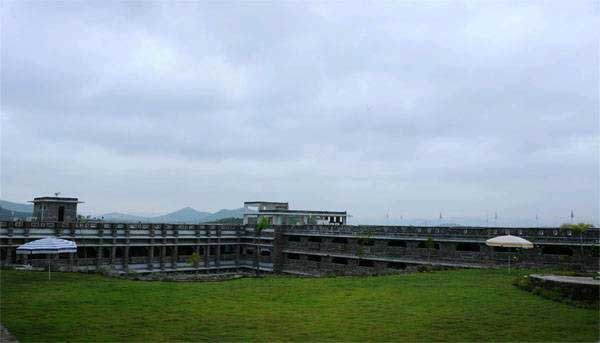 Banquet Halls Enjoy the best hotel banquet facilities at Ramada Udaipur, one of the premium hotels in Rajasthan. The minimalistic yet stylish décor combined with state-of-the-art facilities makes it the perfect destination for any event or occasion. Our team has a distinguished background of having successfully managed large numbers of Weddings & Receptions, Conferences, Seminars, Training, Residential Conferences, Product Launches, Cocktail Evenings and Press Meets.
Venues At Ramada Udaipur Resort and Spa, each venue is fully equipped to support any kind of presentation or communication requirements, AV, advanced lighting and staging capabilities.
The Meridian : Capacity: Upto 250 guests Spread over 2100 sq ft, The Meridian is a dedicated banqueting space with all modern amenities and state of the art audio-visual equipment. The Meridian can accommodate 30 - 250 guests and is well adept for any kind of event; be it meetings, conferences or weddings.
OUTDOOR HARDCOURT VENUES:
Sajjan Terrace : Capacity: Upto 1000 guests Sajjan Terrace, as the name suggests, is located on the rooftop of the resort and provides 12000 sq. ft. of pristine banquet space, ideal for any event. Located at a high altitude, it almost provides the feel of being on top of a mountain offering uninterrupted views of Udaipur City, Lake Pichola, Aravalli Hills & Sajjan Garh (popularly known as Monsoon Palace).
Monsoon Deck : Capacity: Upto 800 guests Spacious and impressive, The Monsoon Deck is perfect for memorable events and celebrations. Spread over 10560 sq. ft, the venue boasts of breathtaking views of the Aravalli Hills and the background of the majestic Monsoon Palace. With a capacity of up to 800 guests, the Monsoon Deck offers best banqueting facilities at one of the highest altitudes in Udaipur.
Ambar : Capacity: Upto 300 guests Located in the Central Courtyard by the turquoise pool, this venue is perfect for an evening banquet. The beauty of Ambar is its location at the central courtyard of the resort wherein most of the gardens surrounding the courtyard can be utilized to create a dream wedding experience with the capacity of 500 guests.
OUTDOOR GARDEN VENUES:
Rock Garden : Capacity: Upto 500 guests Enjoy luxurious banqueting facilities and services at the Rock Garden. Located on the Eastern boundary of Ramada Udaipur Resort and Spa, this venue spreads over 15,360 sq. ft. of lush space and aesthetically arranged chunks of stone. Offering the best views of the Udaipur City and its lakes Fateh Sagar and Pichola, Rock Garden is one of the best venues for any event or celebration. Set under the shade of the deep blue sky and the glimmering stars, this venue becomes the perfect setting for a private memorable banquet or wedding. A grand bridge connects the Rock Garden to the main porch adding to the grandeur and guests are taken to a new world as they make their way to Rock Garden.
Wind Garden : Capacity: Upto 50 guests Located in a cozy and private corner of the resort, the Wind Garden offers spectacular views of the Monsoon Palace and the Aravalli Hills. Small yet elegant offering 4800 sq. ft. of lush green space is ideal for that private party, social gathering and special ceremonies.
Trego : Capacity: Upto 30 guests Trego is a garden venue located at the highest altitude in the resort. This 2800 sq. ft. garden banquet space is ideal for a private cocktail or dinner event. This venue is available for residents only.
Bonsoir Garden : Capacity: Upto 15 guests Bonsoir Garden is situated in the Central Courtyard of the Ramada Udaipur Resort and Spa. Spread over 2560 sq. ft, this lush garden space overlooks the turquoise pool and is an ideal venue for a private party or celebration. This venue is available for residents only.
Sarlat : Capacity: Upto 15 guests Sarlat is located close to the Bonsoir Garden in the Central Courtyard of the spa resort. This 1680 sq. ft. of garden space has a Gazebo that overlooks the turquoise pool. It is just perfect for private cocktail, tea and dinner parties. This venue is available for residents only.
Winter Escape ( Validity 1st Oct 2013 till 31st March 2014
)
| | | | |
| --- | --- | --- | --- |
| Room Type | CP Plan | MAP Plan | AP Plan |
| Deluxe Room | Rs. 15,999 | Rs. 18,999 | Rs. 21,999 |
| Superior Deluxe Room | Rs. 16,999 | Rs. 19,999 | Rs. 22,999 |
| Premium Room | Rs. 18,999 | Rs. 21,999 | Rs. 24,999 |
| Suite | Rs. 22,999 | Rs. 25,999 | Rs. 28,999 |
Inclusions Non Alcoholic welcome drink on arrival 10% discount on Spa, Laundry and Food & Beverage Hapy Hours - for alcoholic drinks buy one get one free & for non alcoholic drinks buy two and get one free from 1100 hrs to 1800 hrs in Liquid Lounge Tea/ Coffee maker in the room Free usage of Spa Pool for Premium Room Guests only Planned activitly throughout the day Cooking classes, Yoga Session, Carom board, Table Tennis The Wineter Escape is valid for minimu two night and extendable on pro rate basis applicable taxes would be extra Two children upto 5 years without extra bed are complimentary in the same room children above 5 years till 12 years will be charged Rs 2000 CP plus applicable taxes without extra bed and Rs 4000 Cp plus taxes with extra bed Above 12 years charges would be Rs 4000 CP plus taxes Rs 1300 will be exta for MAP package and Rs 2000 will be extra for AP package.
The winter escape is valid for minimum 2 nights and extendable on pro-rata basis. taxes extra.
Summer Packages
on CP Plan
| | |
| --- | --- |
| Room Type | Package Cost |
| Deluxe Rooms | 10,999 |
| Super Deluxe Rooms | 11,999 |
| Premium Rooms | 13,999 |
| Suite | 17,999 |
on MAP Plan
| | |
| --- | --- |
| Room Type | Package Cost |
| Deluxe Rooms | 11,999 |
| Super Deluxe Rooms | 12,999 |
| Premium Rooms | 14,999 |
| Suite | 18,999 |
The above Summer package is Includes · Stay for 02 Nights and get 03rd Night on Complimentary basis on plan · 10 % Discount on Spa · 10% Discount on F&B · 10% Discount on Laundry · Buy one Alcoholic drink and Get one Free during happy hours ( 11 AM to 06 PM) at Liquid Lounge · Valid for maximum package blocks up to 04 rooms only. · 7.42% Taxes will be Applicable extra · Valid from 01st April till 30th June 2014 · Only valid for Domestic Market · This package is Non – Refundable & Non – Transferable · All Meals will be served as buffet OR TDH at Myra Restaurant · Conditions Apply Child Policy
02 children Up to 12 years on complimentary basis without extra bed in the same room · Children above 12 years 3000 + (7.42%)Taxes on CP, 4000 + (7.42%)Taxes on MAP Plan & 5000 + (7.42%)Taxes on AP Plan with extra bed in the same room.
Valid From 01st Apr, 2015 to 30th Sept, 2015.

01 Night Package

Deluxe Room: Rs.11000/- per couple per night.

Super Deluxe Room: Rs.13000/- per couple per night.

Premium Room: Rs.15000/- per couple per night.

Executive Suites: Rs.20000/- per couple per night.

Extra Bed: Rs.2500/- per person per night.

Includes: Accommodation, Breakfast and Taxes.
.