Rohet Garh
Heritage Hotel
Jodhhpur Code No- AT-RJ29
Rohet Garh is a classified Heritage Hotel. Over the course of fifteen years it has been nurtured and developed with great love and care by the family into one of the finest Heritage hotels in the country. No new building has been added in the renovation process, but rather, old edifices have been skillfully redesigned to create a heritage property that has few parallels. Situated on the banks of a lake and set in the midst of rural surroundings, it is a haven of peace and tranquility. Sprawling lawns and manicured gardens, which invite a multitude of birds and dancing peacocks, herald your entry into this oasis where the bird song is the only sound you will hear. A superb swimming pool with four charming pavilions entices you for a refreshing dip. Often dinner is served by the poolside as folk musicians enliven the evening atmosphere. An elegant, beautifully appointed lounge, serene verandahs, and terraces with breathtaking views, make perfect venues for relaxation. The thirty-four individually decorated rooms add a touch of class.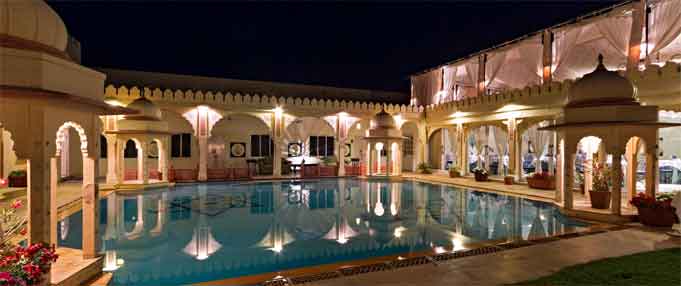 With a great sense of pride and pleasure I introduce Rohet Garh – our ancestral home since 1622 AD. Bestowed upon the first amongst our kin Thakur Dalpat Singh I for his exemplary courage and bravery in numerous military campaigns under the banner of the Rathores, Rohet became one of the most important Jagirs (fiefdoms) of the state of Marwar. Generations of noblemen have graced and cherished this home that over time has come to be revered. It has been a silent witness to the progress of our family for four centuries. It has stood by us steadfast through the highs and the lows; it has protected us and given us shelter. Above all it has given us our identity. In January 1990 we opened its gates to receive the discerning traveler. To share with him our heritage, and give him a glimpse of our land with its brilliant colours, where culture and tradition are deep-rooted and vibrant & its people – so deeply civilized! Today Rohet Garh is a leading Heritage Hotel, where the experience goes far beyond the high walls of the Garh (Fort). It is home first and Hotel after… And you – our honoured guests.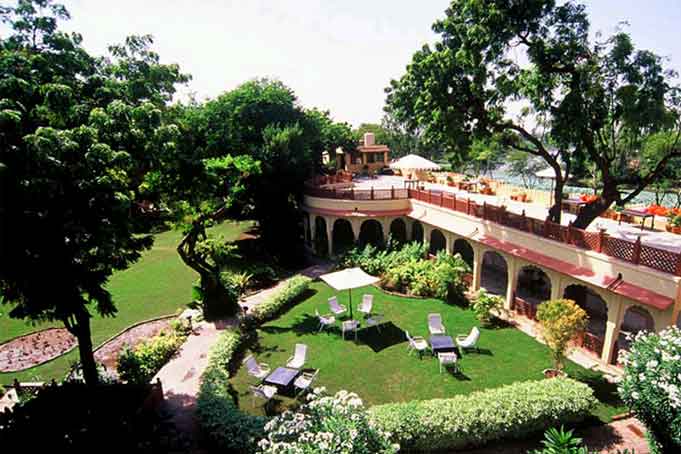 Pioneers of activities such as 'The Village Safari', and offering an array of activities- from an extensive equestrian program to culinary workshops, Rohet Garh has set the highest standards in quality and efficiency, offering its guests an experience beyond compare. Rohet Garh proudly boasts of the finest kitchens in traditional cuisine. The chefs have been trained by the lady of the house, the late Thakurani Sahiba, who was the author of Cuisine of Rohet Garh and Quick and Easy Rajasthani Cuisine, the former published due to popular demand from our guests. Many have called their meal at Rohet Garh, their best in India.
The peace and tranquility of the environs have drawn writers from around the world. Rohet Garh has had the honour of hosting some of the most respected names in the literary world. Bruce Chatwin and William Dalrymple practically lived at Rohet Garh for four to five months working on their respective books, The Song-lines and The City of Djinns. Patrick French too is a friend of the family's and has spent time at Rohet Garh, as did Simon Winchester and Jeffery Morehouse.
Brillantly plumed peacocks strut about, perching themselves under finely carved stone archways and the wind whispers through the neem tree groves and bougainvilleas. Within these time weathered walls lies an oasis of landscaped gardens and flowers in bloom - your Oasis in the arid land of Marwar.
Accommodation
Rohet Garh boasts of has thirty beautifully appointed air-conditioned rooms including 6 suites. Each room is unique, boasting of its own special feature, all the while being welcoming and intimate. The frescoes set the rooms apart from the ordinary, and the furniture, designed in-house in traditional hues, is of the highest quality. All rooms have attached modern bathrooms, which are spotlessly clean and tastefully adorned.

Other Facilities include: Complimentary Wi-Fi in public areas, Doctor on call, Telephone, Laundry.

Royal Picnics
Royal Picnics are a great extension of our safaris. Be it in jeeps, on camel or on horse, the Royal Picnic is a grand recreation of a bygone era, where you are waited upon by liveried attendants; large mattresses with bolsters and soft cushions spread next to a soothing water body invite you to kick up your feet, and a choice of cool beverages await your discretion. The food is delicious, served hot on tables with crisp linen and a bottle of wine…and then you drift into sweet slumber watching the pied kingfisher dive for his lunch just yards away from you…!!
Village Safari
Rohet Garh's signature program. "Rohet Safari's" premier product. Pioneered by us in 1989, this program still remains our main highlight. Showcasing the best of the land, it is a complete cultural experience, which encompasses all that this region has to offer. From the warm and hospitable people, to the various customs and ceremonies and the abundant wildlife, guests have the rare privilege of being welcomed into people's homes and interacting with them. They get to experience and understand a way of life that takes them closer to their roots…
Bird Watching
The winter months attract a vast variety of birds into the region, where in a good year upto 200 different species can easily be sighted. The numerous lakes and Jheels around Rohet are a haven for birds. A bicycle, a bird book, a bottle of water, a pair of binoculars, packed breakfast, accompanied by an escort is all that a true bird-lover needs!
Tariff ( INR ) Valid 1st 01.10.2015 TO 30.09.2016
Deluxe Room

Single

8,500/-

Double

9,500/-

Suites Room

Single

11,000/-

Double

12,000/-

Accommodation & Breakfast. + Inclusive of 1 Rohet Safari Experience ( Rohet Signature
Village Safaris OR Spa Coupon worth Rs. 1000 per day). Taxes Extra.

Extra Bed

1000/-
Tele : +91-11-41612107, 26823836. Mobile: 9810002772, 9910002772.
Email :- reservation@ashextourism.com