Hari Mahal Palace
Jodhpur, Code No- AT-RJ 60
The Taj Hari Mahal, is spread over 6 acres of lush, landscaped gardens and located close to the city centre. The architecture of the hotel is a blend of motifs from the Mandore region and contemporary styling, giving it an air of elegance.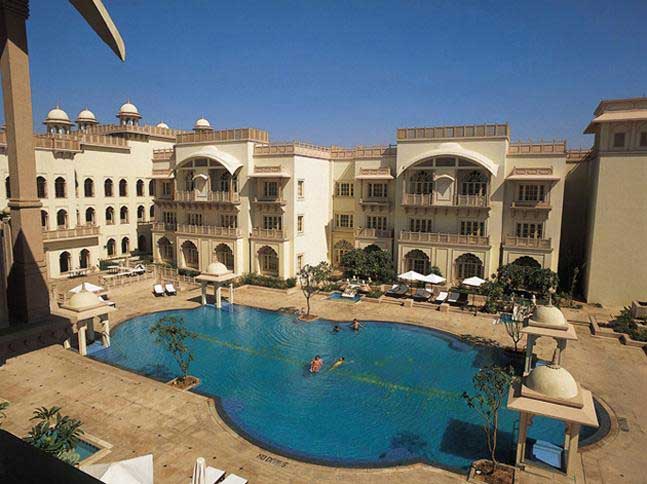 VIVANTA BY TAJ. A MODERN FANTASY WITH NEVER ENDING STYLE. There's a new wow in Jodhpur. Just 3.5 km from the railway terminus and a mere 4 km from the airport. On the prestigious Residency Road. Close to Jodhpur's business and entertainment areas. Drive in from the airport delighting in backseat surprises (we're not revealing here). You'll see how we deliver style in a quiet efficient way from the moment you step in. Our lobby is a unique mix of chic and classic. With its Latitude style architecture and Moghul-inspired domes, enameled murals, slender columns, and grand interiors. Sheer fantasy comes alive..
Guest Room

Our rooms have it all worked out. We know what you must have and then add to the delight! Clever surprises and the best of technology. Each room features ergonomically designed mobile work desks with special task lighting and stylish designer work chairs. So also hi-tech electronics for internet access, distinctive custom lighting and outstanding storage facilities. De-stress options such as surround sound home theatre systems, a special Rest Easy menu and dual massage showerheads add luxury to your stay. The styling and the décor suits both business and leisure travellers. Very modern. Very in..
SUPERIOR CHARM - GARDEN VIEW Arrive in style. Raise a toast. Treat yourself to the abundantly stocked mini-bar. Relax with televisions and a sleek workspace to complete the experience. Overlooking the expansive garden area, Superior Charm - Garden View rooms are nothing short of a haven for the modern traveller. Picture a space crafted to the last detail, waiting for you. Large windows, original wall paintings and lush upholstery. With king/twin bed options, hi speed Wi-Fi Internet, Electronic safe, mini bar, tea/coffee maker, dual line telephone, special built in work desks and other features. It's the right mix of elements you'll need to make your holiday a royal pleasure.
SUPERIOR CHARM - POOL VIEW Look out of your large window and delight in the view of the cool pool. These rooms are embellished with features like king/twin bed options, hi speed Wi-Fi Internet, Electronic safe, mini bar, tea/coffee maker, dual line telephone, special built in work desks and other features. Not to mention original wall paintings and lush upholstery. Superior Charm - Pool View rooms are strictly for those who like to indulge in that little extra!
PREMIUM TEMPTATION SUITE Simply the finest suites in the hotel. With a remarkable 620 sq ft of luxurious personal space. Premium Temptation Suites are a 2 room set - a sitting room and a bedroom with large bed. The sitting room has ample seating area with a TV and work desk. Bathrooms in all suites have bath tubs and showers. For those that want the max. This is it.
Recreation & Spa

Swimming pool, fitness centre, spa facilities, tennis and croquet courts, putting green, jogging and walking track
Got a lot on your mind? Find it seeping through your body and messing up your spirit? We've got just what you need to de-stress. Get back in touch with yourself at Jiva Spa.We've travelled way, way back in time and dug out the secrets of Ayurveda and other ancient Indian wellness and beauty wisdom We use only pure Indian herbs, aromatherapy oils, all-natural creams and more goodness from Ma Nature's closet to concoct replications of the authentic remedies from the good old days – complemented by signature treatments, and luxurious award-winning therapies. Along with the lovely massages, wraps and scrubs, there's Yoga and Meditation as well. They all get together to get your body, mind and spirit back together and back in sync with each other.
Restaurants and Bars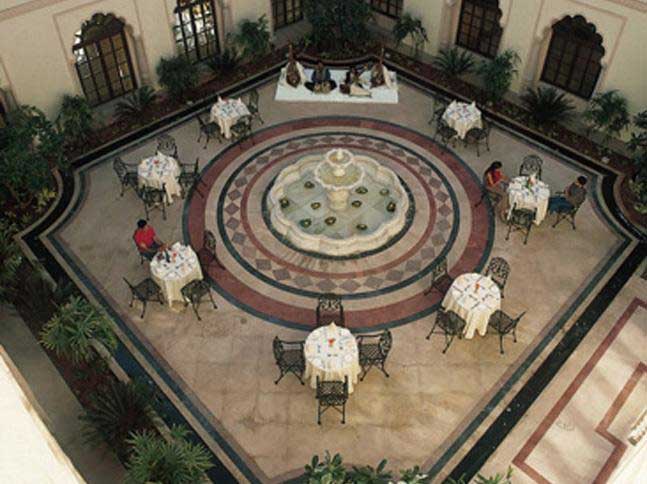 Discover the most happening restaurants which open to the lobby to create an enticing food zone offering the best in world cuisine. Technology is woven through it all. Vivanta by Taj - Hari Mahal, Jodhpur has all the entertainment and connectivity options today's traveller requires. Become a part of our world. Feel the pulse of an international business and conferencing destination. Stroll across 6 acres of the hotel including garden. Soak in this 21st century fantasy palace which stylishly resembles 14th century forts. Feel like you're in an oasis in the middle of the desert. Experience the buzz.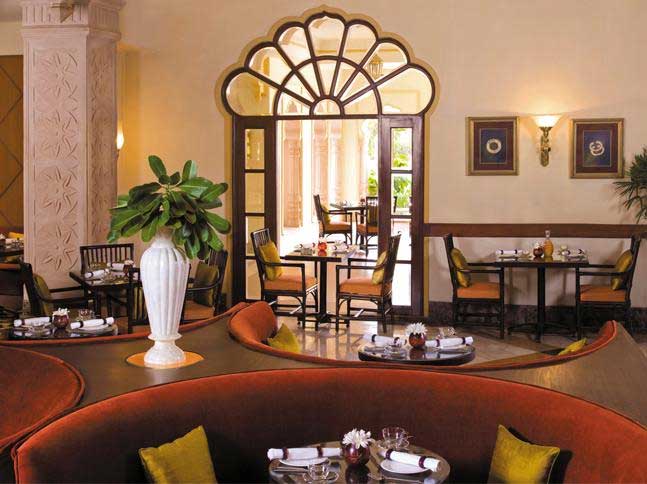 Good Earth: Serves Chinese cuisine.

Marwar: Multi-cuisine restaurant serving Rajasthani and Continental cuisine.

The Verandah Café: The ideal place to unwind over a cup of tea.

Lobby Lounge: The bar which combines an old-world charm with a modern-day ambience. Also serves a variety of teas, pastries and finger sandwiches
Business Facilities
PREPARE WITH CONFIDENCE Vivanta by Taj - Hari Mahal, Jodhpur has dynamic meeting space for modern meeting and conference needs. Our meeting venues are high-tech, high-energy rooms comfortably designed for the long hours that delegates put in. No matter what your agenda, Vivanta by Taj - Hari Mahal, will complement it with the appropriate space, staff and service. And when the day's work is done, Vivanta by Taj offers a sophisticated blend of options to entertain and recharge your group. The Amar Hall, Analysis Mahal, Meherangarh Hall & Meherangarh Terrace are sure to make headlines for: Corporate meetings Product launches Large themed events Grand Weddings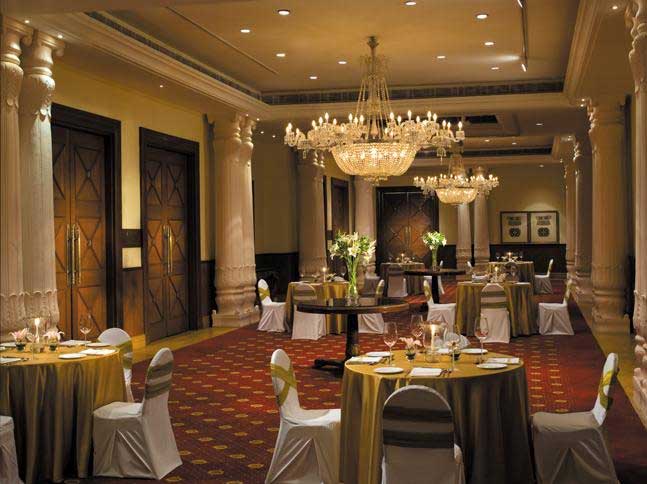 Meeting Rooms and Banquet Facilities

Over 28,000 sq ft of banquetting space spread over 6 type of conference rooms, 5,500 sq ft of the Amar Hall, 672 sq ft of the Analysis Mahal, 2135 sq ft of the Meherangarh Hall, and the 20,177 sq ft of Meherangarh Terrace, which can accommodate 1200 guests for a cocktail dinner
Six type of banquet halls and spaces - Amar Hall, Analysis Mahal & Meherangarh Hall. Besides Meherangarh Terrace, Debate & Strategy with seating capacities for up to 120 delegates in board room-style and 600 for theatre-style receptions..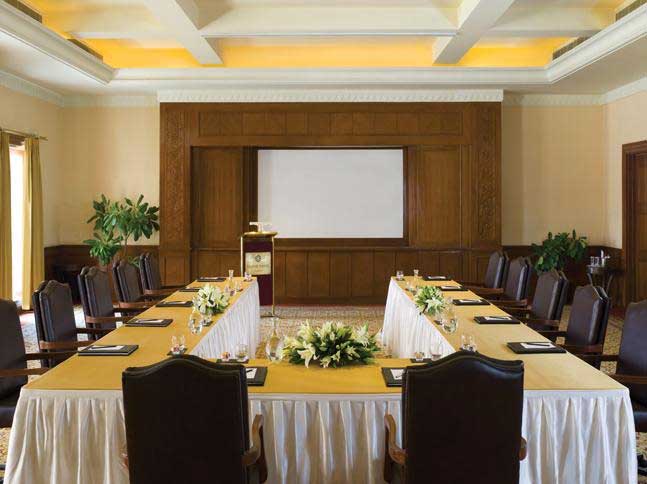 BUSINESS SERVICES: READY FOR BUSINESS 24 X 7 Open 24 hoursHigh speed Internet accessWi-Fi accessBoardroom that accommodates 12 delegatesFacsimilePhotocopyingLaptop computers & printers on hireTranslation/interpretation services with advance notificationVideo-conferencing & Webcasting facilities with advance notificationWorkstationsl.
Click here for Booking Form

Tele : +91-11- 41612107, 26823836. Mobile: 9810002772, 9910002772.
Email :- reservations@ashextourism.com